Girls varsity basketball defeats Gardner Edgerton 49-47
The girls varsity basketball team defeated Gardner Edgerton 49-47 in the substate game Thursday night.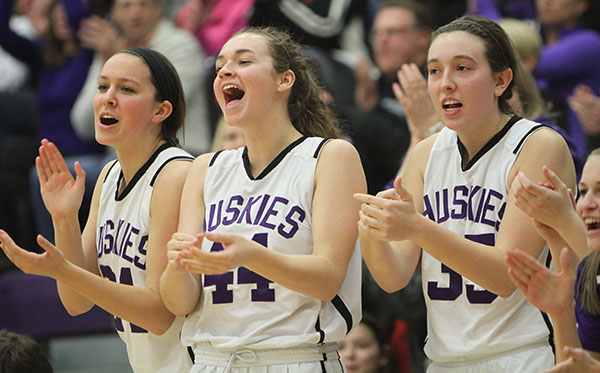 At 8:18 p.m. Thursday, the buzzer sounded in the BVNW gymnasium. The crowd erupted in cheers as the announcer  declared the BVNW girls varsity basketball team the substate winners. They will be going to the regional competition on Saturday at Olathe East High School at 7 p.m.
At the end of the first quarter, BVNW was down by 12 points, with a score of 7-19.  Head coach Brian Bubalo they missed some free throws and made other mistakes.
"We made some defensive mistakes early in the game,"Bubalo said. "Especially [in the areas] that we were prepared for, we just didn't execute our defence the way we had practiced. All of that might have been a result of just being a little bit tired in the first quarter."
According to senior Taylor Cowell, the team was not able to take control of the game during the first quarter and handed it over to Gardner Edgerton.
"I was really worried at first and I was scared that we would lose that game," Cowell said. "It came to reality that it could be the end of my basketball career forever."
But despite the worries of players, the team was able to get back on track.  During the second quarter, they slowly gained points until a final three point shot tied the game at halftime 21-21.
After halftime, the Blazers were trailing close behind. Bubalo said the girls made a good comeback in the second half and as a team had good resilience. He said one of the things they did was battle hard, and it paid off.
"We battled back twice…we got the lead and they came back," Bubalo said. "Then, we bumped it back again. Each time they made a run at us in the second half we were able to handle it. I was real happy with our focus and our intensity and the way we battled."
Bubalo said there were many positives about the way they played in the last part of the game. He said he was really happy with the outcome, and how well they played as a team.
"It was a good team effort," Bubalo said. "Everybody that played, played well. We had nine girls get in the game and every one of them made a contribution."
During the end of the last quarter, the Blazers almost caught up, coming within two points of BVNW. But BVNW continued to play hard and sealed another win for their team, 49-47. They will have a chance to play at regionals on Saturday.
"We came out with a lot of heart and we came out hard and played smart and played together," Cowell said. "We are just really happy that we are able to keep our seat and keep going and [that we] came out with a win."