Varsity football ends season with 12-20 defeat by BVH
The varsity football team was defeated by BVH 12-20 in the final regular season game of the 2014 season. BVNW ended this season with a final record of 5-4.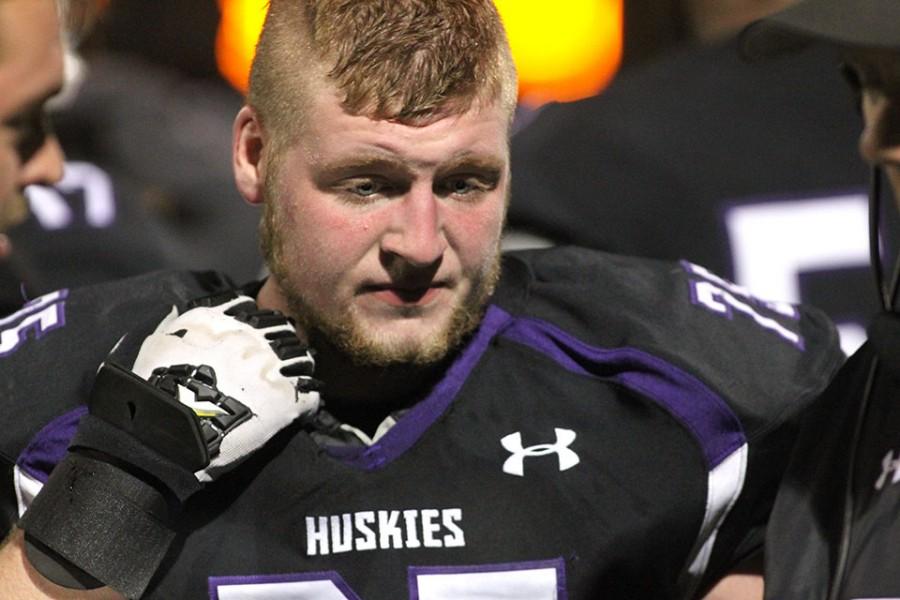 The varsity football team was defeated by Blue Valley High 12-20 this Thursday at the DAC. The game marked the end of the 2014 football season for BVNW, and BVH became the 2014 District Football Champions. BVNW ended the 2014 football season with a winning record of 5-4.
BVNW took an early lead of 6-0 with a touchdown by senior Brady Kurtz 6:06 into the first quarter. The score remained 6-0 at halftime, but BVH tied the game with a touchdown by junior Colton McCumber 11:06 into the third quarter.
8:53 left in the fourth quarter, senior Jake Loftness scored a touchdown for BVNW and BVNW took a lead of 12-6. BVH then rallied late in the fourth quarter with two touchdowns less than two minutes apart, and the game ended with a final score of 12-20.
Senior Dalton Schoen, who has played football for BVNW for all four years of his high school career, said the players played like a team during the game but that ultimately the team could have performed better.
"We had chances that we just messed up," Schoen said. "We played like a team tonight. Our defense played amazing, but we just didn't execute to the fullest."
Head football coach Mike Zegunis said despite the loss, he is proud of how the team played during the season.
"I know we wish we would've been able to win every football game we played this year, but that's tough to do," Zegunis said. "I thought they played really hard and did some really good things this year."
Zegunis said next year's football season will be pretty different without this year's senior players, but this feeling is an annual normalcy.
"It's disappointing each year when the seniors are done and they graduate," Zegunis said. "It stinks because you're with those guys four years of their high school career and you spend a  lot of time with them…it's kind of an empty feeling when it's over."
Schoen said through his four years playing football for BVNW, he has learned several important lessons.
"[I've learned] the importance of teamwork, and how you have to work together," Schoen said. "You have to execute. If you can't have those two things, you can't win."
Despite the lessons and memories made on the football field, Thursday's loss was not an easy one for him.
"It hurts," Schoen said. "I don't know what else to say about it."