Boys soccer takes first in the Top Dawg Tournament
With a win of 4-2 against Saint Thomas Aquinas, the boys varsity soccer team brought home first place in the annual Top Dawg tournament.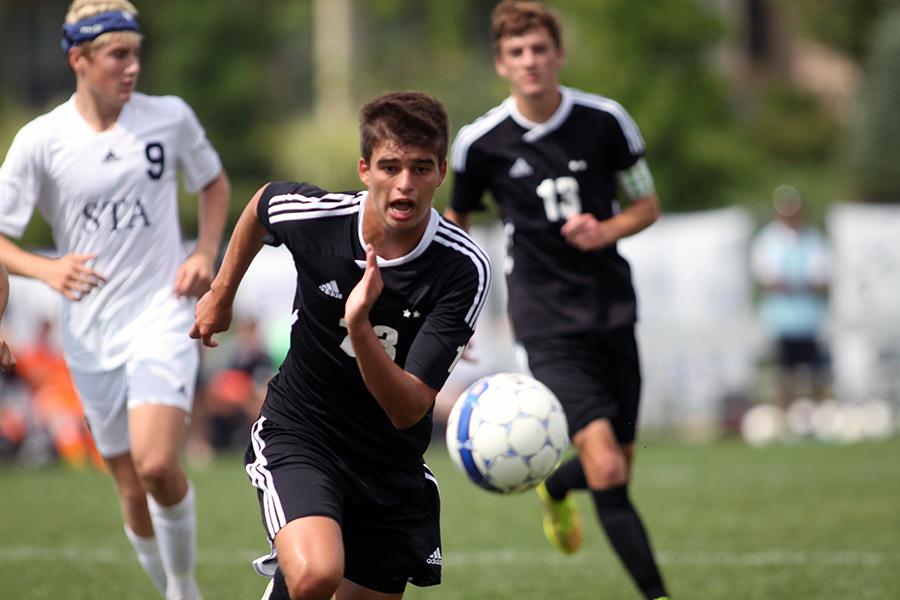 The boys varsity soccer team took on Saint Thomas Aquinas at the DAC Saturday for their final match in the Top Dawg tournament. The game ended in a victory for BVNW, with a final score of 4-2. With their third victory in the tournament, BVNW left with first place in the Top Dawg tournament for the second year in a row.
Within the first four minutes of the first half, STA scored. BVNW responded with two goals in the first half, scored by juniors Brandon Stanczak and Andrew Binder. Binder said being on defense, it is rare to get the opportunity to score.
"It's pretty nice [scoring a goal] because usually defenders don't score as much, so when you do it's pretty great," Binder said. "That was all Austin [Flores]; that was the perfect ball and everything."
After halftime, junior Blake Shadwick and junior Peyton Brown scored, with a goal from STA in between.
After taking home first place in the tournament, head coach Rick Pribyl said he believes the team did well.
"[It's our] second year in a row [winning the Top Dawg tournament] and it's pretty good," Pribyl said. "It's not just winning the tournament, it's beating the teams that we beat. We beat three really good teams… and all three of them we beat decidedly. [Our wins] weren't just by one goal; they were all by more than one goal."
Binder said the team is looking to take state similarly to last year, but Pribyl said the team is tackling the season one game at a time. For now, Pribyl said, the team is excited about their progress so far.
"I think we did wonderful," Pribyl said. "The guys are on cloud nine. You can't ask for more than that."