Graduate Kara Priest selected to All Regional Team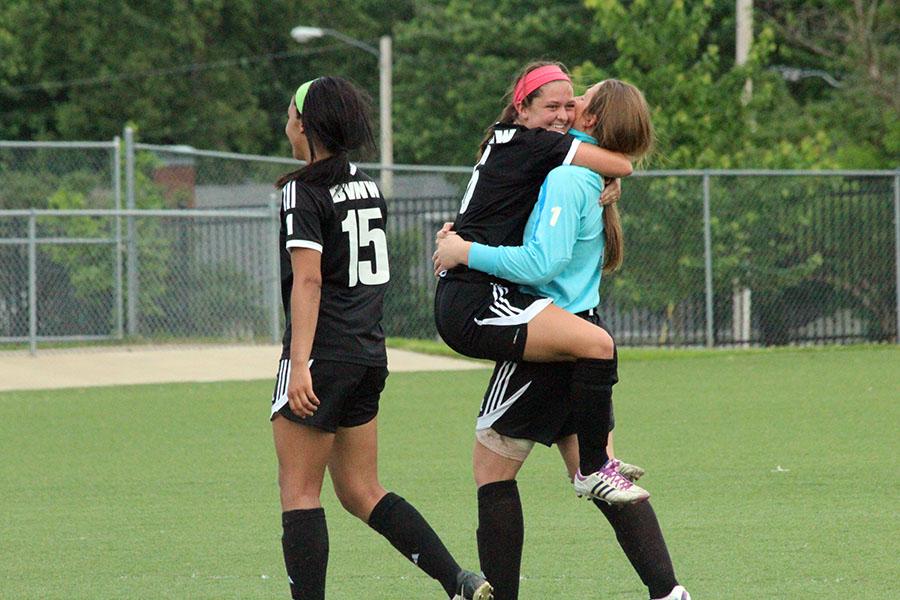 On Thursday, it was announced that 2014 graduate Kara Priest was selected to the United States All Regional Team by the National Soccer Coaches Association of America. In addition, on June 17, the BVNW girls soccer team placed fourth in the region, with only two losses the entire season.
"It's such a big honor," Priest said about being selected for the All Regional Team. "I was really excited to make [the US All State Team] in the first place, so winning All Regions was just really special, especially [for] my senior year. It meant a lot and it was a great way to finish off the season."
According to head coach Rick Pribyl, only an estimated 12 girls were selected this year from approximately eight states that combine to form the region for the All Regional Team for which Priest was selected.
Pribyl said he would attribute Priest's success in being selected to Priest's statistics for her entire soccer career at BVNW, as well as her highlighted success this year in particular. In the four years she played at BVNW she scored 152 points in goals and assists, "which is dang unbelievable," according to Pribyl.
"She loves the game, she works hard, and she is driven to score," Pribyl said. "No one likes to score more than she does."
Priest's mom, Roxanne Priest, said she recognizes her daughter's focus and hard work in each individual game as a factor of her success. In addition, Roxanne said that Priest spent many months leading up to her senior year training diligently to ensure a strong senior year on the field.
"I think really working hard and taking it serious and taking each game that it really mattered contributed to her success," Roxanne said. "It wasn't just the whole season, it was just every game she went out there and played as hard as she could, each particular game."
Priest awards all of her success to her team, as she said she "wanted to do it all for them," in addition to her coaches for helping her improve.
After All State and All Regional teams, the next step is to narrow the players on a national level. According to Pribyl, there have been "only one or two" players in the history of BVNW to make the All American Team. Although it is considered a very difficult cut to make, Pribyl hopes to see that next step for Priest, although he said he would like to recognize her current success the most.
"She had a great season, she's an unbelievable player and this area she is definitely one of the best," Pribyl said.
Regarding her soccer future, Priest plans to play at UMKC, where she will attend as a freshman this fall. She said being selected for the All Regional Team has given her confidence for her college career in addition to a strong high school finish.
"It gives me more confidence going off to college to play, but ultimately it's just a great way to finish off my high school career and it means a lot that my last season I was able to accomplish that," Priest said.