Three students head to state cross country meet
Sam Guinn, Seamus Koch and Hannah Holbert all placed at cross country regionals and will compete at KU Rimrock Farm in Lawrence on Saturday. Guinn and Koch will run at 10:30am and Holbert will run at noon.
Sam Guinn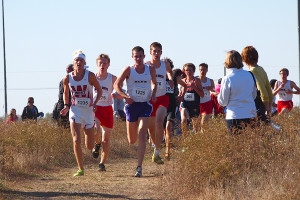 After placing as the runner-up in the boys regional cross country race last week, senior Sam Guinn will compete in state this Saturday.
Guinn has been to state twice before, coming in eleventh place his sophomore year and second place his junior year.
"I never take it for granted even though I've gone [twice]," Guinn said. "It's definitely something that's very special, and it's a great reward for a season of hard work."
Guinn started preparing for state in the summer, and progressed throughout the season with harder and faster workouts. As the competition nears, he is preparing by making sure his legs are rested so that he can perform at his best.
"The state meet is very important to me because it shows me how I match up against the rest of the state," Guinn said. "We don't always get to compete with the other teams from Western Kansas."
As his last year going to state, Guinn hopes to improve his performances from the previous years and take first place.
"Junior year, I was runner up and I was very happy with that performance, so going off that, I'd like to compete for the championship this year," Guinn said.
Hannah Holbert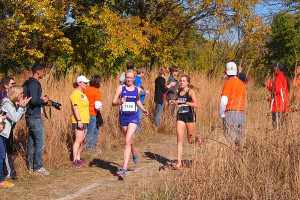 After becoming the Kansas Regional Champion with a time of 14:43 for the 4K, Hannah Holbert moved to 2nd place on the all-time 4K BVNW record board.
"I just can't believe that I am right behind Laura Rocksbury (#1 on All-time 4k record board), I am almost in shock," Holbert said.
Holbert has been to state four times before in cross country and track, and will go again this year to Rim Rock Farm in Lawrence Kansas for state on Saturday.
"I am so excited for state this year because I have been practicing so hard," Hobert said. "I am really nervous but I think that I will do well."
Holbert has been preparing for state since the end off the cross country season last year. She practices six times a week for two hours a day.
"Going to state is an important goal for me and going again just proves to my self that I can do what I put my mind to," Holbert said.
Seamus Koch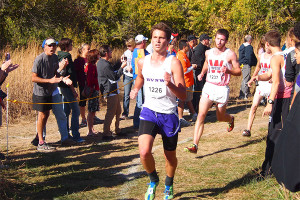 Senior Seamus Koch ran his fastest time at regionals with a time of 16:51, placing him 6th on the all-time BVNW 5K record board. He said that a large part of what contributed to his success was the work he did over the summer.
"I ran every day over the summer and got a bunch of practice," Koch said. "I also played a lot of soccer over the summer because I thought I was going to play soccer."
Koch said that the team lost a couple seniors and that he had to overcome bad allergies and asthma this season. Despite this, Koch said that the team performed very well at regionals, and that he hopes he does well at state.
"To prepare for state, we're practicing – doing the same things we normally do," Koch said.
Head Coach
Head coach Matt LeCount said that he personally was pleased with their performance at regionals, especially because 13 out of the 14 athletes there ran their personal or season bests.
"I couldn't have have asked for better performances," LeCount said.
Each of the three members that qualified for state had their own adversities to overcome. Koch had to persevere through his asthma while Holbert and Guinn had to build on the success they had from last season, LeCount said.
"I'm really proud of [Koch] and how he persevered and showed a lot of mental and physical toughness," LeCount said. "Sam and Hannah both have had success in the past. They didn't take anything for granted this season and came out prepared and improved from last year."
In order for Northwest to take two individual state championships this weekend, LeCount said some things have to fall in place and perfect races must be run.
"We've always had maybe one strong runner, but not on the girls side, and usually just one on the boys side – so that's pretty exciting," LeCount said. "I feel like all three of them are geared and ready, and they've put in the training so they should do pretty well."