New assistant principal announced
In an email sent out by Principal Amy Pressly, it was announced that David Sharp will be the new Assistant Principal for Curriculum and Instruction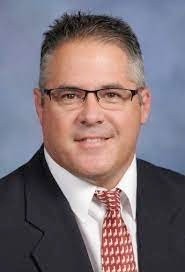 Next school year, David Sharp will be Blue Valley Northwest's new Assistant Principal for Curriculum and Instruction. Sharp is currently teaching science at Overland Trail Middle. During his time there, Sharp said he built quality relationships with students, staff and families.  
"It has been terrific, fast-paced, collaborative and challenging at times too," Sharp said. "As a long-time administrator, it has given me a fresh perspective of how hard our teachers work each day in Blue Valley." 
Before he started teaching there, Sharp said he spent 20 of his 28 years in the education field as a secondary administrator in Missouri. Sharp said he decided to return to his passion of teaching science as well as coaching football at Overland Trail Middle. 
"When Blue Valley Northwest opened up, I mean, you got a lot of tradition, a lot of pride and a lot of excellence in your school," Sharp said. "Given the academics and the activities, the athletics and all the positivity that's around it and my acumen with instruction and my passion for that, I thought I'd give it a shot." 
As the Assistant Principal for Curriculum and Instruction, Sharp will manage the development and implementation of the curriculum, as well as work with the senior class. 
"I'll be working with seniors and then other assignments like working with Dr. Pressly on collaboration, professional learning, professional development, curriculum, instruction [and] master schedule," Sharp said.  
When he joins the administrative team at Northwest, Sharp said he is looking forward to returning to high school as he spent the last year teaching middle school students. 
"The opportunity to get back around being in high school and all that is encompassing with that, watching kids grow across four years of their high school career and choose their path and be a part of their path, that's what I'm looking forward to," Sharp said.  
Among his goals for next year, Sharp said he hopes to build strong relationships with faculty, staff and students. He added he also wants to show passion for curriculum and instruction. 
"[I want to] focus on student learning because that's the purpose, and then build a lot of pride around our school that's already there and become a part of the team and the fabric of the community," Sharp said.