In memory of Cecilia Niemann
Feb. 6, would have been junior Cecilia Niemann's 18th birthday. Cecilia died Jan. 22 after being hospitalized for nearly a week with pneumonia. She was born in Kansas City, Mo., Feb. 6, 2004. While she was sick, she developed ARDS, an inflammatory response in the respiratory system. 
Cecilia had cerebral palsy, which her mom, Debbie Niemann, said affected her muscle tone in her torso and made it difficult for her to breathe deeply, making her more susceptible to infections, and worsening symptoms from any sickness such as a cold. She is survived by her parents Debbie and Josh Niemann, his partner Kellie Henry, younger sister Lucy, and younger brother Loren.
Cecilia defied odds from the moment she was born, according to Niemann. Born three months premature, weighing one pound four ounces, Cecilia ended up with an infection that caused brain damage and resulted in her cerebral palsy.
"When she left the NICU, the nurse practitioner said, 'we've had four patients in the 20 years I've worked here at [Children's] Mercy with the same response that she did, and she is the first one to leave alive,'" Niemann said.
Throughout her life, Cecilia overcame countless barriers, according to Niemann. Whether it was physical challenges or health, Cecilia always had a reason to smile or be happy. 
"I was trying to figure out how many times she was in the hospital in her lifetime and honestly it was too much to count," Niemann said. "She's had multiple surgeries and procedures. There were times she was in the hospital for six months straight."
She faced everyday challenges that Niemann said people did not always understand, only adding to what Cecilia had to deal with. Others did not realize the impact their actions could have when they interacted with her, Niemann said.
"Imagine being your age, waking up, you totally understand [in your head], but you can't express, you can't do anything for yourself, somebody has to help you go to the bathroom, to move." Niemann said. "Can you imagine how overwhelming that would be? And you're sitting there and you're aware of what people are saying around you, her hearing was extremely keen, or the looks and everything else, knowing that people are talking about you or making fun of you or saying things under their breath when you totally understand it."
Yet, according to Niemann, her daughter did not let that stop her. She said Cecilia got up every day and found something to smile and laugh about.  
"She literally lit up a room with her smile," Niemann said. "It didn't matter how crappy she was feeling."
Cecelia Carr, one of Cecilia's teachers in the intensive resource room, said the first thing people noticed about Cecilia when they met her was her smile. Like Carr, Kassidy Evans, another of Cecilia's teachers in the IR, said that when people first met Cecilia, her smile was one of the first things they commented on.
"Her smile, I mean, it's impossible to miss," Evans said.
Evans said Cecilia was an infectious source of positivity in the classroom. For the students in the IR, she brought a warmth and happiness that will be missed.
"
Her smile, I mean, it's impossible to miss."
— Kassidy Evans
"Everyone would say that you couldn't feel sad when you were around her," Evans said.
Niemann said her most fond memories of Cecilia were when she laughed. 
"We have so many videos of her laughing because she would get the giggles, and it didn't matter what kind of day you were having, you had to laugh," Niemann said. "It was hilarious."
Avery Reid, a senior at BVNW and Cecilia's classmate, said Cecilia was always happy in the IR.
"She liked when Mrs. Klocko, [a para in the IR], would come and dance with her and [she'd] just have an amazing time," Reid said. "She 'd come in every day and smile and be ready to work and see all the teachers and have fun."
In Cecilia's freshman year, Carr said one peer tutor in her connections class would play the ukulele and sing with the students every day in class. 
Niemann said even though Cecilia could not sing for anything, she did sometimes like to sing, and loved music and dance parties.
She had her quirks, according to Niemann. She was a game show junkie, and loved "The Price is Right," "Wheel of Fortune" and watching Steve Harvey on "Family Feud."
"We're not really sure why, but she just did," Niemann said. "She would cheer and say, 'easy!' and taunt the people that she was watching and yell, 'they won!' I think she liked the excitement around it."
Even as she got older, Niemann said Cecilia never got past watching the show "Liv and Maddie."
"She started watching it when most people do, probably third or fourth grade," Niemann said. "She just loved it. She had all the series, and she binge-watched it all the time. She would laugh like, a minute or a second before the punchline was given and because she had it memorized."
Wherever she went, Carr said Cecilia carried her quirky, dry, in your face funny sense of humor with her. 
Evans added that Cecilia could turn anyone's day around with her facial expressions.
"You would tell her something like, 'alright, Cecilia, it's time for English' and she would just look at you like, 'I don't want to do that right now, that's so silly,'" Evans said. "She was best at picking up people's bad or sour moods, making other people smile, and making people laugh."
Niemann said Cecilia brought joy to everyone around her.
"Her whole life she's just been a ray of sunshine, always smiling and laughing [with] a good belly laugh," Niemann said. "She was kind of ornery, so she liked to play jokes on people and thought any kind of joke was hilarious. She was kind of sarcastic at times."
Cecilia's spirit was not lost on those around her, and according to Carr, her optimistic attitude left a strong impact on her peers.
​"Everyone can see Cecilia's strength throughout high school; her kindness, her presence, and the students felt that with [her] contagious laugh and smile," Carr said. "They felt her positivity and her joy and love and took that throughout their day."
One of Cecilia's closest friends, Jaden Hill, a junior at BVNW, said Cecilia was always very kind, and was fun to spend time with.
"
Her whole life she's just been a ray of sunshine, always smiling and laughing [with] a good belly laugh."
— Debbie Niemann
"[She made me] really excited to see her every day," Hill said.
When she was around her, Reid added Cecilia would laugh and have fun, and that she loved just being with her.
"She made me so happy, and she would always make me smile and laugh and have fun with her," Reid said. "She was really a nice friend to me."
Reid said she remembers going to dances with Cecilia and having her at her birthday party, and how much fun they had together.
"We would take pictures and just get all fancied up," Reid said. "I invited her for my birthday party, and she would just have fun and do the fun activities with us and just smile. I remember I gave her a hug and she was happy."
Marzook Islam, a senior at BVNW and Cecilia's classmate, said she was kind, funny and down-to-earth. He said you were able to talk to her and she would talk to you back in her own way. 
"I thought of her like a friend, like a family member," Islam said. "So I wanted to spend as much time with her [as I could]. She's a really great person."
Islam said Cecilia had a big influence on him during the time he knew her.
"She taught me how to be a better person, like how to be better and more mature," Islam said. "She helped me become the person I'd want to be."
Carr said Cecilia was always smiling because she knew how loved and supported she was in life.
"She has a great family who has been her advocate, her source of support, her love, and here, she's had friends from elementary who have come into high school with her, and then new friends from middle school and Blue Valley Northwest," Carr said.
Niemann said Cecilia loved to be around her friends and peers, and was extremely social. Despite the challenges she had to overcome, Niemann said Cecilia kept close connections throughout her life with friends who were committed to including her.
"I think it's because they saw that in her she had a great sense of humor, and that you don't have to be able to do everything physically or even have a full-on conversation to enjoy being around somebody," Niemann said. "I have so much respect for my daughter being so able to, [with] hardly any words, [have] great friendships with people."
Niemann said although Connections is a great in-school program, inclusion is not when somebody shows up and is getting a grade for it–it goes beyond that to the rest of Cecilia's life. She said inclusion is when nobody knows, there is nobody giving them credit for it, and someone genuinely wants to include her daughter.
Those experiences growing up, being invited to parties and included not just during school, but outside of school, gave Cecilia the meaningful friendships she had through her life, according to Niemann.
​​"That is why she had typically developing friends who literally were with her up until the end, because it wasn't for pity it was because they were truly friends," Niemann said.
In addition to the love Cecilia had from her friends and family, Evans said Cecilia always had a smile because of her unwavering positive approach to life.
"She just genuinely loved life, she loved being here, and she loved being with her family," Evans said. "Everything made her happy. She could find the priority of happiness over sadness. A lot of people wallow on a bad day, but she didn't because she worked through it, because she wanted to be happy."
Evans described Cecilia as one of the strongest and truly joyful people she has ever met.
"Even when she was sour, she was funny about it," Evans said. "Even when she was uncomfortable or something was bothering her, she still smiled or tried to show up and give you her best. Cecilia very rarely let people see her hurt."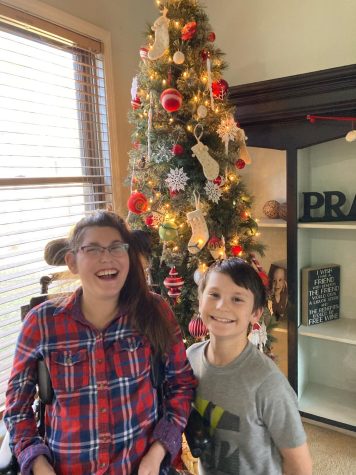 Evans said Cecilia's persistence was inspiring and showed her the strength in always maintaining a positive attitude. 
"The one thing that she taught me was to show up better each day," Evans said. "It's easy to feel grumpy or stressed and let that get you down, but [she taught me] to show up and be happier, be brighter, be that smile in someone else's day and make it a little bit better."
Cecilia wanted to live life to the fullest, and according to Niemann, she did. In 2013, her family planned Cecilia's funeral. She had a severe neurological disorder, and came home on hospice. She was nine years old.
"​​They did not think she was going to live [to] the next week," Niemann said. "I didn't even enroll her in school. All she wanted was to get back to her normal life."
When she brought Cecilia home, Niemann said she remembered having so many regrets. She said she had always wanted to take Cecilia on different vacations with her siblings, but she kept putting things off because she thought it would be better in the future; if her kids were older, if they had more in savings or if they had gotten something updated on our house first.
"It was then that it really made me change the way I lived my life," Niemann said. "I was like, as long as my house is standing and is presentable enough, who cares what it looks like? If she were to pass away tomorrow, am I going to give a crap that I had a brand new paint job or remodeled kitchen? I'm not, I'm going to wish that I took that vacation, I'm going to wish that we made that memory."
From then on, Niemann said she decided her family was not going to be a "family of stuff," but instead they were going to be a family of experiences. There were times during that year that Cecilia could not leave the house, but Niemann said over time, she kept thriving. That was the year Cecilia did her first triathlon.
"She's a great example of one: attitude, and two: make the most of what you have," Niemann said.
According to Niemann, Cecilia did triathlons with her as well as her siblings. She even did a triathlon where her sister, Lucy, pulled her in a boat for the swimming section, Niemann biked her, and her brother, Loren, pushed her in a special racing chair for the running section.
"But what's coolest is the entire time Cecilia was cheering on her siblings and telling them like, 'Woohoo, good job,' she put her hand up in the air and everything," Niemann said. "My other two have said it's been so awesome to have those experiences because [they] feel like typical siblings, where [their] big sister's proud of [them], and [they're] spending time in the community doing normal things."
Niemann said a lot of people did not realize how typical Cecilia was when it came to being an older sibling. She said that even though Cecilia could not walk or give her siblings' clothes, she found ways to pester them as a big sister.
"I can remember being on a road trip," Niemann said. "She was doing the 'poke [her brother] with one finger.' He was screaming, and I'm yelling at her, 'Don't make me pull this car over!' So I said, 'You need to quit touching your brother.' So she did. Except she then touched his car seat, because she wasn't touching him, which did not help because it still ticked him off. So I ended up pulling over because she wouldn't stop, and having to put her arm under the seat belt, so she wouldn't do it. She just beamed at me like 'So worth it.'"
After her medical scare in 2013, Niemann said Cecilia experienced more than many people her age would have, regardless of ability. Along with triathlons, Cecilia did both the Marine Corps and Kansas City marathon, white water rafted, saw memorials in Washington D.C. and snow skied in the mountains, among other activities. She loved roller coasters, with The Mamba at Worlds of Fun being one of her favorites. Niemann said she rode everything from the Tennessee Tornado at Dollywood, to the Patriot at Worlds of Fun. 
​​"She loved any of that kind of adrenaline," Niemann said. "People were always shocked when we were lifting her into a ride, but we'd come in afterward and she'd have one hand up in the air, she couldn't lift the other one, for a high five."
Evans said she was always shocked by how adventurous Cecilia was. She would come back from trips with her family, and her parents would talk about how they went skiing and she went down massive mountains.
"I would have been so scared to do that at her age, especially not being able to control what was going on around me, but she loved it so much," Evans said. "I think that has kind of left an impact on me, just her ability to live every moment to the absolute fullest doing anything that she could to be happy. In any situation she worked harder to be happier than to feel the sadness or pain of anything she was going through."
During COVID, Cecilia and her siblings did a year of virtual school, and Niemann said they decided that they were going to spend the year traveling and spending time out of the house. They went to the Smoky Mountains and Dollywood. Niemann said because of COVID, the crowds at Dollywood were smaller, so they were able to go on one ride nine times.
"
She taught me how to be a better person, like how to be better and more mature. She helped me become the person I'd want to be."
— Marzook Islam
Niemann said when they came back for the last time, the announcer said, 'Cecilia, how was your ride?' She put her hand up in the air, and he knew that meant she was giving a high five and a huge smile. 
"I thought, gosh, how awesome that there were other people who were riding frequently, but because it took a little bit longer to lift her in and out, they took notice, then each time, asked a question about her or asked her questions," Niemann said. "From the beginning of when she went on that ride to the ninth time, by the ninth time, they were communicating with her and cheering for her. And I thought this is again, somebody with few words and can't move on her own, and the whole crowd [was going] crazy."
Niemann said that experience reinforced how someone does not have to say a lot, or even be physically able to do a lot, to be kind to others and have a huge impact. 
"To be able to witness this alongside her for almost 18 years, I'm the lucky one," Niemann said. "She was amazing."
On all their vacations, Niemann said her family always found things that were accessible for Cecilia, and if it was not accessible yet, they would figure it out so that it could be. During one trip, Niemann said they went hiking in Colorado, on the non-wheelchair accessible paths and trails. 
"It was a lot of work. But I think it taught my other [kids] that sometimes you have to think outside of the box," Niemann said. "How do we include everybody? It doesn't have to be a hard no, it has to be; how can we adapt this? Just because it hasn't been done before, doesn't mean it shouldn't be tried."
Niemann said Cecilia was driven to make a difference in inclusion, and refused to let anything stop her from living the life she wanted. Until she had Cecilia, Niemann said she did not think about issues like doorways not being wide enough to fit a wheelchair, how someone with a disability may need an adult changing table in public bathrooms or how unaccessible playgrounds are to kids who use wheelchairs.
Niemann said she has testified at the state level, talked to local governments and the National Council on Disability, which is the organization that works with the Senate, the Federal Senators and House on getting legislation passed, and will continue to fight for changes because it should not be a rare thing that somebody like her daughter can go to the bathroom in public with dignity. 
Usually, Niemann said people do not think of somebody with cerebral palsy as someone who could have a huge impact, but Cecilia helped achieve change in her community. 
When she was young, Niemann said there were no accessible playgrounds in the Kansas City metropolitan area. Now, most of the Blue Valley playgrounds have had all their wood chips taken out, and made wheelchair accessible. Niemann said Cecilia's school was one of the first to change, likely because she brought it up so many times. On top of that, Kansas City, Mo. recently passed an ordinance so that all new construction and remodels must have an adult changing table in them. 
"KC Metro is one of the most accessible places for people with disabilities, specifically those with physical disabilities," Niemann said. "Honestly, I think that's the impact of my daughter because I had a loud voice, but she showed me what to use that voice toward​​. When we think about her legacy, those are the things that we will continue to do."
Though she does not expect people to fight legislation, Niemann said people can make a difference in the community through small actions like simply just smiling at people. Instead of looking away or ignoring someone who is different, Niemann said going over and talking to them, just like anybody else, could have a positive impact on that person.
"
How do we include everybody? It doesn't have to be a hard no, it has to be; how can we adapt this? Just because it hasn't been done before, doesn't mean it shouldn't be tried."
— Debbie Niemann
"​​Maybe this person with autism, you can't go up and shake their hand or give them a hug, but say, 'Hi,' invite them to sit at your table at school for lunch," Niemann said. "Yeah, they may eat a little bit differently, does it really matter?"
Niemann said people should be more open to the idea that "different" does not necessarily mean "bad." 
"If we can actually take the time and learn [and get to know someone], you'll find that the individuals with disabilities often will bring you so much more than you could ever provide to them," Niemann said.
Cecilia broke down barriers for people with disabilities, Niemann said. Spurring a fight for change to the challenges she and so many others face and promoting inclusion were truly important to her, according to Niemann.
Along with the difference she made in overcoming and putting an end to such issues, Niemann said Cecilia would want to be remembered by the joy she spread, and how to be kind to other people. To honor her and how much positivity and sunshine she put out into the world, Niemann said that on Cecilia's birthday, Sunday, Feb. 6, her family has committed to doing random acts of kindness wherever they go. Additionally, they are making a donation to some of their favorite organizations in her honor, and are going to deliver meals to families who have kids as patients at Children's Mercy and at KU Pediatrics.
"That's what she would want to do is make sure that people are just kind to each other because there's enough crap in the world," Niemann said. "You don't need to add to it, we can make this [world] a better place. And [Cecilia] did, again, unable to walk, unable to move on her own and very few words, and yet, she had a huge impact. So if only I could emulate that, and I'm way older than the 17 years she was, for the rest of my life, I think that I will have honored her well."
Leave a Comment