District cuts non special education paras to help make up budget deficit
To make up a four million budget deficit, the Blue Valley Board of Education decided to cut non special education paras and certified staff from attrition at the high school level
In a year of so many uncertainties, it seems as though dealing with budget cuts was bound to happen at some point. 
Yet, to BVNW library media specialists Craig Odle and Mary McCabe, the shock of learning that the cut would impact the library was especially upsetting. 
"Very sad, very frustrated, we are hurt, angry, it feels like a lifetime of a career of work is not appreciated by the district, at least not enough to keep," Odle and McCabe said. 
As for the library para herself, Suzanne Oakes said the news came out of blue.
"It was a shock, I was not expecting it, I really thought I would be here in this building til I decided to retire," Oakes said. "It is kind of an unexpected end to a 30 year career in education." 
Oakes has been an LMC para since 2016 and in the education field since 1990. Taking on various jobs such as being a speech language pathology para, a building secretary and an assistant to the special education director in the Kaw Valley school district. 
Oakes said her job involves doing many activities to benefit the library and school community. 
"I check all the books in, I get class sets ready for English classes, I do all the lamenting that needs to be done, I help kids and teachers with technology problems," Oakes said. "So I just kind of do a jack of all trades." 
Odle added onto this and said the job of the para involves doing lots of clerk work, which in turn allows himself and McCabe to teach students. 
Without the para position, Odle and McCabe believe there will be reduced access to the library for students, which they said could impact issues such as technology help, checking out class sets for the English department and even their ability to teach students. 
"In the past we have been able to create new programs and things for students to be interested in, and without people to manage the day to day things those things might become more difficult," McCabe said. 
Oakes is not the first LMC para to be cut. Another LMC para was cut last year, but with the position being cut entirely this year, Odle said it will put the library running at 50 percent, which will negatively impact students in the years to come.
"We have studied libraries and we have seen what it looks like with two people instead of four," Odle said. "There is no good way forward."  
Along with the frustration of the district eliminating the para position, Odle said it frustrated him that the district made the decision before asking employees for their input.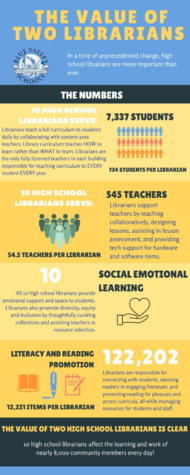 "The district made up its mind well before they looked for any input and the input was minimal and I think that is unfortunate," Odle said. 
Principal Amy Pressly said she understands the challenge cutting an LMC para poses to the librarian staff, but that it will not impact students. 
"I know for the library that it is really hard and it will mean doing business differently then we have done," Pressly said. "Students will see the library operate differently next year, but we are still going to have great services from our library." 
Pressly also mentioned how along with the LMC para, there is an in-school suspension para position that will be cut as well. The position is currently held by Joanne Maloney. However, Pressly said the administration was already examining the ISS plan and how to better use it, prior to the budget cuts being implemented.
"We will be looking at some other ways to handle discipline," Pressly said. 
As for what she will miss most about being an LMC para, Oakes simply said the books and the people. 
BVNWnews reached out to the BV District for comment and have not heard back. 
Resources are provided by Odle that he said are intended to highlight the impact of well staffed libraries as well as an infographic made by a librarian at Blue Valley North.
"Why school librarians matter: What years of research tell us"
"How Pennsylvania School Libraries Pay Off: Investments in Student Achievement and Academic Standards"
Full list of budget cuts for the 2021-2022 school year