One local election's impact on the BVNW community
The election for Johnson County District Attorney holds importance to friends of former BVNW student John Albers, who was shot and killed by the police.
Coming home from their respective colleges to vote together, a group of BVNW class of 2019 graduates gather at the polls. Not only would it be this group's first time voting, but the election for Johnson County district attorney holds major significance to them, BVNW alumna Caroline Diederich said.
January 2018 was an awakening, Diederich said, about the importance of local elections. Diederich's friend and former BVNW student John Albers was backing out of his driveway when 13 shots were fired at Albers by police officer Clayton Jenison, killing him. The police were at Albers' house on a mental health call after receiving word he may be suicidal.
Diederich said when Steve Howe announced Albers' death was justified, not only were they deeply hurt but felt like they had no power to make change.
"Now that we can vote, and now that we have a candidate that we think is going to turn things around, I think getting together was kind of like almost celebrating that and to have everyone home from college and just get together and say 'you know what, we're finally at this point where things are gonna change,'" Diederich said.
The candidate Diederich believes will turn things around is Zach Thomas, who is running against Steve Howe for district attorney.
BVNW alumna Elizabeth Buchele, who also went with Diederich and her friends to vote, said she supports Zach Thomas. Buchele said there has been a lack of transparency around Albers' death, and how the officer who killed John was never fired but instead received a $70,000 severance to quit.
"The DA we want in office, Zach Thomas, is just really awesome, and one of the things he really stands for is transparency," Buchele said. "That's one of the big things that we've been waiting [on] since John's passing, [and we] haven't gotten a lot of that from the Overland Park Police Department."
Also supporting Zach Thomas in the district attorney race is 2019 BVNW alumnus Gabriel Bright.
"I believe that the current district attorney has set a bad precedent in Overland Park and Johnson County. And that precedent is that if you are a person who is in need of mental attention, or you are having an episode of some sort, despite you not being a danger to society or anyone else, you can be killed, and the police will consciously withhold information," Bright said. "What I would hope to see is that the new district attorney is able to reverse that in some way, shape, or form…I don't think Steve Howe can do that, I don't think he wants to do that."
Bright said his friendship with John is one of the reasons he has been so invested in the district attorney election. Due to his interest in the election, Bright even set up a livestream interview with Thomas on his youtube channel.
Buchele said the opportunity to put someone in office who will make real change makes this election important.
"The DA that's in office right now doesn't seem to hold the right values," Buchele said. "In fact, Thomas was talking about how all of the violent crimes, the rates have just like, skyrocketed since [Howe] has been in office; everything is going up. And apparently Steve Howe is so proud of everything he's done while he's in office but I don't know what he's very proud of."
One thing Diederich, Buchele and Bright stressed is the importance of voting. For Diederich, she said she never recognized the influence of voting until Albers' death.
"I never really understood the importance of voting until, you know, I was a junior in high school and I'd seen the power that it can actually affect our lives," Diederich said. "I think encouraging people to vote is a big deal because, you know, even if they're comfortable in the life that they're living right now, anything can change."
Buchele said not feeling like one needs to vote is an entitlement in itself.
"I think that everybody definitely needs to do their research, and it is a big deal if you feel like you don't need to vote," Buchele said. "You have a lot of privilege if you don't feel the need to go out and vote."
Bright said that young voters can make an impact on this election because they are the people who can shape how Johnson County and the country runs in the future.
"[Young voters] are the ones who are going to determine how our lives are all affected, so for us to not be informed, I believe that's not an option," Bright said. "I think it's ignorance, and ignorance is what destroys a society, in my opinion. Getting young voters out is significant to me because they're the future leaders."
For Diederich, she said voting for Thomas and getting together with her high school friends to do so is a way to commemorate John's legacy.
"One of the most obviously hurtful things that happened after John passed was Steve Howe saying that what happened, it was justified, which, you know, we knew in our hearts that that wasn't right," Diederich said. "I think that going into this election and spreading the word, and all of us coming together, especially to do that, has been the best thing to honor John and honor his family."
BVNWnews reached out to Steve Howe and Zach Thomas for comment but has not yet received a response from either.
Leave a Comment
About the Writer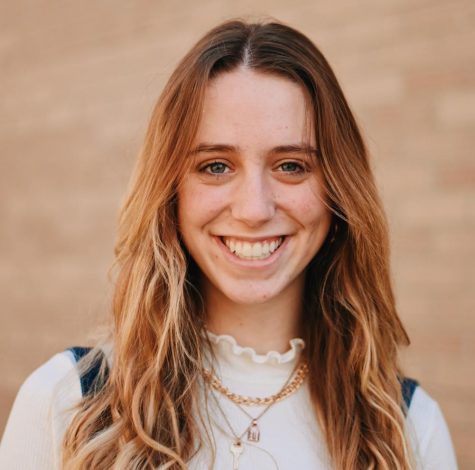 Emma Johnson, Editor-In-Chief
Emma Johnson is a senior and the Editor-In-Chief for "The Express." For this upcoming year, Emma is most looking forward to navigating how to run a newsroom amidst everything and getting to know everyone on staff. In her freetime, Emma loves to do anything involving music and spending time with her friends and family. Emma also scrolls on tiktok for an unreasonable amount of time and enjoys going out to eat and online shopping; which is unfortunate for her bank account. In the future Emma intends to major in Communications and minor in Political Science.