New head baseball coach named
Pending board approval in June, Mike Pangborn will become the new head baseball coach according to an email sent to the BVNW community on May 15 by Principal Amy Pressly.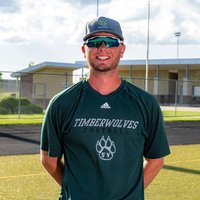 Previously an assistant coach at Blue Valley Southwest, Sherwood High School in Missouri and Kettle Moraine in Wisconsin, Mike Pangborn said he is looking forward to having his own team and mentoring the players within the baseball program.
"I just want to be a part of the culture and the atmosphere that is Northwest baseball and continue to guide and mentor the [players in the] baseball program," Pangborn said.
As for how he is planning on bettering the program, Pangborn said it will be difficult to do so since in the last three seasons prior to 2020, the team made it to the state tournament
"It is going to be hard to improve because they have already been in the state tournament three years in a row, [prior to this year] so I think expectations are always going to be high there," Pangborn said.
Adding to this, Pangborn said that although he does not necessarily have a specific style, he has a more relaxed method of coaching.
"I am more laid back than most, I am not a yeller," Pangborn said. "I consider myself somebody who tries to connect and build relationships with the players."
When asked what the core values and motto for his players will be, Pangborn said he wants good players, good students and good people.
"I think those three things are going to be the foundation of the program," Pangborn said. "I want players who are good on the field, I want players who are good in the classroom, and I want players who are good in the community."
Additionally, Pangborn said he is excited to be able to build connections with his players and be involved with their lives.
"The thing I am most looking forward to is just connecting with the kids and being a part of their lives so that in four or five or 10 years when they come back, we can have a conversation about how awesome it was and how fun it was in the time that they were within the program," Pangborn said.
Having introduced himself to the baseball team via a zoom call May 20, junior and catcher Brady Kaplan said he's excited to play under Pangborn due to his knowledge of the sport.
"My first impression was that he is a young guy and he looks like a baseball coach," Kaplan said. "He's a guy that knows the game of baseball really well so I'm really excited to play under him."
Playing for Pangborn at Southwest, baseball player Michael Paule said he is always able to get players ready to go and play.
"He was a guy who was able to get anybody ready to play and he always pumped people up in big moments, he's an all-around great coach," Paule said. "He knows what he's doing with baseball and I'm sad to see him leave Southwest."
Paule said he learned a lot from Pangborn but nothing more important than to always give it his all.
"He was always a guy who was about you can't give 50 percent on anything if you're trying to succeed and that you have to put the work in because it's not going to be given to you," Paule said.
Principal Amy Pressly said she hired Pangborn because while interviewing him for the position, she could tell that he had a true plan for the program's future.
"I could really envision what our program would look like as I listened to him describe things [like] a practice [and] different aspects of the program, I could see that he had a true idea to plan for our program," Pressly said.
Adding to this, Pressly said she is excited for him to be the new head coach, as she believes he understands the program's strengths and weaknesses.
"He [is] familiar with our program, he knows our strengths, he knows areas where we can continue to improve because we can always improve," Pressly said. "I'm just excited to see some of that become reality now."
As for how she thinks Pangborn will fit in with the Northwest community, Pressly said she thinks he will be a good fit with the other head coaches and is looking forward to having him join the BVNW community.
" I think [I'm] just excited to have [him] join the Northwest family and I'm looking forward to a great year," Pressly said.
View Comments (1)