John Hilton named new athletic director
Pending board approval, Hilton will become athletic director and assistant principal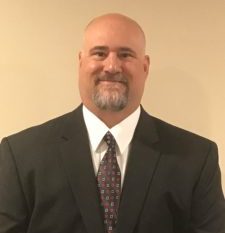 John Hilton is slated to become the next athletic director at BVNW. Principal Amy Pressly announced the news to the Northwest community via email Friday.
Hilton served as the athletic director at Lawrence High School starting in 2018. Prior to his time at LHS, Hilton was an athletic director at Bonner Spring High School and before that taught and was assistant football coach at Olathe North High School, Arvada, Colo. High School, and Centaurus, Colo. High School. Hilton earned his bachelor's degree from MidAmerica Nazarene University and his two master's degrees from Baker University.
In his new position, Hilton said he's looking to form lasting relationships throughout the athletic department while strengthening programs at Northwest.
"I'm a relationship guy and it's important to me to have good quality relationships. I really believe that as an athletic director and assistant principal your main role is to serve and to find out what coaches need, what kids need, what individual programs need to be successful, and help those individually," Hilton said. "I'm here to see what I can do to help enhance those programs and enhance those individuals."
Taking over the role of athletic director in the midst of a global pandemic, Hilton said he is hopeful the fall sports season will take place as normal. 
"It's one of those deals where you want our athletes to be able to get back out there and start practicing and start competing, but you also have to make sure that you're listening to the leaders that make the big decisions and the county health departments and the governor," Hilton said. "I'm keeping my fingers crossed that we are out there in June and July and we're in school in August and fall sports are running and we don't have to lose another season."
Living in the Kansas City area, Hilton saw the job opportunity at BVNW as a way to spend more time with his family and work closer to home. 
"That 40 minute drive every day, not being able to go home after school in between events, 15 hour days in the building, but I really wanted to get closer back home to be able to have more time with my wife and my family and everything," Hilton said.
After talking with Northwest coaches about what they were looking for in the new athletic director, principal Amy Pressly found Hilton and realized he was the perfect fit for the job.
"As I went out to try to find an athletic director, I felt like he really showed a lot of what [the coaches] were looking for. He's been a coach, he's been involved in a big 6A program and he has experience as an athletic director," Pressly said.
With Hilton likely unable to meet with the Northwest community until next school year due to COVID-19, Pressly said it will be a challenge, but believes Hilton will be able to overcome it.
"[Hilton] is in a unique situation where we aren't able to have a meet and greet to introduce him to the Northwest community. I think once he navigates around that and has a chance to meet with the community, he will feel right at home," Pressly said. 
Similar to Hilton, former Northwest Athletic Director Steve Harms was a football coach who made the transition into athletic director. Harms, who worked at Northwest since it opened before retiring in 2016, said that building relationships with coaches is essential for an athletic director to be successful. 
"You have to have a great relationship with the coaches as an athletic director so they can trust you, understand you, and want to work with you," Harms said.
Harms said it is important that the new athletic director focuses on continuing the strong culture of athletics at Northwest.
"We have a great tradition of athletics at Northwest that set the tone of what Northwest was built on," Harms said. "We're in a transition time with many new coaches coming in and old coaches retiring, so it is very important that [Hilton] works with these new coaches to continue that tradition."
Agreeing with Harms, head basketball coach Ed Fritz said he is hoping Hilton will embrace the community.
"I'm just hoping that he embraces our kids, our community and is a supporter of all of our programs," Fritz said. "He wants to help us succeed so I think we got a guy that will do that."
Having heard a positive review from the head coach at Lawrence High, Fritz said he is looking forward to working with Hilton.
"I have a good friend, the coach at Lawrence High School and he said he does a great job, he's a great communicator and so I'm really looking forward to working with him," Fritz said.
A goal of Hilton's is to encourage Northwest students to be involved in many activities so they can have an enjoyable high school experience.
"I think that when the student body rallies around each other and everybody supports each other, it makes everything better," Harms said. "Athletics and activities are an extension of the classroom that are an important part of the high school experience and I urge young people  to make sure that they aren't just a high school student, but they have a high school experience."