Plan for fourth quarter: eight-week virtual instruction program beginning Monday
The remainder of the school year will be conducted through virtual instruction from March 30 to May 22.
The Blue Valley District released their plan for continuous learning for the rest of the school year this afternoon. Schooling will be done virtually and the school year is scheduled to conclude May 22, according to the District's Continuous Learning Plan.
Prior to the release of this information to the public, the executive director of curriculum, instruction and innovation Kelly Ott sent a YouTube video on March 23 to teachers. Ott said the week of March 23 through March 27 will be a time for teachers to plan and prepare their curriculum for fourth quarter as well as communicate and connect with colleagues and students. While teachers are planning their assignments for the rest of the year, Ott said teachers should focus on connecting with their students the most at this time. 
"The most important thing we can do is connect with kids, let them know teachers are there and that we care, let that be the primary goal as [teachers] rethink this quarter," Ott said in the video. "It will be different but will be a great opportunity to connect with kids." 
For students, the virtual education schedule will begin on Monday March 30 with teachers posting assignments by 9:00 a.m. Mondays through Thursdays, however, the schedule will only need to be followed if the teacher is wanting to do a lecture live. Live instruction, according to the district, can be conducted through platforms like Zoom or Canvas Conferences, in which the teacher can hold a virtual class discussion.
With a quarter left of high school for senior Gabriela Meriano, she said her area of concern for online school is how her five AP classes she is enrolled in this semester will be conducted, as she prepares to take her exams online.
"I'm worried that I won't be prepared for the AP exams," Meriano said. "I won't be getting the face-to-face instruction on a daily basis."
English teacher Amanda Ford, who teaches AP English Language and Composition, said the AP exam taken at the student's home will be free-response and that the student can withdraw from the exam without being charged a fee. Likewise with Meriano, Ford said that the transition to prepare for a different exam than what was originally planned will be challenging and frustrating for AP students and teachers. 
"It's an interesting challenge for sure," Ford said. "There are still some unknowns to be honest. One of those unknowns that we have is what that test is going to look like. A lot of next week when the students come back to school will be spent talking about how that feels and how do we move forward from here?"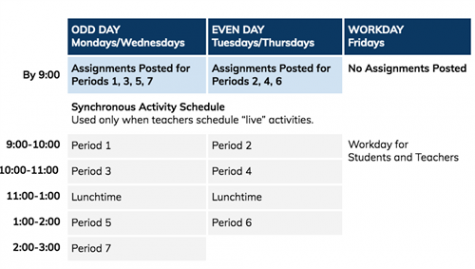 Students will have their odd hour classes on Mondays and Wednesdays and their even hour classes on Tuesdays and Thursdays, if working on live lessons or assignments. Fridays will be set aside as a time for weekly collaboration time between teams of teachers in a department and a work day for students on assignments, District's Continuous Learning Plan said. Additionally, this time can be used for virtual meetings, PLCS, PL and other necessary discussions.
With the continuous learning program being a change for both teachers and students, Ott said everyone involved needs to take a slow approach when getting used to the new way of learning and accepting that it will be hard at times.
"As you go forward in this strange virtual space, remember to go slow," Ott said. "Embrace the newly awkward moments of a washer buzzing in the background of a video you're making or your child stubbing their toe in the middle of a Zoom conference with a parent. Get used to yourself on-screen, but most of all give yourself grace."
The Express emailed Associate Principal Tyler Alexander for a comment, but did not get a response.