ACT changes mean students can retake test sections separately next September
Beginning next September, students taking the ACT will be able to retake individual sections after taking the full test.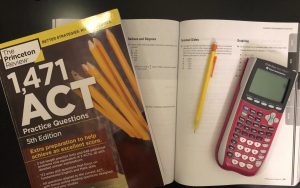 Hang on for a minute...we're trying to find some more stories you might like.
ACT announced they will be adding three new options to their traditional standardized test Oct. 8. Taking effect on the September 2020 test day, retakes of each section- English, math, reading and science- can be  taken separately on testing days.
Having already taken the ACT, BVNW Junior Phillip Zhuang said although the change may seem helpful for the Class of 2021 and beyond, it actually changes the validity of the test, which is meant to challenge endurance. 
"I think it's stupid," Zhuang said. "Because the point of the test is that you take all four sections and your brain isn't fresh. Scores will be boosted up, so the average will be a lot higher. Higher scores won't mean as much."
Another change in ACT procedure is it will provide superscoring, which is using the top scores from each section of the test to send in for scholarships and college admissions. ACT will now supply the composite score, which is the average of the four sections, along with the calculated ACT superscore.
"It'll help them if they can automatically send their superscore report, instead of self reporting and then having to validate all those reports," BVNW counselor Kimberly Goldsmith said. "I can see it relieving a lot of pressure and anxiety that comes from having to retake the whole thing when some of your subjects are really strong."
However, each college or university establishes their own policy on superscoring. Colleges in the state of Kansas, such as the University of Kansas and Kansas State University do not superscore, but more than 200 colleges in the country, including the University of Arkansas, offer superscoring in admissions and scholarship applications.
 Zhuang said he hopes that college admissions differentiate their scores based on the new rules, so that the improved scores from taking individual sections and superscoring provides an accurate measure of the score.
The third option announced by ACT is the results of tests taken online will be able to be received as early as two business days after the test, compared to the previous two week period. 
Although online testing has been offered at specific schools since 2016, they will also be allowing students to choose whether to take the test on paper or online on a national level.
The Blue Valley West testing center and other local testing centers do not currently offer online testing, and Blue Valley West will not be offering online testing next year when the new rules are in place, said BVW ACT Test Coordinator Jim Andra in an email.
Although the online testing rules will not likely have a large impact on BVNW students next year, Goldsmith said, new changes with official ACT superscoring and the opportunity to take individual sections will affect impact students this upcoming year.
"You have a much better chance with this new policy than you did before in trying to get those scores you need for merit scholarships," said Goldsmith. "It will be interesting to see what happens as the whole admission game is looking a lot different."