Three BVNW grads featured in South Region Elite Eight
The South Region's Elite Eight matchup between No. 9 Kansas State and No. 11 Loyola Chicago features three BVNW graduates.
When the South Regional final between No. 9 Kansas State and No. 11 Loyola Chicago tips off Saturday night in Atlanta, there will be three BVNW graduates on the court. Loyola Chicago's Clayton Custer and Ben Richardson will go up against Kansas State which includes senior walk-on Mason Schoen.
Custer, Richardson and Schoen were a part of the 2013 BVNW squad which went 25-0 and won the first state championship in program history.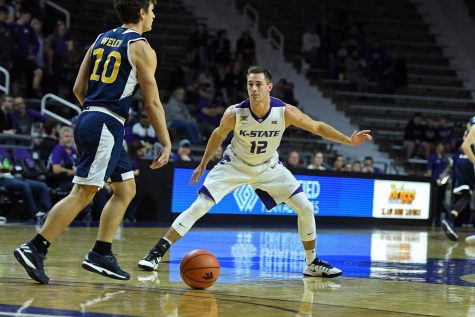 "That team was really special in my opinion. Just for our chemistry on and off the court. We were like brothers," Schoen said. "The cohesiveness of that team was something special and unique, that I don't think that you see every year with high school teams. We were just kind of best friends on and off the court, and it showed obviously with our play on the court."
Head coach Ed Fritz said the 2013 team is one that he still brings up when talking to his players today.
"There's guys on our team the last couple state championship games, I know they get tired of me talking about all those guys," Fritz said in a phone call from Atlanta Friday, "but they've kind of gotten to the point now where they appreciate what they're doing and see that they kept the tradition going that Mason, Ben and Clay and all those guys were able to bring to our school."
After their undefeated run to the state championship in 2013, Custer and Richardson repeated as Kansas Class 6A champions again in 2014. With all the success from the former Huskies' Schoen said it is not the most shocking thing he has ever seen.
"If you would've told me five years ago that I'd be playing Clay and Ben in the Elite Eight, I don't know if I would've believed you," Schoen said, "but at the same time I'm not necessarily surprised that we are sitting in this situation right now."
In a press conference with reporters in Atlanta Friday, Custer said the tournament success of the three BVNW graduates has put Fritz in the national spotlight.
"I think we're making coach Fritz a popular guy right now," Custer told reporters. "He's been joking with us that we're making him famous."
After traveling to Dallas to see Custer and Richardson's thrilling first two tournament wins, Fritz will be in attendance for the fourth straight Loyola game as the former Huskies attempt to go to the Final Four. Should the Ramblers advance, Fritz said he is not sure whether he will make the trip to San Antonio for the Final Four.
"I would say that I'm not going and then I'll end up going," Fritz said. "That's how I usually do everything. I know my wife has already asked about going, so we'll see what happens. But, it'd be hard not to be there."
Loyola Chicago enters Saturday night's Elite Eight after wins over No. 6 Miami, Fla., No. 3 Tennessee and No. 7 Nevada, all by less than two points. Kansas State finds itself one win away from the Final Four after wins over No. 8 Creighton, No. 16 University of Maryland Baltimore County and No. 5 Kentucky.
With his relationship with Kansas State head coach Bruce Weber, along with Custer and Richardson playing for Loyola, Fritz said he has no rooting interest in tonight's contest.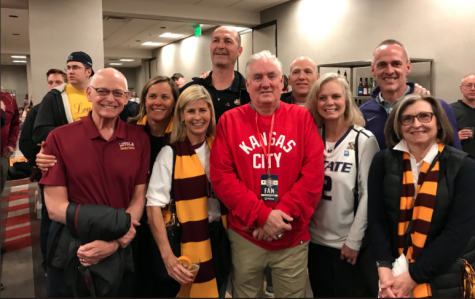 "I just want them all to do well," Fritz said. "I'm really really happy for coach Weber, I mean he's such a good coach. Sometimes, as a fellow coach it makes me mad that he doesn't get the credit he deserves."
"I'm going to be rooting for him, and rooting for Loyola, rooting for all the guys. I'm just thrilled to be able to be at the game."
Saturday night's Elite Eight matchup can be seen at 5 p.m. on TBS.