Head girls varsity basketball coach Brian Bubalo announces retirement
Head girls varsity basketball coach Brian Bubalo announced his retirement during a meeting with the program today.
Ryan Blank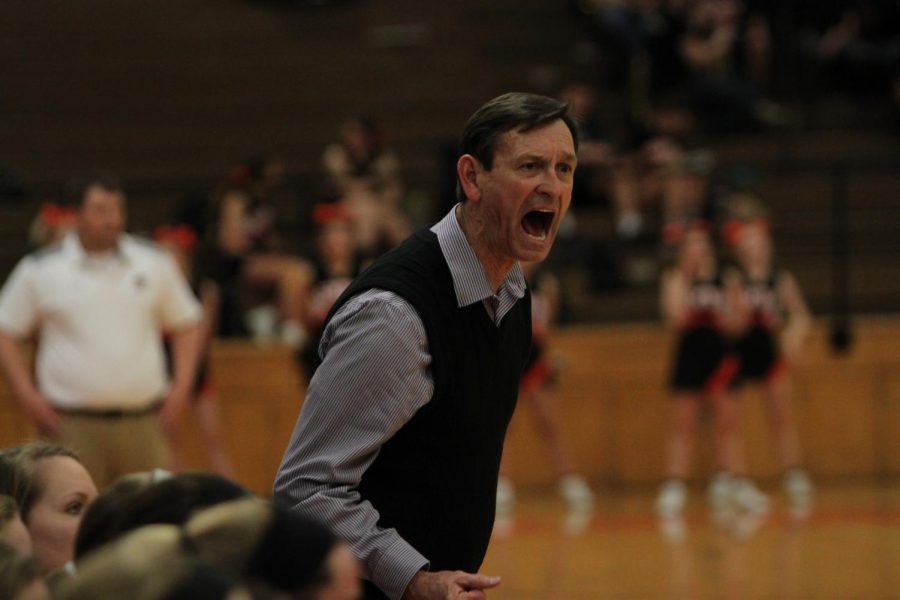 Head girls varsity basketball coach Brian Bubalo announced his retirement during a meeting with the program today. Bubalo informed players that he is retiring from his role as head coach at a meeting in his classroom during Husky Halftime.
While addressing members of the program during the meeting, Bubalo said that he wanted to leave at a time that was beneficial to the future of the program.
"I could have waited," Bubalo said to his players, "but I wanted to do what was best for the team."
Bubalo spent five seasons as the head girls basketball coach at Blue Valley Northwest from 2013-14 until 2017-18. During his time at Northwest, Bubalo compiled a 49-58 record and took the Huskies to the state tournament in 2015.
During the 2017-18 season, Bubalo's last as head coach at BVNW, the Huskies finished with a 7-14 record and a first round loss in sub-state to Shawnee Mission Northwest. It was the third consecutive year in which the Huskies were eliminated in the first round of postseason play, as well as the worst season record-wise in Bubalo's tenure at BVNW.
Junior guard Haley Shin said she was not surprised about the announcement.
"I think we all kind of saw it coming just because he's been here for a while and just the way the season was going and so forth," Shin said. "I think it's gonna be a big change."
As a four-year varsity member, senior guard Kate Kaufman said that it will be sad to see her head coach leave the program.
"It was great having Bubalo as a coach all four years," Kaufman told BVNWnews via text. "You can tell he really cares about his players and I hope he enjoys retirement, but Northwest is gonna miss him."
According to Bubalo, discussions between he and his wife lead him to this decision.
"My wife and I decided back at Christmas that this was going to happen so I've known for some time," Bubalo said, "and so I've tried very hard to have my team prepared and give it our best shot because I knew it was the last one."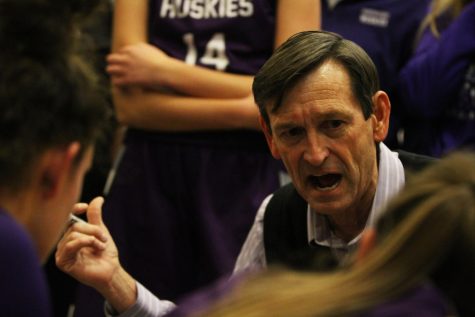 Bubalo ends his coaching career after 33 seasons at five different schools. Bubalo started his career coaching boys basketball at Lexington (Mo.) High School, before going to Fort Osage and Grain Valley. In 2002 he went into coaching girls basketball at Lee's Summit High School, where he won seven district titles and took the Tigers to the Missouri state tournament on three different occasions. During his time at Northwest Bubalo has taught in the math department along with his role as head girls basketball coach.
"It's really the only thing I ever wanted to do," Bubalo said. "I've tried doing other things and it didn't work. So, I've really been blessed by the Lord. Not a lot of people have the opportunity to be a head coach, to coach kids who care, to teach at great schools, and I've had all those opportunities. It's been a lot of work, but it's been a lot of fun. And if it wasn't fun, I would've quit a long time ago."
Athletic Director Kevin Gerke said Bubalo has had a great career as a high school basketball coach.
"I think he did a really, really good job building great relationships with his players," Gerke said. "I think the one thing you could always count on from his girls was that they were gonna play really hard, and I think that's you know probably as much as anything else an indication of how good a coach you are."
After junior varsity head coach Hadyn Gustafson announced her resignation last week to go coach at a middle school in Olathe, and Bubalo announced his retirement today, both the varsity and JV coaching spots are vacant in the Blue Valley Northwest girls basketball program. Gerke said with both of those jobs open he would like to hire a head coach soon, but he wants to make sure the person is a good fit. Gerke said he wants to get the word out about the open position, and he will be keeping his options open on whether to promote internally or hire externally.
During the meeting with the program, Gerke told players that "we'll be looking to hire someone as soon as we can." He also told the players that he would be meeting with them soon to discuss what they would like to see in a new head coach. Bubalo said he feels the most important attribute for his replacement will be commitment.
"I think the program is solid," Bubalo said. "As far as what they need in a head coach, they need someone who wants to put in the time."