3D printer used to satisfy increasing demand for charging cords
Technology Integrations Specialist Nicholas Deffer and Librarian Craig Odle have worked through problems with the MakerBot to satisfy student needs.
Using the Makerbot, a school-owned 3D printer, to satisfy student need, Technology Integrations Specialist Nicholas Deffer and Librarian Craig Odle have created charging ports with the Makerbot, to satisfy the ever increasing demand for charging cords to charge devices.
After he took notice of the school's recent purchase of charger cords, Deffer said he decided to help reinforce the purchase by using Makerbot to 3D print a charging port.
"The school went and ordered a couple of chargers," Deffer said. "In the library we saw that, and we looked around online and saw that we could get similar things that could do the same thing, as far as like a charging block for pretty cheap."
According to Deffer, the charging block is meant to hold the cords so they can be used by students, but will keep the cords safe inside the box so the chargers do not go missing.
"We didn't just want that tangled mess sitting out there, because it would be really easy for anybody to walk away with one of those cords," Deffer said. "We went ahead and 3D modeled something."
The Makerbot in the library is often broken down so it was a challenge to successfully print the charging port according to Odle. The charging port was also the largest thing ever printed via the Makerbot.
"We printed it out after three or four missteps with our printer," Odle said. "The printer kept breaking. It was a big print and it was hard for a printer that is not that reliable for it to keep printing that long."  
Even the successful design has its imperfections according to Deffer, as certain parts of the box are different than the original design.
"It's interesting because there is kind of a slope on the design [on the charging port] on the top and it's meant to be flat so that is where we ran into some of the limitations of our 3D printer," Deffer said.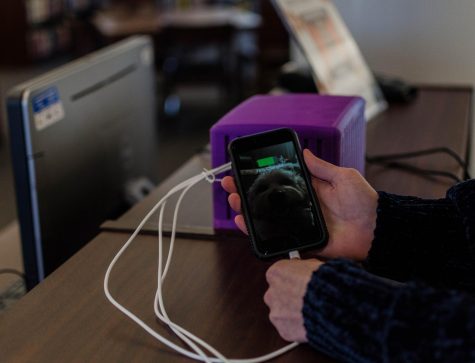 Sophomore Akshat Singh said that the Makerbot is a good 3D printer, although it can have mistakes from time to time. He said he dealt with the Makerbot's unpredictability when trying to 3D print a holder for earbuds.
"I tried to make an earbud holder, but it printed too big," Singh said.
Although the Makerbot does the job right now, Singh said he's like to see the school invest in a nicer 3D printer. After experimenting with the biggest project on the Makerbot so far, Odle said it's promising that they were able to print something of that size. The success of the charging station so far continues to excite Odle.
"We set it out and hooked it up, and it's getting some use," Odle said. "We're thrilled."