Assistant football coach Brandon Jenkins signs with the Omaha Beef
Assistant football coach Brandon Jenkins signed to play with the Omaha Beef earlier this week.
Shelby Matthews and Ben Johnson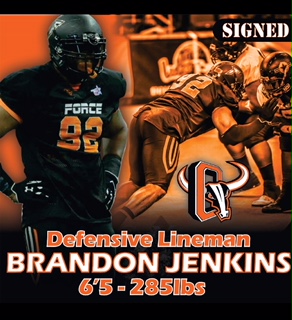 Hang on for a minute...we're trying to find some more stories you might like.
After his first year of coaching at BVNW, assistant football coach Brandon Jenkins will return to playing professional football in 2018. Jenkins signed as a defensive lineman for the Omaha Beef, a team in the Champions Indoor Football League.
Prior to arriving at BVNW, Jenkins played football at Ole Miss from 2003-2005 and then competed professionally in arena football.
"I've been playing arena football for about 8 to 10 years now, so the contact has already been there," Jenkins said. "It's just transactions were taking longer than normal this year, so that helped me make my decision to head that way instead of stay home."
Last year, Jenkins came to BVNW along with the head coach of the football team, Clint Rider. During the football season, Jenkins coached the freshman offensive and defensive lines along with helping players on varsity. Rider said Jenkins was able to utilize his past experience to help players and coaches. Jenkins' coaching skill was something Rider said helped "get our guys to play at a high level."
In addition to coaching football, Jenkins served as the ISS supervisor. Jenkins said he has plans on returning to BVNW after his season is over with the Omaha Beef.
"I just pray everything works out the way that I want it to," Jenkins said. "I just hope the administration and the school will accept me back. I hope they show me the same level of support that they showed me when I first got here."
The Omaha Beef will open their season on Saturday, March 10 against the Salina Liberty. On March 16, Jenkins will return to Kansas City when the Beef visit the Kansas City Phantoms at Silverstein Arena.
"It'll be kind of neat to watch him whenever he comes and plays nearby," Rider said.
Though he will continue his career as a player, Jenkins said he expects to retire from playing football in the near future. After coaching for one season at BVNW, Jenkins said the experience has helped him realize his desire to coach in the future.
"It helped me wanting to make the transition from player to coach," Jenkins said. "I enjoy coaching. I have fun coaching."

Print Friendly