Former math teacher Megan Geenens fills new interventionist position
After the Blue Valley School District added a new school interventionist to each high school to provide extra academic help, former math teacher Megan Geenens transitioned from teaching to fill the new job.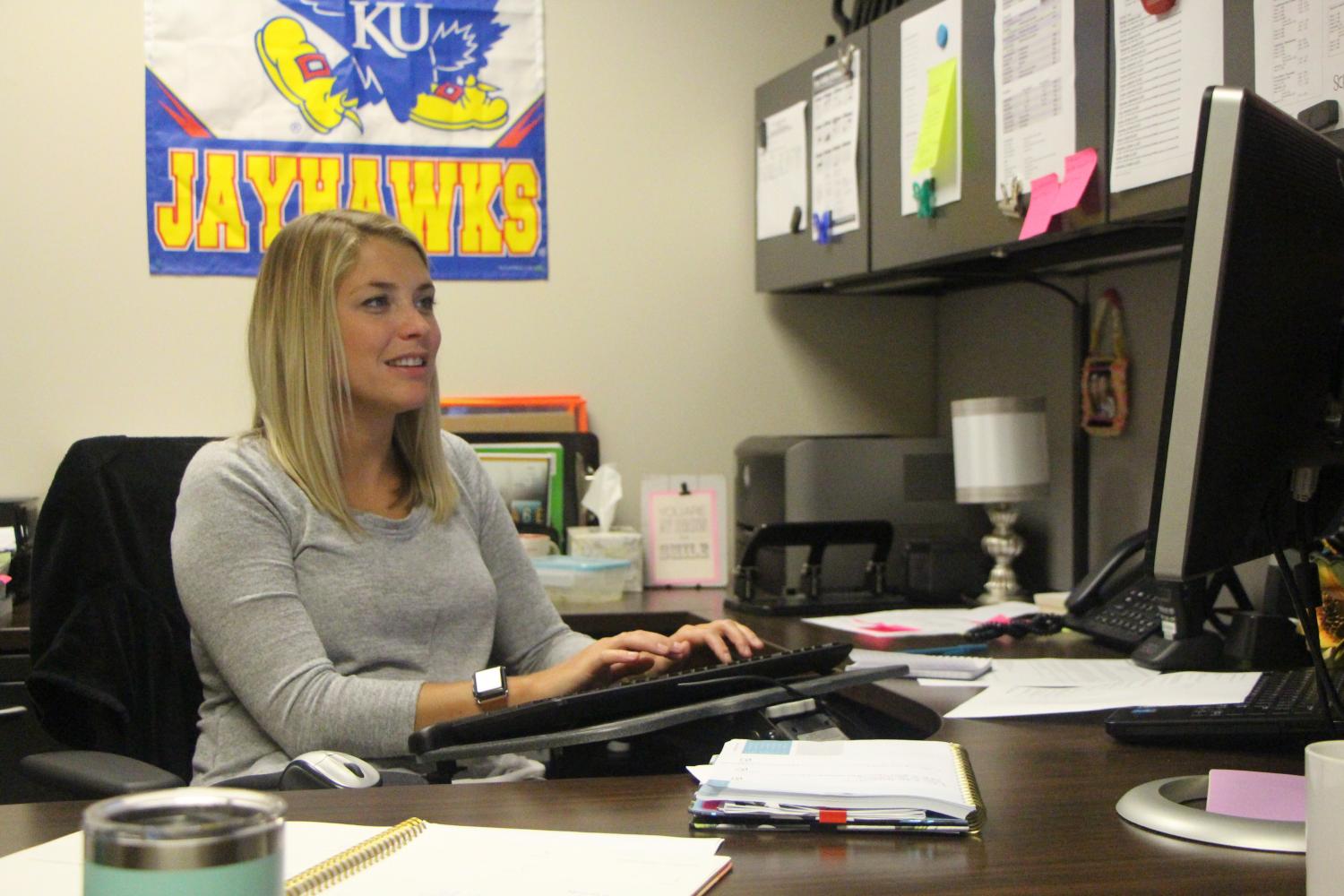 After working at BVNW as a math and AVID teacher for several years, Megan Geenens accepted a position as the school interventionist for the 2017-2018 school year.
Geenens said the district worked on a solution to help students who are struggling academically in areas a traditional counselor may not be able to give that specialized help.
"[Blue Valley was] seeing a lot of kids [falling] through the cracks," Geenens said. "My job is to really reach those kids that maybe have not been reached before."
Geenens said she works directly with students with a variety of different situations, such as students with low attendance, students who were hospitalized and students who were suspended.
Principal Amy Murphy said Geenens provides her students with a structured environment and tools that allow her students to be successful through a flexible schedule.
"It's a very fluid position at this point because I want to see what ideas we can come up with [to help students] and in the future, [and have] it pretty consistent between all the high schools," Geenens said.
Murphy said the administration felt that with Geenens' background in AVID and the number of students she worked with, she would be the best fit for the interventionist position.
Geenens said her time with AVID will help with her new position. Working as an AVID teacher, Geenens helped her students organize and think critically.
"What I did in AVID in the past couple of years, I'm implementing in [one of my freshman classes, which is] mainly the organization piece [and] the notetaking piece," Geenens said. "Then, I'll also start using activities like career research and goal setting."
Murphy said the skills Geenens acquired teaching AVID led her to be a great candidate for the job.
"[Geenens] has always had an interest [with] kids of [different abilities] and I think that's a strength of hers," Murphy said. "If she hadn't had that background, we probably wouldn't have gone with her [because] we wanted somebody [what that knowledge]."
Geenens said she wants to use this job as experience to potentially become a school administrator in the future.
"I'm currently working on a certificate to be a building administrator," Geenens said. "My hope is that in the next year I can get at least an internship in the Blue Valley School District being an administrator for either a middle school or a high school."