Clint Rider named new head football coach
Athletic Director Kevin Gerke announced Tues. April 4 that Clint Rider would be named the new head football coach for BVNW. Rider was previously the head coach for Hesston High where he finished with a 36-9 record over four years and as Class 3A State Runner-up in 2016.
Cayden Fairman and Karlie Hoffmeister
Hang on for a minute...we're trying to find some more stories you might like.
Athletic Director Kevin Gerke introduced Clint Rider as the new BVNW football coach in the PAC on Tuesday, April 4.
Coming out of a pool of 44 applicants, Gerke hired Rider who was previously the head football coach at Hesston High in Hesston Kan from 2013-2016. Gerke said the job attracted interest from a much larger distance than just the Kansas City metro area. He said there were many of out-of-state applicants from Nebraska, Missouri, Oklahoma and even as far as Arizona.
Rider said the head coaching job at BVNW was attractive to him because of the reputation he heard of the school from people he contacted at surrounding schools, as well as the academic and athletic tradition already established. Despite this, Rider said it will still be very hard for his family to leave the community in Hesston.
"It wasn't an easy decision," Rider said. "It was one that we were very excited about, but it's a place that we care for. Hesston High School has been very good to [my family] and the town itself has been very good so the prospect of coming here was very exciting. It's been a long process but we are really excited for the opportunity to be able to come and be a part of the Northwest community and we are really excited to be Huskies."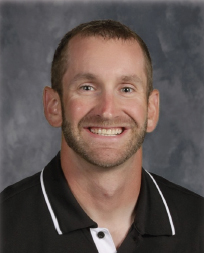 Photo courtesy of District Office
Throughout the process, Gerke said there was communication between himself and players and parents to discuss the critical attributes that they each found would be needed in the Huskies new coach. From those discussions, Gerke said the parents and players made it clear what they wanted.
"[Players and parents] wanted a coach that was going to hold kids accountable, had been successful, who was going to be a good communicator, who was enthusiastic and passionate about football and I think it also came through that they wanted someone who was going to be concerned about character and developing not just great football players, but good students and good fathers and those kinds of things as well."
During his four-year tenure at the helm for Hesston High from 2013-2016, Rider led the team to a 36-9 record, finishing all four seasons with a winning record. In 2016, Rider led his team to the 3A state championship game, where the Swathers lost to Rossville High 48-42, in overtime.
University of Kansas sophomore running back Ryan Schadler, who played his senior season under Rider at Hesston High said when Rider took over the coaching gig for Hesston, he came in with intensity and turned things around quickly.
"His mentality was that we're going to get after it, we're going to do things the right way," Schadler, who played in the 2014 Kansas Shrine Bowl said. "We kind of struggled the season before, we went 5-5, and then with him we went 8-2 so he kind of turned things around. [He brought] the mentality that we're going to work hard, we're not going to complain and we're going to get in and work out and become better men each day."
"
The way I look at it is that my focus will be on the offense and what we are doing there, but I still believe defense wins championships"
— Clint Rider
One of the staples of Rider's success at Hesston High was his teams ability to score lots of points through the use of a spread offense attack- none of Rider's teams at Hesston averaged less than 32 points per game- something Gerke said BVNW football fans should come to expect next season.
"We're going to play a fast-paced style that will be kind of that spread offense that everybody sees on TV," Gerke said. "We're going to play quickly, we're going to be aggressive. That was one of the things that our football players and our parents are also going to find appealing. It's going to be a fun style of football that I think they'll really enjoy."
Rider said that while he will spend much of his time on the offensive side of the ball, he still understands the importance of having a great defense.
"The way I look at it is that my focus will be on the offense and what we are doing there, but I still believe defense wins championships," Rider said.
Junior tight end Jackson Heath said the new offense should be something that keeps opponents off-balance, and leads to plenty of BVNW success.
"The new offense will be a little bit more fast-paced which I think you need to in order to throw the defense off," Heath said. "It puts them out of place. So I think it should be better for us."
Coming off of three straight losing football seasons for the BVNW football program, Rider faces a challenge to turn this program into a championship caliber program, something he said is a long-term goal. Rider said he is excited for the challenge he is presented with.
"We hope to build a championship caliber program and we hope to do it built upon the foundation of high character individuals and doing it with hardwork and discipline," Rider said. "It's not going to be one of those things that we turn around overnight. It's going to be a process, and we are dedicated to making that a part of what we are doing over the long haul and we're really looking forward to the opportunity to roll up our sleeves and get to work."
Gerke said he is not setting any unachievable expectations for Rider's first season as head coach at BVNW.
"There is no expectation from my part that we win X amount of games [next year]," Gerke said. "We just want to see our football program grow. I understand that there will be an adjustment period, so we'll have to lay a foundation for future success."
Schadler said he thinks Rider is a man who can have success wherever he goes.
"I think he'll succeed anywhere he goes just because he has the motivation to be great," Schadler said. "He wants to be successful in anything he does, whether that's coaching or parenting or anything. I think he's going to fit in perfectly."

Print Friendly