An administrative transition
With the retirement of Athletic Director Steve Harms, Activities Director Kevin Gerke will take over Harms' position and Administrative Intern Tyler Alexander will become the activities director for the 2016-17 school year.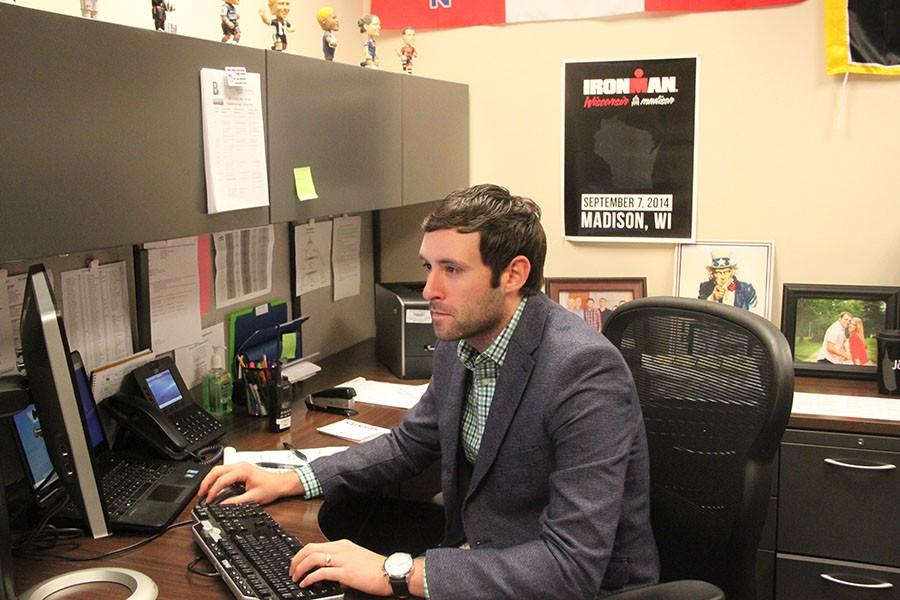 Next fall, Activities Director and Assistant Principal Kevin Gerke will take over the position of current athletic director Steve Harms, who is retiring.
Gerke's current job, which encompasses school activities beyond athletics, such as music programs, clubs and cocurricular activities, will be taken on by current Administrative Intern Tyler Alexander.
"I think it changes a lot," Gerke said. "Harms has been here obviously a very long time and is very successful as both a coach and an athletics director. He leaves behind a legacy that we will try to do our very best to continue and maintain."
Alexander, who interned at BVNW beginning this school year, said he is looking forward to the changes that next year will bring. After several rounds of interviews with district office, Alexander was approved to be activities director.
"I'm very excited, and it means a lot to be able to have our staff want me to be able to stay," Alexander said. "They encouraged me that hopefully that was going to happen, and that meant a lot to me."
Tony Lake, District Office's executive director of school administration, said Gerke and Alexander's job transitions will be simpler than most because Alexander is already an intern at BVNW.
"[Alexander being an intern] really helps with our transition and the shock of taking important people out of the school environment," Lake said. "A lot of the time, we move our administrative interns into those positions and they have had a year to learn Blue Valley administration, and they have a safety net or support net on some things."
Alexander described this year at BVNW as his "learning year," and he said he has observed the staff dynamic as closely knit, despite teachers retiring and new teachers being hired.
"I think being able to get to know the culture of Northwest better is something that I'm excited to do," Alexander said. "It's not just one year [of interning] but somewhere I feel like I can get comfortable and stay."
Gerke, who has coached previously in his career, said he is looking forward to overseeing BVNW's athletics department.
"I've coached for a very long time, so I'm excited to get back into the athletic side of things," Gerke said. "My primary responsibility is to support coaches and to help them have whatever they need to successfully run their programs."
Lake said the process that both Gerke and Alexander went through to be approved as administrators is administered by a committee that includes him and other district office members.
"Our screening interviews typically range from eight to 12 questions with broad ranges of topics, from student management things, to curriculum questions, to working with parents and other colleagues," Lake said.
Gerke said he hopes to build upon the success of previous years' athletic programs as he steps into his new position.
"I go into next year with a goal of using that year to get myself familiarized with the coaches [and] the programs," Gerke said. "I don't come in with the idea that there are things that we need to do differently or that need to be changed. Obviously the athletic programs here are very successful. I don't think there's any need for any big changes or anything like that."