Senior Camden Hately to perform in Kansas City Civic Orchestra
Senior Camden Hately will participate in the Kansas City Civic Orchestra March 5. Hately is one  of few high school students to play among adult amateur musicians, like local news meteorologist Bryan Busby.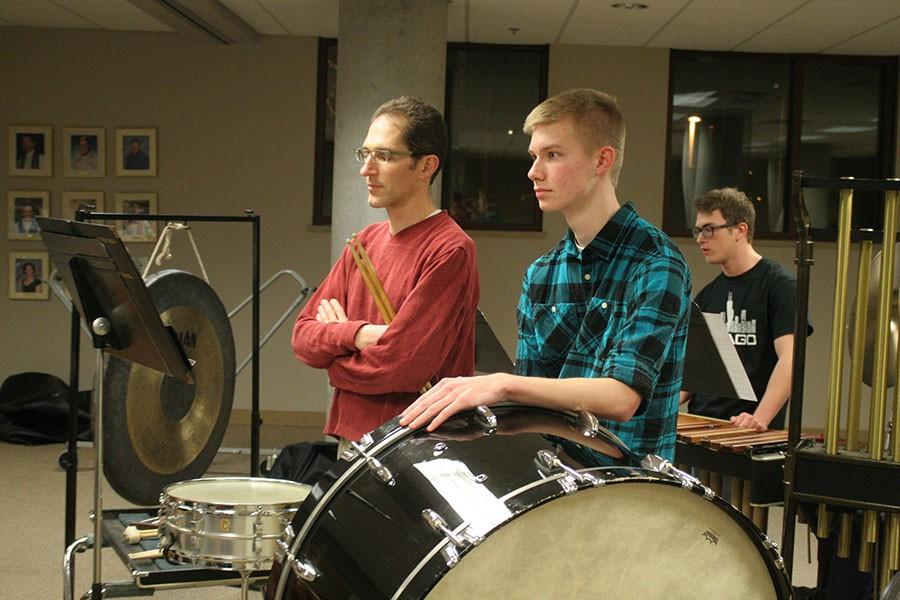 For nearly eight years, Senior Camden Hately has gained experience playing percussion instruments, practicing with a music instructor and playing in the BVNW Drumline. Hately will have a whole new experience March 5 as he performs in a concert held by the Kansas City Civic Orchestra playing the bass drum and snare drum with adult amateur musicians.
The orchestra is nonprofit and hosts free public concerts at the Lutheran Atonement Church, and meets every Tuesday night to rehearse for the upcoming concerts throughout the year.
Hately said he heard about the orchestra through his music instructor, Keith Larson. Larson said he knew of the orchestra because, as an instructor, organizations often contact him in search of musicians. Larson said he is also friends with KMBC Chief Meteorologist Bryan Busby, who is also a percussionist in the orchestra.
Busby said the KC Civic Orchestra is a good option for continuing music recreationally. After three rehearsals with Hately, Busby said he sees Hately as a very good percussionist.
"[Hately] seems very capable and very confident," Busby said. "When it comes to percussions it's like any other section, it comes down to teamwork. The young guys look up to the old guys and vise versa."
Hately said working with Busby has been a fun and unique experience, and was one of the reasons he signed up for the orchestra. However, Hately said overall the decision was merely an impulse decision.
"I've never done a symphony like this before," Hately said. "I got an email from [the coordinator] and I just wanted to do it, it sounded like fun."
Although Hately has never played for a symphony of this size before, he has participated in the BVNW band and ensembles with the other students of Larson's.
"The experience of being part of a big orchestra like this, because I've never done it before, it's brand new for me but it's really cool getting to see all these people who love music getting together and doing it together," Hately said.
Hately said percussion is very important to him and he enjoys percussion more than other instruments, primarily because it has more variety.
"I've been doing percussions since fifth grade, which is kind of like a big part of who I am," Hately said. "I really enjoy the music that we're playing in there, I like contributing to it."
Larson said Hately has grown as a musician similarly to his growth as a person, and he sees Hately taking this passion for playing further in his life.
"[Hately] went from a really kind of shy, middle school type student, didn't talk much, and became a very more confident, more reliable type student as he progressed through and he had really become the type of player who will play forever," Larson said. "This is going to be something that, it won't be a profession persay, but it will be something he will do forever because he's achieved that level of playing."
---
View Hatley perform with the KC Civic Orchestra at 7:30 p.m. March 5 at the Atonement Lutheran Church. Admission is free.