Todd White named new Blue Valley superintendent
The Blue Valley Board of Education held a special meeting this morning to vote for and name the new superintendent, Todd White.
The Blue Valley Board of Education named Todd White, a current Blue Valley assistant superintendent, the new district superintendent during a special meeting this morning.
White will be the incoming superintendent from March 1 – June 30; on July 1, he will begin his superintendent position, relieving Al Hanna from his current interim role.
The district began its search for a new superintendent in June, after 11-year Superintendent Tom Trigg accepted a position in Texas.
White took an assistant superintendent position in Blue Valley for the 2015-16 school year after serving as superintendent for the Harrisonville and North Kansas City school districts for a combined 13 years.
He received the Missouri Association of School Administrators Outstanding Superintendent award in 2013 and the Missouri Superintendent of the year in 2015.
He was also named the 2015 Missouri Interscholastic Press Association Administrator of the Year for outstanding service to journalism,.
White said he credits his previous superintendent jobs with providing him the skills and opportunity he sees in his new position. He said both districts faced fiscal challenges, giving him an outlook on dealing with the issue in Blue Valley.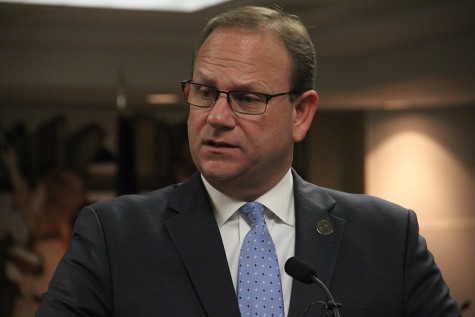 "It's about focus and keeping it at the classroom level with our students, making good decisions there, and also just being prudent about the way that we spend taxpayer dollars and being very good stewards of it," White said.
In order to handle the challenge of state funding for Blue Valley, White said the mission will be to continue to attract and maintain the right leadership within the district.
"It starts with the right people," White said, "and as I mentioned today we have wonderfully talented people here; there's been a lot of thought gone into attracting and retaining that particular talent. We will continue to do that; that will be our first and most important opportunity to serve our students best."
White said the district's first step in ensuring adequate funding will be to build on the existing relationship with state legislators by making trips to Topeka and engaging in conversation with representatives.
Board President Mike Seitz described the search for the new superintendent as involving the input of parents, students and staff regarding questions to ask candidates and helping the district through the process of selection.
"We did not make this decision in a vacuum," Seitz said. "We searched high and low; we had over 30 outstanding candidates. We spent an inordinate number of hours…pulling resumes, talking to people, interviewing and finally determining that we were of enough of a like mind to put this to a vote."
The point of the district's mission occurs, White said, within every classroom, and there will be a focus on the interaction between students and teachers to create opportunities for students and to prepare those students for the future. 
"What I want students to know is that's where our focus will be," White said. "It will be on creating and maintaining the opportunities that they have but also readying them for the next level of opportunity…If you're in high school, it's really about your career and exposing you to a vast majority of choices that you will have and for us to ensure that you will be well-prepared to take that next step as you move forward."
White is married with three children and three grandchildren.
---
A public reception is scheduled for Wednesday, Feb, 24 from 4-5:30 p.m. at the Hilltop Conference Center (7700 w. 143rd St.).