Athletic Director Steve Harms announces retirement
Athletic Director Steve Harms announced Wednesday he will retire at the end of the 2015-16 school year after 23 years at BVNW.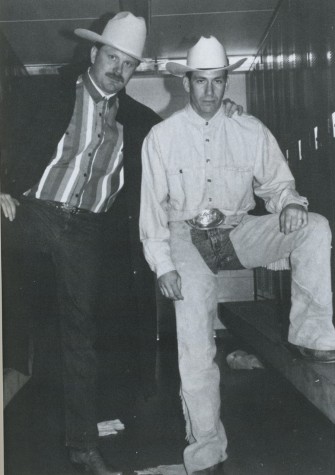 Athletic Director Steve Harms announced his plans to retire at the end of the 2015-16 school year Wednesday, after holding three different positions over 23 years at BVNW.
Harms said he made the decision because he wanted to spend more time with his wife who retired two years ago. 
"She has devoted her entire married life to allowing me to coach football and then to be an administrator, which are both pretty time consuming jobs," Harms said. "At some point, I owe the opportunity to have some time to be able to do the things she wants to do together and experience some things in life that we really haven't."
Principal Amy Murphy said Harms first mentioned the possibility of retiring a few years ago but began seriously considering it last semester. Murphy said he took winter break to make the decision.
Harms also said he was contemplating retirement prior to this year. 
"I had it in my mind for the last couple of years, just had a little bit of trouble pulling the trigger because I love coming to this place so much and I love being around the people," Harms said.
Harms began his journey at BVNW when it opened in 1993, as a physical education teacher and football coach. Harms said he started as an administrative intern in 2000, and in 2005 he became the athletic director.
"Steve has had so much of an influence on this building and so much of what this building is is because of him and because of what he's done," Murphy said. "He's just been a steady pillar of what Northwest is back since 1993."
Murphy said after Harms' announcement Wednesday, many staff members have had a hard time imagining what BVNW would be like without him.
"I mean it's just hard to think about him not being here because he's always been here," Murphy said. "For some people, we haven't gotten our heads wrapped around that yet."
Harms said he will miss the people he works with the most.
"These people are the closest people I have in my life besides my family," Harms said. "I've grown up with them in the education business, I value their friendship, I value the interaction and the things that I've learned from them."
Girls golf coach Ken Thomas has known Harms for 24 years, with their relationship beginning as the initial staff of BVNW went through the hiring process and prepared to open the building.
"We've spent so much time together over the years…we are among the fewer and fewer and fewer that actually opened the building together and through the coaching and teaching have come together and formed such a strong bond," Thomas said. "[His announcement] was not a shock, because I understand, but it was certainly distressing."
Harms said he does not have specific plans at this point for the future. 
"If after a year and I feel like I miss the opportunity to interact with people and do things then I'll start exploring some other opportunities," Harms said. "But at this point I'm going to allow my family to have time with me that they've kind of sacrificed."
Harms said his experience at BVNW for the last two decades has been memorable and though he is leaving, he plans to continue to support the school.  
"I'm not moving away, I'm going to be close," Harms said. "I hope to be still very active in attending Northwest activities and still being a part of people's lives here."