Glow Show to light up Halloween night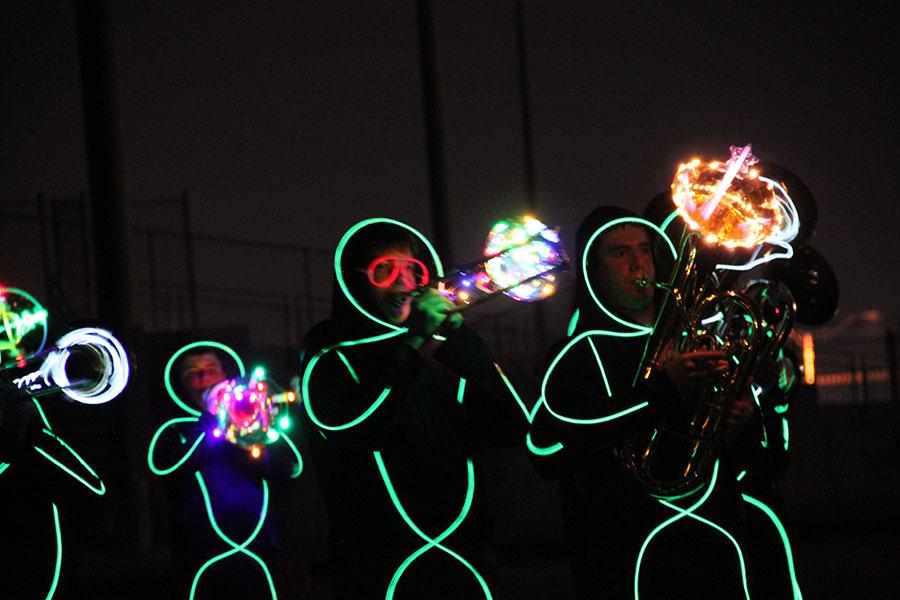 The annual Glow Show put on by the BVNW band will take place Saturday, Halloween night, with the pre-show beginning at 6:30 p.m. and the show itself beginning at 8:00 p.m.
"[The band members] play our regular halftime show and we turn all the lights out in the DAC, and then our students all wear battery powered glow suits that make them look like glow stick figures," head band director Adam Lundine said.
The show will feature performances by the band, the Dazzlers, the drum line and the flag team.
Tickets will be sold at the event for $4, and admittance for children 5 years old and under will be free. Money raised from the event goes toward funding various events, transportation costs, instruments, supplies and other areas for the band program.
The main difference Lundine said between this year's show and past years will be the events during the pre-show. Because it is Halloween night, there will be a Trunk-or-Treat event for kids to get candy and a costume contest, in addition to the $1 raffle.
"We have way, way cooler (raffle) prizes than we ever have in the past," Lundine said.
Raffle prizes include dance lessons, an individual photo shoot and a helicopter ride.
"Johnny Rowlands, [the chief pilot of KMBC's NewsChopper 9], is coming and he's landing his helicopter in the stadium, which is so cool," Lundine said. "Then [we will] pick a ticket and he's going to take people up that night for a helicopter ride.
Senior drumline member Camden Hatley said the Glow Show performance differs from the band's other shows, because there are no judges rating the performance. Hatley said this makes for a much more relaxed and fun show for the band.
"We just go out there and have a good time… I'm hoping a lot of people show up," Hatley said. "It's neat…it's not something that every school does, so it's pretty unique in that, and we have a good Queen show – music people like."