BVNW library to welcome e-books to its shelves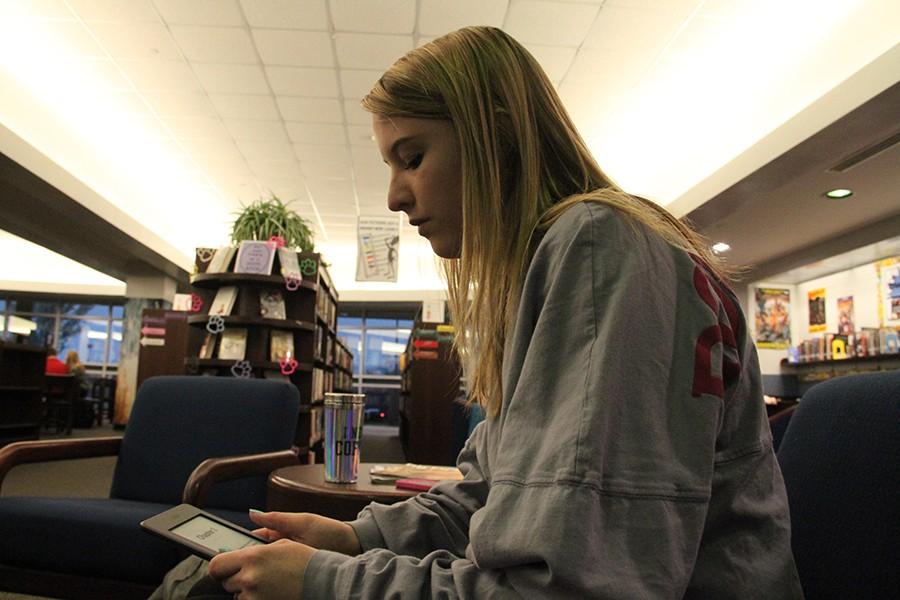 The BVNW library will welcome a new virtual shelf to its collection at the end of this school year, filling it with e-books available for students to check out beginning in the fall.
BVNW librarian Mary McCabe said the e-books will be hosted on the free app Blio, which allows students to access books they check out on any electronic device they choose.
"[E-books will] make it easier for students who are super techno-oriented because they won't have to necessarily carry around a book," McCabe said. "They have their phone with them, or they have a [tablet] they use or…a laptop that they use at home or at school, and they'll just put the book on there."
McCabe said that, although the e-books will all be checked out through Blio, the selection of available books will be able to be viewed on the library catalogue. McCabe said the e-books will be offered in different ways; some books will be available to be checked out to an unlimited amount of students at once, while others will be able to be checked out to only one person at a time, similar to a hard copy of a book. She said the selection of e-books will include e-books from the Johnson County Library, while still offering its own collection of books.
Principal Amy Murphy said the library's funds come from the school's general budget, which is determined by the number of students attending that corresponding year. According to Murphy, regardless of if the budget expands or shrinks in the coming year, she will try to maintain the library's current budget in order to allow for the development of the e-book library.
McCabe said that next year, the library will have to allocate their funds according to what is the best use of their money. To begin their collection of e-books, McCabe said they will first purchase e-books that students read in their English classes, nonfiction works and other titles that will attract the most readers. McCabe said she hopes this will introduce e-books to students who may not have originally been interested in checking one out.
"I'm thinking the best way to utilize our library budget is to look at our collection, look at the books that kids are always on a waiting list to read…and maybe we'll buy two copies and one electronic copy," McCabe said. "We're going to have some availability of probably the most popular fiction titles available electronically."
McCabe said that having popular books as electronic copies will allow the library to anticipate the level of popularity of its electronic library, although she foresees e-books being a success.
"Long term, I think e-books are just so convenient that once we get more and more people using them, it'll be the way that we go with more and more of our book selection," McCabe said.
Junior Alec Feather said he is an avid user of e-books for educational and recreational use, and he is excited for the future of the BVNW virtual library.
"It'll be nice to be able to access books on say my Nook – my e-reader – without paying for them ultimately," Feather said. "I feel like for me it'll be the same program as a regular library, as long as it's still efficient and accessible. I would appreciate that program because I like to read a lot."
Murphy said the new e-books will meet different needs of students, and she believes they will provide a new way for students to benefit from the library.
"[The library is] not just a place where you go to get books," Murphy said. "There are so many things our librarians do now to support [students]. It's not just a one-stop shop. There's lots and lots of things for kids to get out of our library."