Budget cuts to go into effect March 7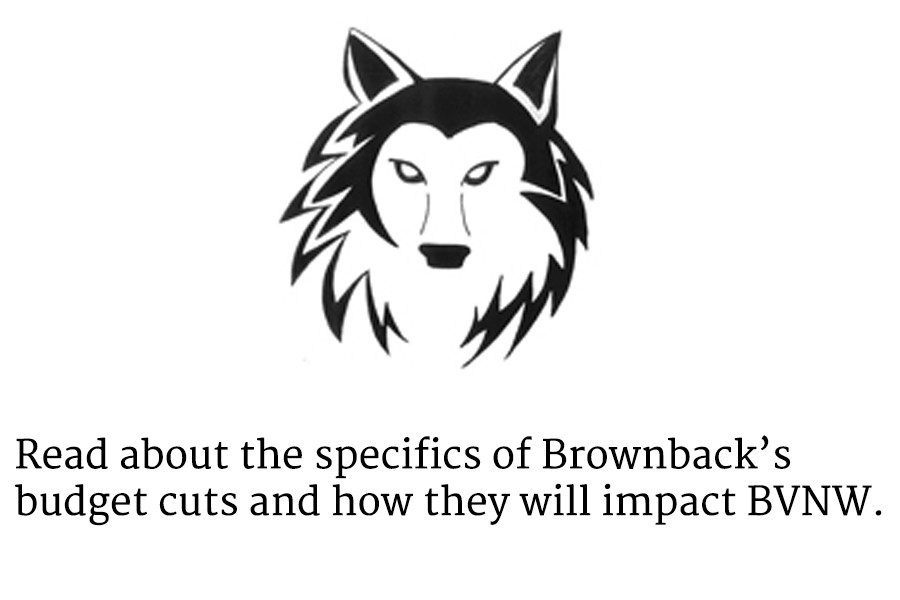 The Blue Valley school district will lose close to $1.2 million in state funding starting March 7, as a result of Gov. Sam Brownback's plan to make up for a lack of state revenue for the current fiscal year.
Brownback cut income taxes last year to promote the influx of small businesses, but the resulting lack of state revenue has prompted Brownback to make some cuts, specifically in the public education sector, according to numerous news sites.
BV assistant superintendent Mike Slagle said the district does not currently have any plans to increase class sizes or make cuts to finish the year with the decreased budget. He said, instead, the district will either evaluate the necessity of any planned expenditures that could be postponed or pull money from the reserve fund, the "savings account" where the district has about $20 million set aside for "emergencies such as this."
He said the need to use savings now will expedite the need for budget cuts down the road.
"There's less in the savings now because of this than there would be otherwise, which means in years three and four on the outyears, we are looking at budget cuts a little bit quicker than we otherwise might have because we have this $1.2 million hole to fill," Slagle said.
Principal Amy Murphy said the school usually aims to handle these situations behind the scenes, so students should not expect to notice any changes. She said no plans to shift things internally have been made, but the school will have to evaluate wants and needs going forward.
"In the past, when we've had that issue…if you have an open position you just can't go fill it," Murphy said. "You have to get permission to fill it. So, we have an open para position right now, so if that went into effect, then you would have to go get permission and justify why you need to fill that position."
Murphy said the district has not said anything about that prioritization mode going into effect.
Although the BV district still has a larger budget than the previous year, Slagle said this cut is still largely significant, as the district had planned the year with the expectation of more funds. He analogized the situation to that of an employee receiving less for their wage than they were initially told.
"If I were to tell you your take-home pay for doing this job this year is going to be 10 bucks, and then you got to January and I said 'Oh, it's going to be six," — that's a cut, because you expensed for 10 dollars," Slagle said.
Slagle said 88 percent of the district budget is allocated to people — hiring and paying staff. He said, since everyone for the year has been hired, not much structural change can happen for the rest of the year.
Slagle discussed the district's long-term plan regarding the budget, saying it would evaluate necessary changes thoroughly when the need presents itself.
"There are a lot of question marks right now when it comes to budget planning," Slagle said. "That's why we only do it a year in advance. But our goal would be continuous improvement and the resources needed to make it happen."
Specifically, Slagle said the district would put a committee together and evaluate possible ways to either save money or "do education differently." He said the first priority would be to keep changes out of the classroom as much as possible. If classroom changes or cuts must be made, Slagle said everything would be on the table.
In terms of supplementing where the state funding lacks, Slagle said the only revenue supplement was the recent LOB election, which provided an additional $3 million for the district through property taxes. He said there are currently no other means available to make up for the state budget cuts.
"For the immediate time frame, because we have everything planned for, there's really nothing we can do to create any kind of capacity except to dip into that savings account," Slagle said.
Julie Brewer, a mother of two students in the Blue Valley district and member of a committee involved with informing the community about the LOB election, said she worries about the effects of the budget cuts on the progress of the LOB.
"As a parent volunteer, I'm concerned about the Senate Bill 71," Brewer said. "Unfortunately, what it means is that all that work we did on the LOB…[that put] about $3 million into our school district, we lose all that because a different way we get money for public education would be cut," Brewer said.
Slagle also said education budget cuts are almost the same percentage for every Kan. school district. Depending on the status of their reserve funds, Slagle said other schools could have a more difficult time managing with the cuts than BV where the district has healthy reserve funds to pull them through.
"They would have some real tough decisions to make," Slagle said. "They might be looking at midyear layoffs or some kind of attrition."
While students should not notice changes once the budget cut goes into effect Saturday, Slagle said the BV district will have to continue to look closely at where money is being spent, and the cuts will affect us for future years due to an unexpected need for reserve funds.