Pumping up your wallet
The average price per gallon in the Kansas City area for the month of January is $1.80, an almost seven year low. Business teacher Patrick Swanson said the lower prices are impacting both teachers and students in the BVNW community. 
"People are probably wondering why, and it's mainly because you have a little bit of a battle going on between the people who have access to oil, like OPEC (the Organization of Petroleum Exporting Countries), and what they want to try and do with the supply," Swanson said.
Students such as juniors Madison Steiner and Grace Berger, who pay for their own gas, said they are also feeling the effects of the lower prices, and it has started to influence some of their driving habits.
"I'm just glad because I don't have to waste all my money on gas," Steiner said. "I've got a lot more money to spend on things that I want to do."
Both Steiner and Berger said they are enjoying the effects that lower gas prices are having on their wallets, but Berger has also noticed a change in her driving behavior.
"I drive a lot more aimlessly now because it's not as expensive to waste my gas when I'm bored anymore," Berger said.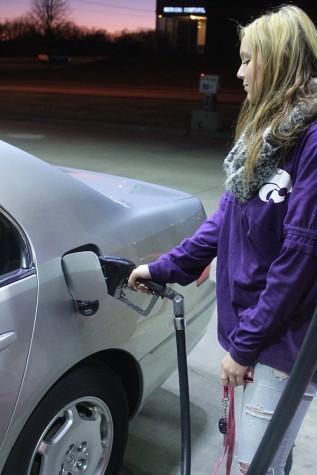 BVNW Parent Brent Alexander, who works for SunCor Energy's Petro-Canada America Lubricants Division, has been working in the oil industry for 25 years and has a firm grasp as to why the world's oil prices are so low right now.
"There are two major reasons, the first is supply and demand," Alexander said. "Some of the economies aren't growing as robustly as they were, specifically China and India. At the same time, more and more companies are producing more and more oil. OPEC has recently announced that they won't be decreasing output, and at the same time the US is producing more domestic oil than it has since the '60s and '70s. The demand hasn't increased that much over the last year but supply really has."
According to Alexander, the price of oil is trading at around $47 a barrel right now. In June of 2014 the price was around $115 a barrel, which is around a 60% drop in the price of oil in less than a year.
"The second reason is that OPEC is really trying to punish Syria and Russia," Alexander said. "Those two governments are very dependent on oil for their economy. When Russia did what they did in the Ukraine, and with Syria's atrocities, OPEC is using this as a political tool to hurt their economies, and it really is showing."
Despite these low prices, Berger was the only one interviewed who said that her driving had changed since the oil prices have dropped. Even English teacher Kyle Farrington, who lives 22 miles away from BVNW in Louisburg, KS, said he has not noticed a change in his driving habits.
"The gas prices falling so much have really helped out," Farrington said. "I drive a [Volkswagen GTI] which has a turbocharger in it so I have to put premium gas in my tank. I really only end up filling up every week and a half or so."
Farrington said that he was spending around $50 every time he filled up prior to the lower prices, and as of January 21st the last time he had to fill up cost him just under $30. Even with the lower prices the English teacher said that his driving habits had not changed and he was still making the trip up to BVNW six to seven times a week.
Another cause for concern is when gas will actually begin to rise again, although Alexander said that it should remain low for some time.
"It'll probably remain relatively low through the remainder of this year, $47 to $70 a barrel," Alexander said. "After that it'll definitely start going up, but if there is political unrest in one of these middle eastern countries then all bets are off. If things remain relatively stable then we think this year is going to be on the lower side of things."
According to Alexander, any industry that has fuel as one of their major expenses is doing incredibly well right now. However, the oil companies who rely on oil being around $70 a barrel are definitely taking a hit.
Alexander said the lower prices are mostly going to be good or bad for countries overall, but some pockets could be hit hard even if the country as a whole is doing well.
"North Dakota and Texas are not going to do well, as is Canada where my company is located," Alexander said. "These places are heavily dependent on their exported oil. Overall it will be positive for the US, but if it for some reason doubles in six months, then that's going to have a very negative impact on the US."