National Honor Society hosts annual blood drive
128 donors, 135 pints of blood donated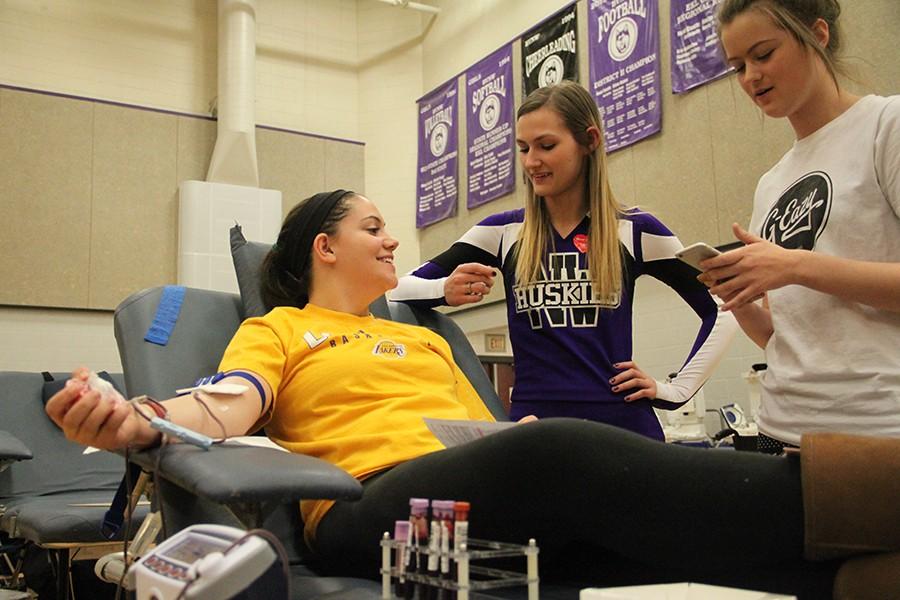 In the annual National Honor Society (NHS) blood drive on Wednesday, 128 student and faculty donors gave blood. NHS president Stratton Georgoulis said the blood drive can potentially save or improve the lives of many people in the Kansas City area.
Georgoulis said the Community Blood Center (CBC) comes directly to BVNW so that students are not faced with the challenge of finding time to go to the center and donate.
"There is a big need for blood donation in our community," Georgoulis said. "Hopefully by working with the Community Blood [Center], we will satisfy part of that need."
Georgoulis said the blood drive is one of the service projects for the NHS. They work with a team from the CBC that includes account manager Jim Sajevic. According to Sajevic, every pint of blood donated can save at least two lives.
"Let's assume 150 [donors] are able to donate blood," Sajevic said. "In effect, they will be touching 300 lives in Kansas City."
Sajevic said not only does the blood drive help the people receiving the blood, but also it can be beneficial for the people giving it. One advantage is that the CBC sends every donor a card in the mail that states their blood type about a month after donating. This information can be very helpful in a life-threatening situation such as a car crash. Tyler Tripp, a sophomore who donated blood, said there are also other reasons for donating blood.
"You feel very accomplished and you know that that blood is going to go to someone who needs it," Tripp said.
Tripp said he had an interesting experience giving blood.  After giving blood, Tripp said he almost fainted, and he even lost his vision for a short time because of a drop in his blood pressure. However, Tripp said despite the difficulties, he did not regret it.
"I encourage anyone to donate," Tripp said. "Looking back, it was worth the trouble I had to go through to donate blood."
Most other Blue Valley high schools do two blood drives a year, but BVNW only does one because of the amount of effort needed to organize it. However, Sajevic said that BVNW does a great job orchestrating their annual blood drive.
"[BVNW] collects as much blood in one blood drive as some of the high schools do in two," Sajevic said. "It's not always about the number of drives, but about the collection."
Sajevic said that out of 176 people who signed up, 128 gave blood. Those people donated a total of 135 pints of blood. The reason for the large amount of people who did not donate was because they did not meet the requirements. The three requirements are that you have to be healthy, weigh more than 115 pounds and be at least 16 years old.
Four neighborhood donation centers are open year-round, seven days a week. The closest one is located at 10568 Metcalf Ave.
Overland Park, KS 66212. More information on the CBC can be found here.