Boys varsity tennis competes at State
The boys varsity tennis team took five players to State on Saturday, where all five placed and the doubles team of Max Katcher and Brett White took first.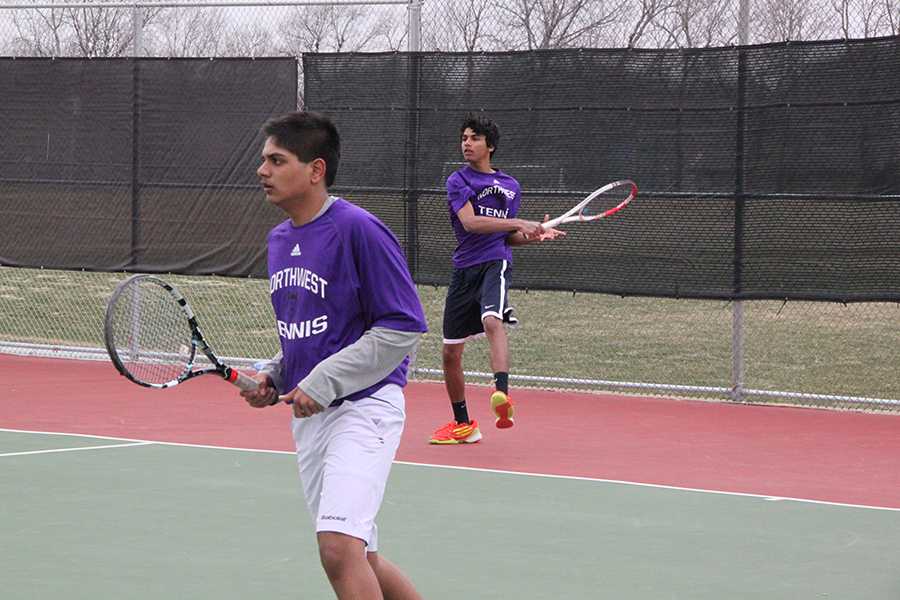 All five of the varsity boys tennis players who competed in State on Saturday placed in their respective tournaments, and senior Max Katcher and junior Brett White became state doubles champions. Sophomore Jonathan Lowe and Yosh Mylavarapu took third as the other BVNW doubles team, and sophomore James Lowe placed fourth in singles.
"I'm thrilled for [Brett and Max]," coach Ted Fabiano said. "It was really a team effort. All five guys who went to State did really well and did as well I think at each level as they possibly could, so we really thought we had a chance [for] all five guys to win State and we very nearly did."
Katcher and White played against their own doubles team of Lowe and Mylavarapu in a very close, hard-fought semi-final match, where Katcher and White won before playing another close match against BVN in the final match to finally win State, according to Fabiano.
"We really maxed out our potential which is everything I could hope for," Fabiano said.  "I think it really took everything they had to win that last match, but they were really determined."
Fabiano said Katcher faced a potential disadvantage going into State with a shoulder injury that has affected him all year. Previously a singles player, Katcher switched to doubles for the first time this year due to his injury. Fabiano said that, because Katcher took good care of his injury prior to State, it did not hinder his performance or affect his signature serve.
"His serve is really important," Fabiano said.  "That's kind of what makes Max, Max. He's got a big leftie serve and if he doesn't have that serve, he's not as dominating. I think he preserved himself well and I think he served well, so he came through really well."
Fabiano said he attributes the success of Katcher and White to their close bond, both on and off the court, and their ability to keep each other motivated during their matches. Both he and Katcher agree that, despite various obstacles faced during their last match, Katcher and White rebounded well and didn't get discouraged.
"Me and Brett are really good at keeping each other calm and staying positive, so staying positive allows us to focus on what we're doing and not get down on ourselves when we're making mistakes," Katcher said.
In addition to aiding Kather and White in their win, Fabiano said both BVNW doubles teams demonstrated friendship, understanding and emotional strength which is unusual for the sport.
"We had two doubles teams that did a great job of believing in each other," Fabiano said. "The whole weekend, the partners never got down on each other. When one made a mistake, the other one never got down on them, and that's not normal for tennis."
Leading up to State, the players worked on a lot of the things they practice daily, such as being aggressive while volleying, keeping the ball off the ground and adjusting their game to keep opponents off guard. However, they also practiced and a lot of the emotional and mental side of the game as far as being good partners to each other, considering both doubles teams were playing with new partners, according to Fabiano. He said this eventually paid off at State.
"[The boys are] very emotionally and mentally strong," Fabiano said. "When other players let their frustration cost them an opportunity to win, our guys didn't."
Katcher said winning State his senior year with one of his best friends was a great experience, as well as a great way to end his high school tennis career prior to attending Christopher Newport University to continue playing tennis.
"It was a great feeling to win with Brett," Katcher said. "He's one of my best friends and I was really looking forward to going to State with him…It's the best feeling I've ever had in a high school sport because there's people in a high school sport who go out on a loss and there are very few people who go out on a win so that was really special to me."
According to Fabiano, all the current varsity players will return next year to lead the team in other strong season as Katcher continues his playing at the collegiate level.
"I hope Max has a great college career," Fabiano said. "I know he will. He is a very dedicated, committed tennis player so I have no doubt he's going to have a great college career. Brett still has another year and all the rest of the guys are coming back too, so we should have a pretty strong team."