REbeL members to be featured on NBC's Today Show
BVNW REbeL members share their commitment to promoting positive body image and what the organization means to them during an upcoming series "Love Your Selfie" that will be aired on the Today Show.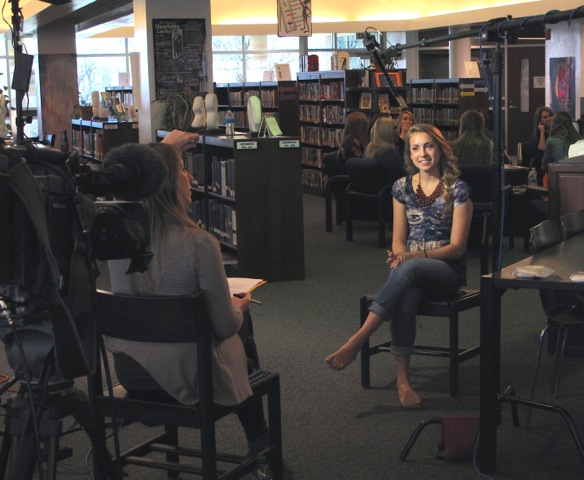 From the hallways of BVNW to the streets of Kansas City, REbeL members spread their message of optimistic body image and self-confidence and promote their commitment to living healthy and sensibly. REbeL's message has not only captured the attention of the BVNW community, but the interest of a national news team. To explore REbeL's involvement in the school and community, producer Lindsay Sobel from NBC's morning show, The Today Show, visited BVNW today.
BVNW's chapter of REbeL will be featured in Today's series "Love Your Selfie" April 30. According to Sobel, the series focuses on American men's and women's views of body image and how it influences their lives. For the newest edition of the series, Today will take a closer look at teen perspective of body image.
"For this 'Love Your Selfie' week, we wanted to listen more to what [teens] had to say about body image, because [teens] are going through the same things and feel the same way as adults about how they look and feel if not more," Sobel said. "I think adults sometimes think they know exactly how teens feel, but it's been a long time since we were that age, and especially now with how much has changed with social media, it's important to hear how this age group feels about it."
REbeL members seniors Jackie Roth and Ankur Gupta, junior Lily Bredemeier and sophomore Jordan Serati worked together alongside members from other Blue Valley high schools and Notre Dame de Sion members to create a PSA shedding light on the importance of having a positive body image. Although the group's mission is serious, they could not help but be excited for their minute in the limelight.
"I still can't really even believe that we are doing this," Bredemeier said. "It's unreal that we are being able to share what we do and what we believe in in this way. It's a great cause and it's fun meeting up with different people from REbeL at different schools like this, so it's a really awesome way for us to all come together."
Their segment will be broadcasted along with coverage of Girl Scouts and Girls, Inc. involvement in their communities on the east and west coasts. Solbel said Today wants to represent the different ways teens promote healthy body image across the nation.
"What was so cool and different about REbeL is that they are a much smaller group, but are still doing great things," Sobel said. "They are going out … and making noise about an issue and making a difference here."
As for expectations for the show, Sobel and the REbel members said they hope "Love Your Selfie" week will ignite discussion and involvement with viewers and potentially benefit other positive body image organizations.
"Having this be on the Today Show I think will definitely be good for our cause," Bredemeier said. "I think a lot of times people see us in school and may be too afraid to get involved, but with this show I think it will give us the opportunity to share more about what we are about and what we do. So, then hopefully people can see us [on Today] and realize that it is something that they shouldn't be afraid to be a part of."