Dazzlers compete in national competition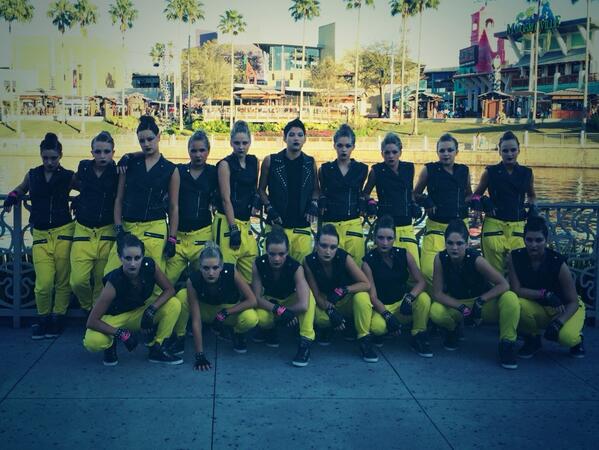 The BVNW Dazzlers are a frequent form of entertainment throughout the school year, performing at pep assemblies, basketball games, football games and with their annual spring show. This year the Dazzlers took it a step further: traveling to Orlando, Fl. to compete in a national competition.
The Dazzlers took second place in jazz and hip hop during the National Dance Association (NDA) competition. Captain junior Claire Kampschroeder said the team did extremely well, especially for their first time competing at the national level.
"We made a great name for ourselves throughout the country," Kampschroeder said. "It's really unheard of for a new team to score so high."
Competing over the course of two days, the Dazzlers were able to secure spots in the finals for both of their dances.  Ultimately the team scored second place, by a close margin of .07 points. Sophomore Sarah Paperi said the loss was hard, but in the end it wasn't a loss.
"It's just hard when we worked so hard for this and we were so close to [first]," Paperi said. "Not getting the one thing you've been working so hard for is really tough. We can only get stronger from it and we want everyone to know that we did our very best and that's what matters."
Despite not winning first, both Kampschroeder and Paperi said the trip was a blast. When not competing the team went on a trip to Universal, went out to eat, and spent time getting to know the other teams. Ultimately the girls said it was a great bonding experience.
"We all had so much fun," Kampschroeder said. "I know if we had the chance we would do it all over again in a heartbeat."
Paperi said the reason they had so much fun was because they had strengthened their team beforehand. In order to prepare, the team practiced during first hour every day and had after school practices to work on perfecting their routines for the competition.
"Practices did get a little tough just because we were all working so hard and we all wanted it to be perfect," Paperi said. "Our teamwork really came through in the end though."
Win or lose the Dazzlers said they enjoyed their time in Florida dancing and celebrating their hard work. The nationally ranked team can next be seen at their Spring show on May 1 and 2.
"We are really proud to say that we are first in the state and second in the nation," Paperi said. "We are still stronger than ever"