New NHS members recognized at induction ceremony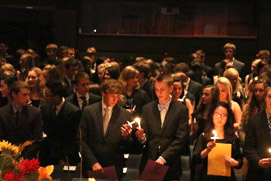 The BVNW chapter of the National Honor Society (NHS) inducted new members from the junior and senior classes tonight in the PAC. The ceremony celebrated the entrance of 128 members to the organization.
"What makes this event special is that it is an incredible event to welcome a new chapter into the organization," NHS president senior Andrew Poehling said.
The ceremony included performances by a string quartet including sophomores Samuel Liu, Alex Harrington, Susie Song and Alex Connolly, and a vocal performance by senior Sarah VanZwoll. Social studies teacher Matt Christensen was selected by the inductees as the guest speaker for the night, and encouraged the students to remember that with their power of leadership also comes responsibility and to always be the best superhero they can be.
"I'm honored that I had a chance to come and speak [at the ceremony] tonight, and I'm grateful that I could share this night with [my students]," Christensen said.
Marking the twentieth NHS induction ceremony in school history, sponsor Sherry Unruh said the night went smoothly and she was proud of all of the current and new members in the group.
"They were all very excited to be a part of this tonight," Unruh said. "We do a lot of awesome things in this school, but if you aren't recognizing the people who are being leaders and doing well academically, then you don't have a leg to stand on. There's a lot of glory that is spread to a lot of different places, but this is a special time and a pretty special gig for these [students]."