Culinary Arts Department Makes Cookies For "Into The Woods"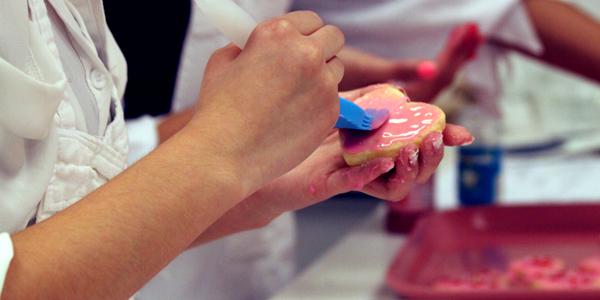 Day one: make cookie dough. Day two: roll out cookie dough, cut, bake, and then decorate. Day three: package and store. Repeat process three times. Yields 1,500 cookies to sell during intermission for BVNW theatre department's production of "Into the Woods."
BVNW's culinary program is baking and selling more than 1,500 decorated valentine – themed cookies to raise money for the FACs department that will be sold during all three nights of the "Into the Woods" production.
"I feel like this will really help out the clubs in our school by the money that this fundraiser will raise," junior culinary arts student Logan Ashe said.
Preparing the cookies is a big task that not one student can manage on their own, Culinary Arts teacher Celia Jaggard said. Consequently, chef leaders are selected to make the cookies each day. The treats that Culinary Arts One will make to be sold at the play are: "Old Fashioned" sugar cookies, "Thumbprints," Valentine M&M Cookies, and Fudge Brownies.
"[The students] were the ones that decided on what the cookies would be," Jaggard said. "I made some recipes for tasting and [the students] chose."
Selling cookies is not just a fundraising activity for the play, making cookies is also a requirement for the students' curriculum. But when it comes time to sell their treats, students have the choice to participate in the sales. The most important part of the project according to Jaggard is the leadership roles that the students are given.
"This is really part of the leadership role in Culinary Arts One, and with what they gain from this experience I hope they will take with them in their futures," Jaggard said.
This is the first time Jaggard has done anything like this at BVNW, but she said that she organized cookie sales before at a school in Salina, Kansas.
"When I taught in Salina we made cookies and punch for the teachers, and we stocked them up every hour," Jaggard said. "But we can't do it at BVNW because we don't have cooking every hour."
But in the end, Jaggard said it is up to the students to decide if they want to take charge and do all the work that is necessary to make sure that everything runs smoothly.
"[The students] seem willing to take charge and I am so proud of them," Jaggard said.