Drum major demands
Northwest's drum majors hold  many responsibilities and commitments, providing an influential source of leadership to the marching band.
Last year, there were three drum majors conducting the marching band. This year, only two were selected: seniors Cameron Lynn and Regan Cavin, who are first and second year drum majors, respectively. Being as it is the leading position in the band, Lynn described the application process to become a drum major.
"There was an audition process which was a little bit after marching band season ended last year," Lynn said. "[You have to do] an interview with the directors and then you also have to conduct the band on 'The Star Spangled Banner,' every one of them."
During the audition process, Blue Valley Northwest band director Daniel Kirk said he has certain qualities that he looks for in a drum major.
"They've got to be a great musician, they have to have a dynamic and magnetic personality. They need to be selfless. They need to exude empathy. And they need to be a really wonderful person at their core," Kirk said.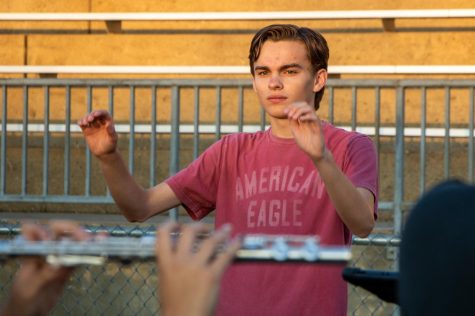 While Lynn said his title causes a common misconception about his position, he actually serves a major role in leading the marching band.
"I'm not playing drums, I conduct the band." "That is a very common thing I get asked," Lynn said. "There's more leadership to it too that people don't really realize."
Even though she sees the dedication each band member puts into their work, Cavin admits there are certain requirements for her role.
"I think every member of the marching band is very equal and think they all work so hard," Cavin said.  "But, I think the biggest things being a drum major require are one, patience…I think the second thing is you have to have a serving mindset."
To go along with these qualities, Kirk described some of the main tasks the drum majors are responsible for.
"They arrive early and help with field setup prep. They help run music rehearsals, they assist with all of our technology," Kirk said. "The big thing that they do is they facilitate communication between the directors, section leaders and the members of the band."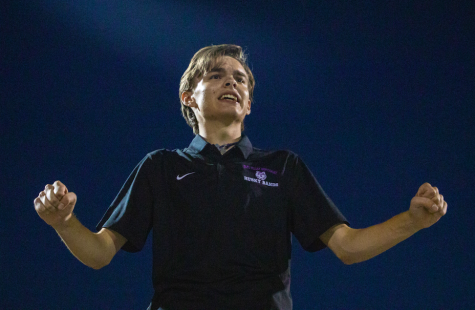 Senior flute section leader Disha Patel said the drum majors are an essential part of the band's structure.
"They keep the band together when playing and marching, which is harder than a lot of people think. Without them, it would be nearly impossible for the band to play together," Patel said.
In order to split up their duties efficiently, Lynn said he takes on certain roles while Cavin is in charge of others.
"I lead stretches, because I have more energy in the morning. We also decided on how we would conduct during band camp, so [we] just stick with [that]," Lynn said.
Elaborating on this, Cavin described her and Lynn's routine every morning.
"On a daily basis, we get there around 6:30 in the morning – Monday, Wednesday, Friday. We have a pretty good system in the band where every section leader kind of does its own things. But it's also a day to day call," Cavin said.
Lynn said the drum majors also have the responsibility of conducting various songs in addition to the traditional songs played at every game.
"In general, [we conduct] whatever we play, like during the halftime show, we always conduct that. But also in the stands, sometimes Dr. Kirk conducts and sometimes he lets us conduct," Lynn said. "In rehearsal, [Dr. Kirk] watches, and just teaches and then corrects stuff, and then we conduct."
"
They keep the band together when playing and marching, which is harder than a lot of people think. Without them, it would be nearly impossible for the band to play together."
— Disha Patel, flute section leader
Patel said she has noticed their commitment Cavin and Lynn put in for their roles in the band.
"They work very hard. They show up extra early in the mornings and before performances, and stay later until everything is tidy and clean," Patel said.
As leaders and conductors of the marching band, Kirk said it is important that they uphold expectations and set a positive example for others.
"When life is swirling, and school is stressful, none of that matters. Because a hundred and thirty-five people are relying on you to be the best version of yourself every day no matter what. But they do it great," Kirk said.
Agreeing with Kirk, Patel said they have done a great job juggling their roles as drum majors with the rest of their responsibilities.
"Even with their busy schedules and life, they both find time to include marching band in it. They are both fun and add a positive light to [the] band," Patel said.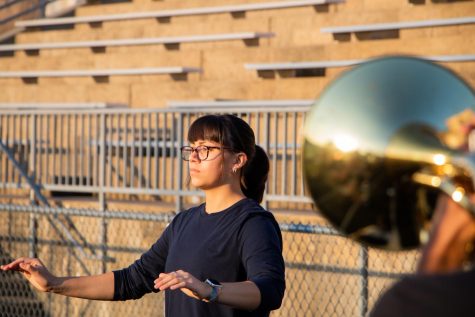 Aside from the time commitment, Cavin said her role as a drum major can prove difficult during performances.
"I think, emotionally, getting up on a podium in front of a whole band is a lot. It takes a lot of courage, and sometimes I'm not the most comfortable up there," Cavin said.
Moreover, she mentioned that people tend to not think of the preparation which goes into band rehearsals each day.
"When you're a freshman, all you're in charge of is your instrument. [But] if you're me and Cameron and the band directors, you've got to think about transitions. Sometimes it can be difficult, just because you don't get a lot of recognition. You kind of do, but you don't for all the little stuff," Cavin said.
Kirk expressed his happiness with the band and drum majors' work, saying that he is proud to be a part of a symbol of BVNW.
"I'm endlessly proud of the Northwest students, they work incredibly hard. They take immense pride in their school," Kirk said. "As we travel across the state, performing and competing, we're proud to represent Northwest."
Leave a Comment
About the Contributors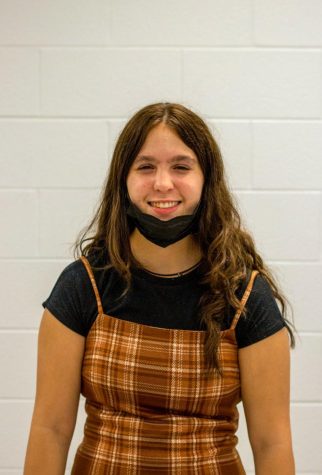 Quinn Brown, Writer
Quinn Brown is a senior and writer for "The Express." This is her second  year on staff. Outside of newspaper, she is involved in NHS, Chorale,  and a book club with her friends. She is a coffee addict. In her free time, she likes watching studio ghibli films, playing with her dog Copper, crunching fall leaves, writing stories and reading. Her favorite books include classics and Greek mythology like "The Iliad," and her favorite bands are Dayglow and Glass Animals. Quinn is overall extremely eager to write for the newspaper this year, and is ready to improve her writing skills and produce great articles!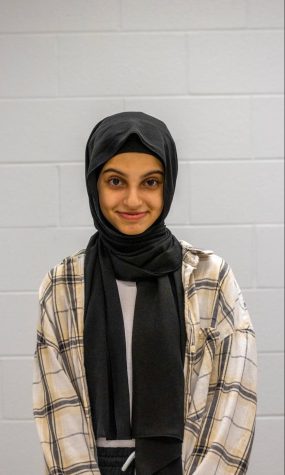 Shahd Abdeljalil, Photographer
Shahd Abdeljalil is a photographer for "The Express." She is a sophomore and this is her first year on staff. Outside of newspaper, Shahd is a member of multiple clubs including MSA and Diversity Club. In her free time, she enjoys reading, hanging out with friends, binge-watching shows and traveling. Overall, Shahd is very excited to finally join newspaper and to grow her photography skills!