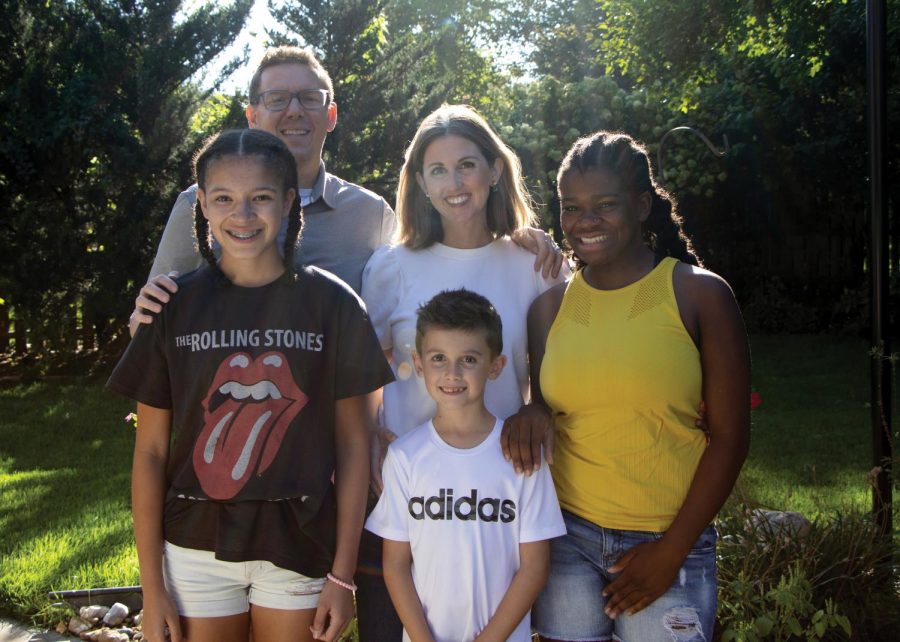 Bonded by more than blood
Adoption has played an important role in the lives of some students and teachers.
Senior Jennifer Clarkson was three years old when she was adopted from China. 
As a single mother in her forties, Clarkson's mom, Jan Clarkson, started looking into adoption after a divorce. She ended up adopting five children, all from China. 
Clarkson was born with a very minor cleft palate on the inside of her mouth. In China, people with minor differences are considered disabled, according to Jan.
"Most of the kids available for adoption are what they call special needs," Jan said. "But sometimes the thing that makes them special needs is very minor, like a cleft palate."
Jan flew to Clarkson's orphanage in Guangdong Province, China, to take her home in 2007. 
"You just kind of remember that moment when they come into [your life] and you just feel like, 'yeah everything's right in the world,'" Jan said. 
Clarkson was the third child Jan adopted from China. Shortly after adopting Clarkson, Jan said a new Chinese adoption law impacted her ability to adopt more children.
"Right after I adopted Jenni, they changed the law and said single women could no longer adopt," Jan said.
A few years later, Jan said she discovered an ad for a possibility to make an exception to this law. She worked with an adoption agency to adopt two more boys. Jan said there are still requirements for who can adopt in China, but the law has been changed. 
Although Jan is a single mom, her ex-husband, Mike Williams, is a part of Clarkson's life. Even though the two are not married anymore, Clarkson still considers him her dad. 
For the most part, Clarkson said people do not make negative assumptions about her adoption. 
However, as somebody who is Asian with Caucasian parents, Clarkson said she has gone through some very uncomfortable and eye-opening situations. 
"One experience that really stood out to me was when I was at the grocery store, and I was with my parents, who are white," Clarkson said. "Someone came up to my parents and said 'are you babysitting her?' That was the first time that I remembered that my situation is different."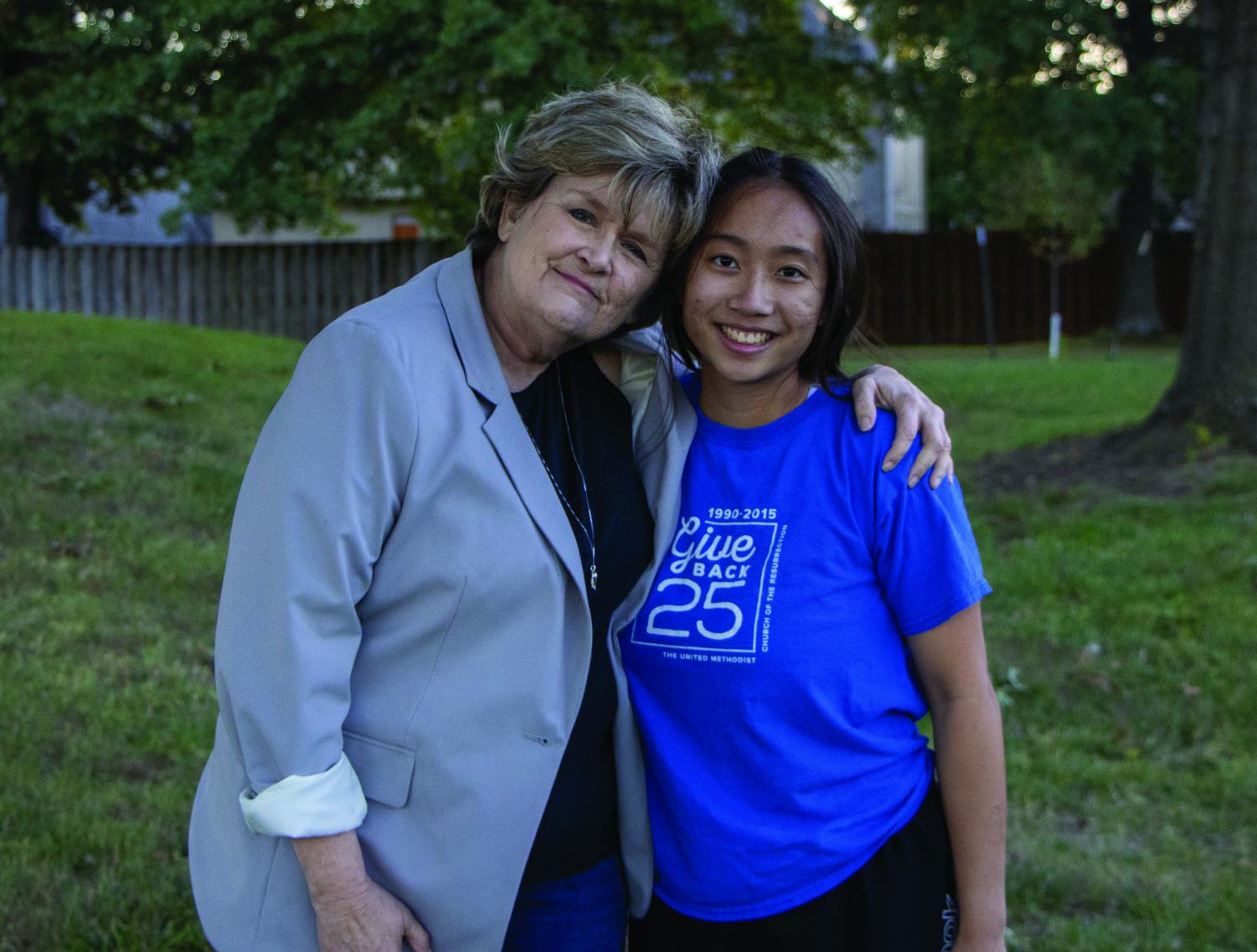 Although Clarkson is not biologically related to her parents, to her, they are her parents through and through.
"They are my real parents, and I don't think of them any different than just my real parents," Clarkson said.
For Clarkson, adoption has changed her life and given her something that makes her unique. 
"I think adoption is a really cool thing to talk about," Clarkson said. "It definitely makes you stand out from the crowd, I don't know too many people that are adopted, so I think I have a unique story."
Sophomore Harper Latta was born at Menorah Hospital in Overland Park, Kan., to her biological mother and then raised in Overland Park by her adopted parents.
As an African American who lives with two Caucasian parents, Latta said she faces many assumptions about her and her family. 
"People definitely make assumptions," Latta said. "The first thing that comes to your mind is definitely not adoption. It's normally something like, 'oh they're probably her friend's parents.'"
Latta has two siblings. Her younger sister, Waverly, was adopted from a different family. She also has a younger brother, Everett, who is biologically related to her adoptive parents. 
Molly Latta, Harper's mom, commented on how her family may look different than some other families, but said they are still a family nonetheless. 
"We just stand out because our family looks different from what people expect to see," Molly said.
With a diverse family, Latta said people make unjustified comments about her that other people do not have to deal with, which leaves her in an awkward position. 
Latta said she faces racism, as well. Before adopting Latta, Molly said she had the privilege of not having to face topics relating to racism. Now, with two black daughters, Molly said it impacts how she feels about the subject.
"Having someone you love experience racism changes the way you relate to the subject," Molly said. "My girls experience the hurt of racism in a personal way, and as a mom, that pains me."
Although there are hardships Latta has to face because she is adopted, she said she views being adopted as a blessing.
Latta said she has a strong relationship with her family, as well as a great relationship with her biological mom.  
"We have what is called an open adoption, where we have a relationship with Harper's birth mom," Molly said. "Her mom is one of the bravest and strongest people I know, and I love that Harper sees that and knows that too."
At the end of the day, it does not matter to Latta that her family is not biologically related to her. 
"I don't think [people] understand that it's still a family at the end of the day," Latta said. "I feel like people think [being adopted is] a lot different, but it's really been the same."
Choir teacher Elizabeth Richey-Sullivan adopted all three of her kids, 15-year-old daughter Iris, 10-year-old son Aiden and seven-year-old son Elijah, after being a foster parent to the three children.
Richey-Sullivan said she first started fostering kids because she and her husband, Patrick Sullivan, were not able to have kids. 
"Our hearts were just kind of tugged to kids that needed a home, that their parents could not take care of them for whatever reason," Richey-Sullivan said. "We decided to start fostering so that we could create our family."
When living in Los Angeles, Calif., Richey-Sullivan fostered 15 kids over the course of three years. She said she fostered some kids for as short as five days, and some as long as two and a half years.
"We had a little girl for a very long time who went back to her biological family, and that was really hard," Richey-Sullivan said. "But knowing that we could be there for her in those formative years of her life, and provide her love and safety, she will always have a piece of my heart."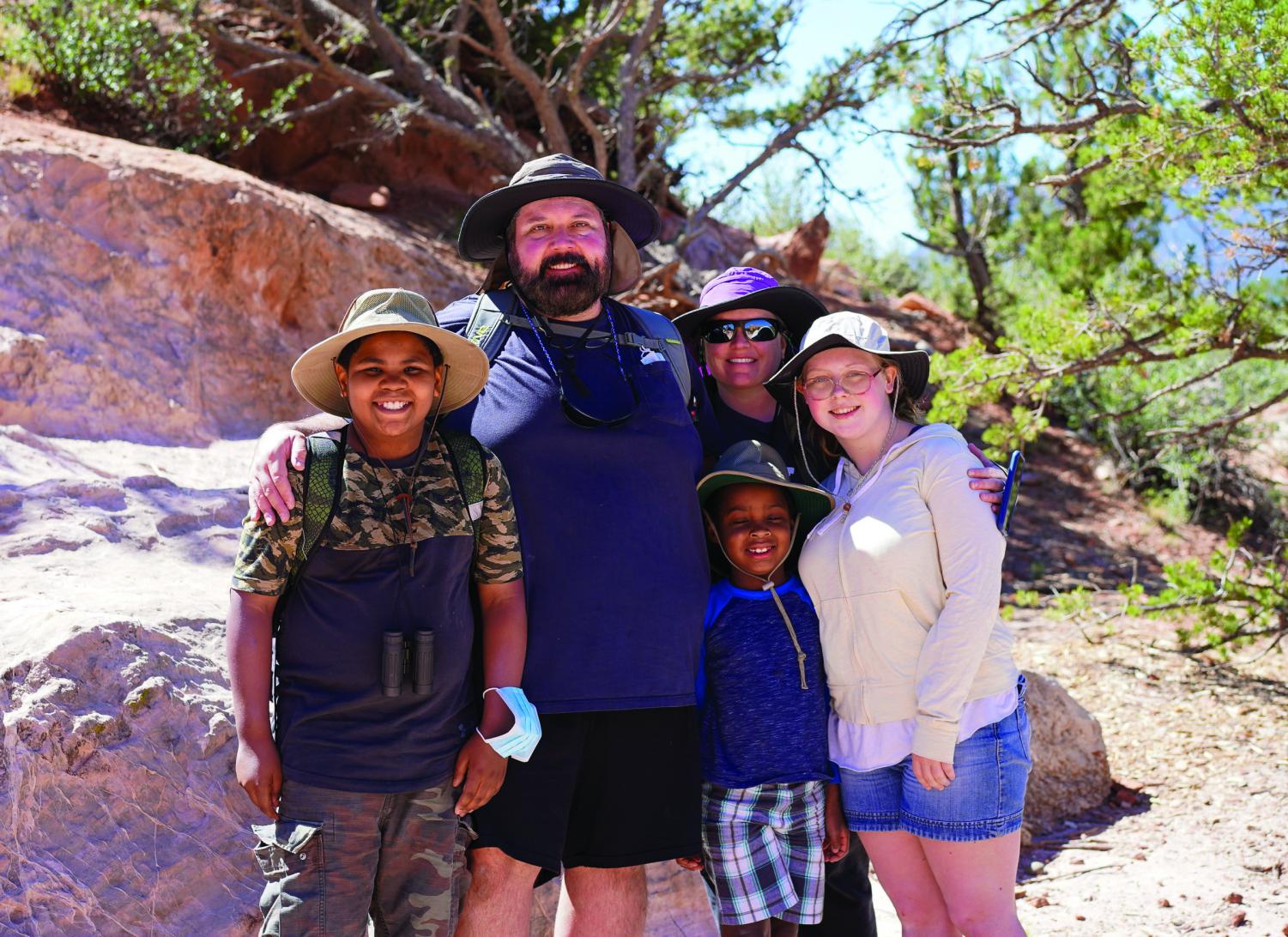 Richey-Sullivan said every kid's journey through the foster care system is different. 
"With my three children that we have adopted, unfortunately their stories ended where it was not safe for them to return to their biological families, so we adopted them," Richey-Sullivan said.
Her daughter, freshman Iris Sullivan, said she does not remember much of her life before being adopted because she was so young, but said being adopted made her tougher because of how much she moved around. 
She said her adoptive parents seem like they have been her parents all her life. 
"My parents love me just the same as if I was biologically their child," Iris said. "People say I look a lot like my adoptive mom, and I see the resemblance, which is crazy because we're not biologically related at all."
Richey-Sullivan said it does not consciously come to her mind that her kids are adopted. 
"Even though my sons do not have the same skin color as me, I don't even think about it 99 percent of the time," Richey-Sullivan said. "The one percent is when somebody in public [does a] double take at our family."
When in public, Richey-Sullivan said she has faced difficult situations with ignorant people.
"My sons are African American," Richey-Sullivan said. "I had Aiden in the shopping cart, and I had [Elijah] on a baby sling on my body. This woman in the grocery store was like, 'wow, your kids' dad must be really dark.' Like, what is the matter with you?"'
In addition to facing challenges with the confusion of others in public, Richey-Sullivan said she also faces questions from her children about their biological parents and what led them to the foster care system.
"There are tough questions like, 'why couldn't my birth mom take care of me,'" Richey-Sullivan said. "There are big questions that are really hard to deal with."
Richey-Sullivan said adopting kids changed her life, impacting who she is. 
"Before, I was just into my job, and now I am a mom," Richey-Sullivan said. "It's my most important job, being a mom."
Richey-Sullivan said she continues to be involved with the foster care system through Respite Care, a care system for foster kids when their foster families are unable to take care of them for short periods of time. 
"The nice thing about Respite Care is you can have someone who lives on the complete other side of Kansas that could come to your house and have a completely different culture, and you don't know their past," Iris said. 
A few years ago, Iris helped raise awareness for Developing Caring Communities Committed to Action, or DCCCA, a foster care agency primarily in Kansas. Iris said her goal was to encourage people to become foster parents.
"I [talked about how] I was adopted and how that has shaped me as a person, and the struggles I went through that I don't want any other kid to go through," Iris said.
Through the fostering and adoption process, Richey-Sullivan had to go through training about what happens to kids when they go through traumatic situations. This, Richey-Sullivan said, has helped her see people's behaviors differently and have more empathy toward others.
"It's even helped me be a better teacher because I know my students might be dealing with their own trauma in whatever way," Richey-Sullivan said. "So, seeing their behaviors through that lens, instead of 'they're being bad,' they might actually be hurting."
Along with her mom, Iris said she wants to help others who are struggling. In the future, Iris said she plans to translate that into her own experiences by fostering, and possibly adopting, kids of her own.
"I can foster teens that are about to age out of the system and say, 'these are some tricks that worked for me,'" Iris said. 
While she said she could not personally speak for how her kids' lives have changed, Richey-Sullivan said she hopes their lives are safe, happy and stable.
"Whether you're biological or adopted, your story shapes who you are, and I think my kids all have a beautiful story," Richey-Sullivan said.