Art of the body
Senior Lucy Vincent plans to incorporate her love for art into a medical career.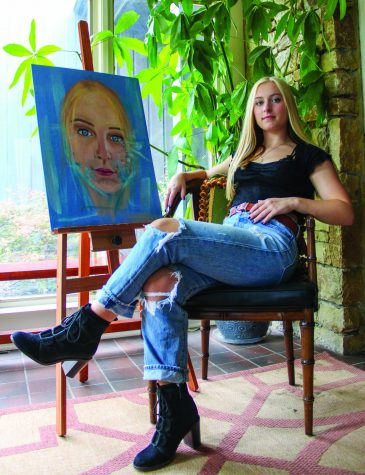 Years of honing her art skills and studying different science disciplines has allowed senior Lucy Vincent to pursue medical illustration, a career that requires the application of two of her uniquely opposite interests. Vincent said her experimentation with different styles of art from a young age initiated her desire to use her artistic talent in a future profession.
"Since I was really little, when someone would ask me what I wanted to be I'd always say 'Oh, I want to grow up and be an artist,'" Vincent said.
Her older brother, Kyle, and her grandfather have greatly influenced her path to becoming an artist, Vincent said. Her grandfather was a photographer, and she and her family would often go to his exhibits at art fairs. Vincent said Kyle was also interested in art and encouraged her to take art classes, even before she was in school.
"She's always been doing some form of art," Kyle said, "whether it's drawing, watercolors, oils, acrylics, or ceramics." Kyle said he has always been supportive of her art and expected her to pursue it as a career. He said he was very impressed by her growth, not only in terms of artistic talent, but also in her work ethic and creativity with different concepts.
"I think what she's doing now is really awesome, and I think she has improved a ton in the last couple of years," Kyle said.
Vincent said she has taken just about all of the art classes that Blue Valley Northwest has to offer. Two of her favorite classes at BVNW are painting and portfolio. According to Vincent, her specialty is painting, which is what she is currently focusing on.
"Portfolio class is what I really enjoy, because it's oriented toward preparing your art portfolio to show to colleges," Vincent said. "You get to come up with the theme of art you want to pursue for your portfolio and you get to work on whatever projects you would like to put in there."
Vincent said she likes to paint the interaction between humanity and nature, and tends to focus on the tiny  details within her realistic drawings.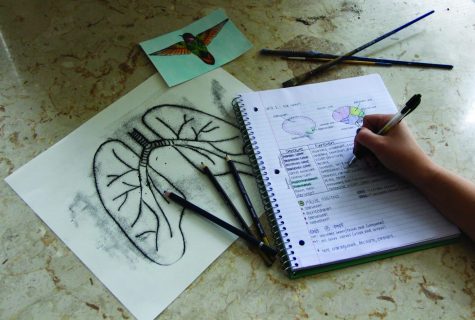 The specific style of art Vincent said she wants to pursue is called "medical illustration." She said she thinks medical illustration is a good fit for her attention to detail and interest in science.
"Medical illustration basically is where you illustrate medical diagrams, people's bodies or a specific part of the body to help patients or families understand the medical process," Vincent said.
Vincent talked about different classes that helped influence her interest in careers in the medical field, saying that her chemistry and physics classes made her realize her love for science. She said that she had considered other medical careers before learning about medical illustration, and is currently taking anatomy to further her progress toward that possible career.
"I had thought about possibly pursuing a pediatric medical career because I love kids, and I've worked with kids all my life," Vincent said. "I like helping people in general, and I'd like to be able to help make kids feel better."
Although Vincent said she would like to combine her love for both science and art into a career, she said her alternative plan is most likely for a medical career as opposed to one in art, and is looking into different opportunities to further her medical knowledge and experience, such as the medical CAPS program and the medical club at BVNW.
"I'd probably look into the medical career if I can't combine the two," Vincent said. "I will probably not end up pursuing just an art career because it's just so difficult to make a living with that, but I would definitely continue to do that on my own."
After observing her in class for the past three years, BVNW art teacher Chris LaValley said Vincent's confidence in her skill has had the most effect on her artistic growth.
"I think the biggest thing I've seen is just her self-esteem and her understanding of her own talent," LaValley said. "She definitely feels more comfortable in her own skin as an artist."
LaValley said Vincent's attention to detail, willingness to experiment with different mediums and her ability to take her time on projects would help her be very successful in the medical illustration field.
Vincent said she is nowhere near the end of her art journey and will continue to progress moving forward. Nonetheless, she is hopeful that she will combine her passions for both the medical and artistic fields in a career setting.
"[My journey] is still a work in progress," Vincent said.