Greekin' Out
This sophomore enjoys working the drive-thru at the authentic Greek restaurant, Pita Blu, which was opened by her father after immigrating to America.
Pulling up to the drive-thru at Pita Blu, sophomore Eliana Klathis will likely be seen working hard, receiving orders inside her family owned Greek restaurant. 
Klathis' father, Yiannis, immigrated to the United States when he was 28 and noticed a lack of traditional Greek food. Years later, he started Pita Blu, a traditional Greek restaurant, similar to what would be seen on the streets of Greece. 
Yiannis combined his skills from culinary school along with what he learned while in Greece to create a menu that features authentic Greek food. Yiannis said many of the recipes were passed down from his mother and grandmother.
"The combination of my skills from culinary school and what I learned back in Greece makes the company successful," Yiannis said.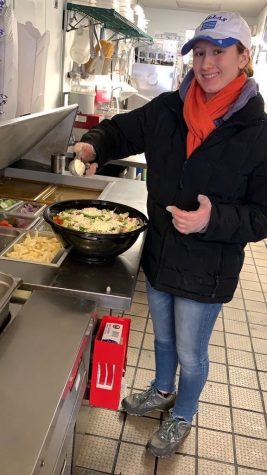 Klathis works as a cashier and drive-thru worker, bagging up food, giving it to customers and handling payments. 
"My job can become very busy during rush hours and it ends up being very stressful," Klathis said. "Other than when it is busy, I really enjoy it and it is fun."
Talking to people is one of Klathis' skills and she said it is very helpful with the job. Klathis said that there are regulars and new customers that she enjoys getting to know.
"One of my favorite things about [Pita Blu] is getting to talk to customers," Klathis said. "There are a lot of new customers that I like to talk to, usually it is just a friendly conversation."
A common struggle for Klathis is managing her time between school, work and swimming. Klathis works on Fridays and weekends, but has trouble finding time during the week to work at Pita Blu. 
"One issue with the job is that it is very hard for me to find time to work," Klathis said. "I am very busy with swim and also school so I usually only work during the weekends."
Klathis' Greek heritage adds to her enjoy working at Pita Blu because of her familiarity with food. She said she appreciates working somewhere that she has a connection to.
"Part of the reason that I like working [at Pita Blu] is that it goes back multiple generations in the family," Klathis said. "Because many of the recipes are from my grandparents, it reminds me of my heritage."
Klathis said the experiences from working at Pita Blu will be something that will stick with her for the rest of her life. She said she has learned a lot working under her parents and hopes she'll be able to use the skills she developed for the rest of her life.
"Working at Pita Blu, I've developed many skills that I hope I can use in the future," Klathis said. "Working at a family restaurant creates a sense of community that isn't at most jobs."