A dream to design
In order to maintain her dream of being a graphic designer, a junior is enrolled in three art classes this semester.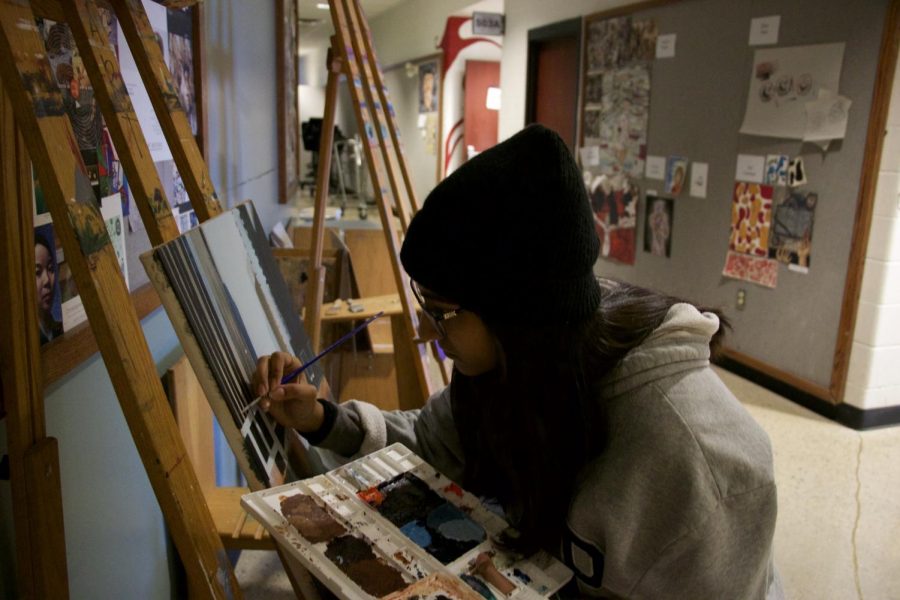 Being interested in drawing ever since she could hold a pencil, junior Alina Malhi said she takes three art classes during the school day in hopes of  accomplishing her dream of having a design career. 
Upon her reflection, Malhi said being raised with art influenced her decisions of pursuing that type of profession in the future. 
"As a little kid, I remember always drawing in coloring books," Malhi said. "For my entire life, I knew I wanted to be an artist. I know I am good at making stuff, so I want to have a future and make money off of it." 
 Being involved in many art courses this year, Malhi said she creates a variety of art types, from digital imaging to hand drawn sketches. However, Malhi said she prefers creating digital art with a cartoon-like style. 
"I recently started making more cartoony, illustrative [pieces] and I've been having fun trying to make the characters," Malhi said.  "I like experimenting and having fun with it." 
Since moving to Overland Park from Lenexa her freshman year, Malhi said she became close with art teacher Carly Kimbrough, after having her for her Jewelry I class sophomore year. 
"I've always had a close relationship with her," Malhi said. "She has a great attitude about everything and makes me feel a lot better about my art whenever I ask her for advice. I can talk to her about anything. She's a mentor and a friend." 
Kimbrough said Malhi stood out to her, due to her diligence and going above expectations with her art. 
"I think the first thing I noticed was just her hardwork and determination," Kimbrough said.  "She would never pack up before the bell rang, she would stay after class, come in after school, during halftime. She was really good about thinking outside the box and doing more of what was expected."
Meeting Malhi their freshman year, junior Peachy Malik said Malhi's art embodies her and how she displays her emotions through her art.       
"Her mind goes a mile a minute and that's definitely reflected in her overall style," Malik said. "I think her heart is shown through how natural [her art] looks. It doesn't look fake or lacking emotion. It really shows how her mind is taken over by her emotions when making her art." 
Having seen Malhi's art, Malik said  Malhi stands apart from others because she can create art in many different ways. 
"[Her art] comes in many forms," Malik said. "She draws, does digital imaging, leaves sketches in dry-erase marker on desks. This kind of helps to make her art accessible to everyone because everyone has those forms they prefer and Alina can do them all." 
Kimbrough said she believes Malhi's choice of pursuing a graphic design career is a good fit for her and that she will be successful with it. 
"She is such a hard worker," Kimbrough said.  "When you find your passion and you love something, it's the most wonderful feeling. I think that she has found that. When you find that I don't think you can't be successful."