Policing the 913
The Overland Park Community Policing Division and Explorer program provides students an opportunity to learn about a possible career in law enforcement.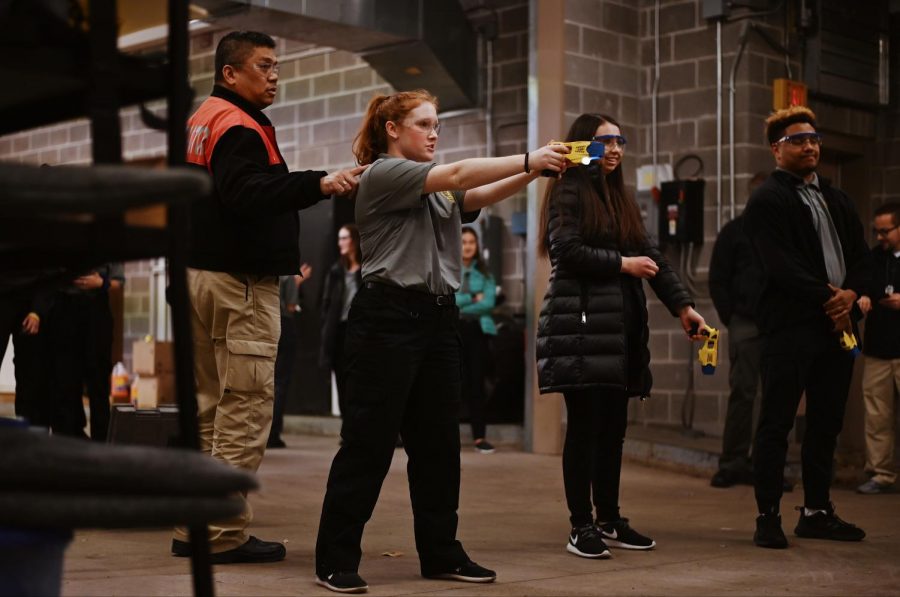 Offering a behind-the-scenes look, BVNW SRO Richard Spandle said Overland Park Explorers provides residents ages 14 through 20 a different perspective on law enforcement from what they see on TV or in the news.
Sergeant Gary Mason, supervisor of the OP Explorers, said the Explorers program is run by fellow officers and SROs. Overland Park Explorers began in 2001 and Blue Valley Northwest has eight students participating in the OP Explorers. 
OP Explorers pulls students from schools across all of the Overland Park region. Participants range from school districts such as Blue Valley, Shawnee Mission, Olathe and Saint Thomas Aquinas, Mason said.
"We meet about every two weeks throughout the school year and we do law enforcement related training, different types of classes or practical application of different things in the law enforcement job that you might see," Spandle said.
In the program, students get to train with equipment police officers use on a daily basis, Mason said. Participants learn how to use stun guns and firearms as well as pepper spray, handcuffs and other body restraints.
Other than tools, officers provide Explorers an opportunity to do daily ride alongs, which Spandle said is the best way to grasp the full picture of what goes into the day of a law enforcement officer.
Even if not planning to go into law enforcement, getting to know the system is valuable in different lines of work such as lawyers and other jobs including the law, Spandle said. 
Senior Lindsey Crowell said she has been an active member of the OP Explorers and this is her fourth year in the program. Crowell said she is not planning on continuing into a line of police work. However, reinforcing what Spandle said, the experience is good to have for the future, she said.
"There's a lot of other stuff that goes on that you get to see. And it's nice to know more of the inner workings on why things happen the way they do so," Crowell said.
Despite the perception that participants might be shielded from danger, Explorers are in the thick of the action. In fact, Crowell said that one of her favorite memories was chasing down a stolen car and arresting the offenders during a ride along. In addition, Crowell said she enjoyed multiple other aspects of the Explorers program. 
To be in the OP Explorers, there are several requirements students must meet. Students must be 14 to 20 years old, have and maintain a 2.0 GPA or above, completed eighth grade, a clean criminal record with no felony arrests, a valid driver's license or permit and complete an application, Rachel Scattergood, another officer in OP Explorers said.
Currently, the OP Explorers have a roster of 27 students, with BVNW having eight of those students, the highest amount of Explorers out of all schools with participants. 
Looking to continue increasing the popularity and number, the Overland Park police continue to add more unique experiences for students, showing teens the daily role of a police officer, Spandle said.
"We are giving them a positive social environment where they are actually learning things that could be useful in life, even if they don't want to be a police officer," Spandle said.