Ten seconds of fame
From dancing with friends and making relatable content, TikTok, a social media app, has increased in popularity with some students gaining notoriety including three BVNW students.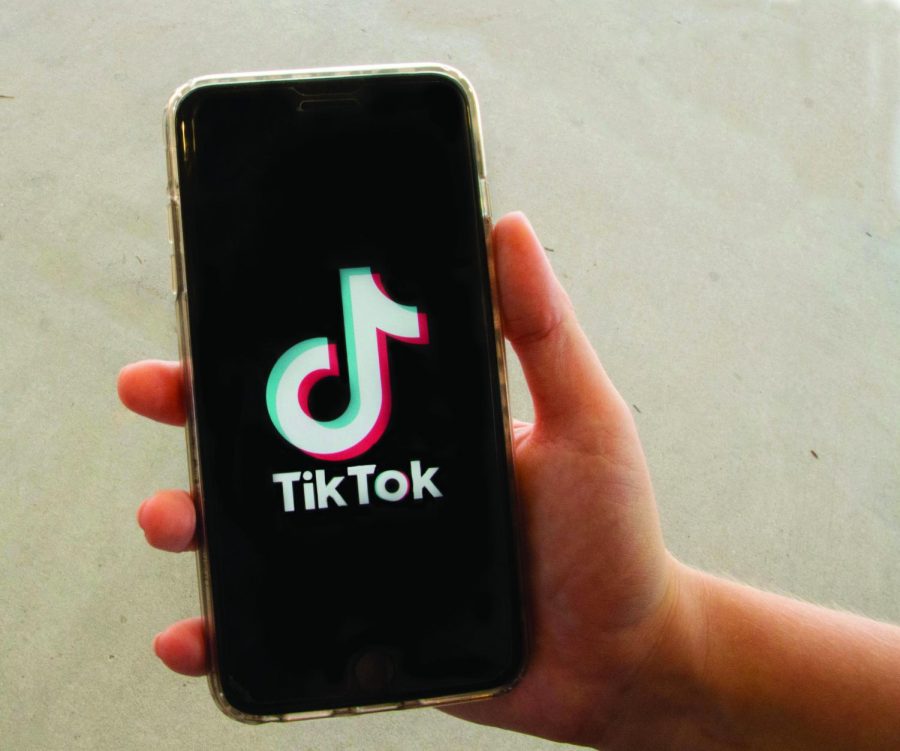 With 1.2 billion downloads, TikTok is the fastest growing social media platform right now according to 60 Second Marketer and has taken Blue Valley Northwest by storm, with multiple students getting over one million views across their posts. 
TikTok is a free app used for creating, sharing and discovering short videos that can be easily navigated by scrolling up and down on the "For You" page. This page displays a curated collection of personalized video recommendations based on the user's preferences.
The "For You" page is designed to provide people the opportunity to go viral, motivating many teenagers to try to achieve TikTok fame, including junior Nick Schemmel. Schemmel has become a popular creator, amassing close to 14,000 followers. Along with Schemmel, freshman Tatum Veatch and senior Jackson Mehlin have also acquired a large following with Veatch at 2,354 followers and Mehlin at 19,700.
The first step toward TikTok fame is downloading the app, Schemmel said, and over time many people find themselves attached to the fast paced app. After a month of scrolling through videos on TikTok, Schemmel said he decided he wanted to create some of his own. 
creating and posting videos is the next step, Schemmel said when trying to achieve TikTok fame.
"I started posting a little bit and it became addictive; [Tik Tok is] a super fun thing to do and a way to express your emotions onto something that you can see visually and record," Schemmel said.
Similar to Schemmel's experience, Mehlin said he downloaded the app and started posting videos for entertainment and didn't expect the attention he received. Before getting on a plane, Mehlin said he and his club baseball teammates posted a video, not expecting it to go viral. 
"We made it in the airport, and I got off the plane in Kansas City and it had over 100,000 views after an hour," Mehlin said. "It just kind of happened. I wasn't trying to do anything special."
In order to maintain a steady following, the final step is to continue to create original and relatable content, Schemmel said. 
"If I hear a sound, I try to think of something that hasn't been done yet because I'm trying to not steal ideas," Schemmel said. "I scroll through the sounds to get basic ideas and then I think of how it applies to my own life and what could be funny." 
Along with Schemmel, Tatum Veatch also started posting as a joke with her friends, she said, but eventually had some of her videos go viral. When she realized the attention she was getting, Veatch said she was surprised.
"I was kinda shocked; I was like, wait, this doesn't make sense," Veatch said.
With their TikTok fame and viewership, Schemmel and Veatch have both received comments on their posts. Schemmel said the comments are his favorite part about the experience because he likes to interact with people from all over, and he enjoys the encouragement on his videos. 
Along with the several students who make videos on TikTok, there is an even larger selection who use the app for entertainment. Junior Presley Ward is one of the many who spend their free time watching videos on TikTok.
"TikTok is a really good way to pass the time when you're bored, because you find yourself scrolling through the "For You" page for hours since the videos are so funny and entertaining," Ward said.
The reasoning behind the attention TikTok is receiving, Ward said, is due to the ability to openly be oneself through the app.
"TikTok is different than other social media platforms because there is such a large selection of content and different types of creators that make it such a diverse app," Ward said. "It makes people feel like they can post whatever they would like to."