Developing debate
With the recent addition of head coach Art Delgado and the strong range of advanced and novice debaters, the debate team hopes to create a successful season after falling short in previous years.
A lack of participation and excitement surrounding the debate program put it in a troublesome position three years ago, current athletic director Kevin Gerke, who was the activities director in 2015-16 said. The addition of head coach Art Delgado in the fall of the 2015-16 school year caused an overhaul of the program's mentality.
"I don't know if it has to do with me as the coach, but I think the students have a very committed focus," Delgado said. "Rather than just compete at local tournaments, we are competing regionally and nationally."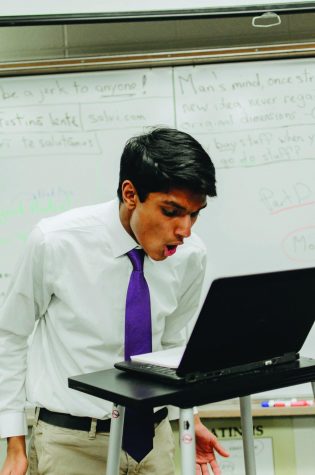 Entering her second season on the team, sophomore Sophia Peng said the program has greatly benefited her. As she continues to advance as a debater, her thoughts and presence in the classroom has increased.
"I got more confident with speaking skills and sharing my ideas, especially in the classroom," Peng said. "I definitely participate more in classes and in-class discussions, which is a benefit that can come out of debate."
After two years in the program, vice president of coaching junior Arvind Shankar assists other novice debaters. Shankar said there has been a change in the program since his entry, but the team continues to see more growth and success.
"
There is no question, compared to where it was when I got here three years ago that it has grown. It is a very good program right now that I think is doing a lot of cool stuff"
— Kevin Gerke
"When I first joined we were relatively small, didn't have too many competitive teams and not too many people cared too much about debate," Shankar said. "Over the years, thanks to Mr. Delgado and the rest of the coaching, as well as the other dedicated debaters, we managed to grow a lot and become a lot more competitive than the years before."
With the introduction of many amateur debaters, called novices, president and senior Vandita Garimella took a strong leadership role for the team as she entered her fourth year of debate. In her time as a debater, she said the program and the support of Delgado helped her in all aspects of life.
"In a lot of ways it's definitely opened my mind and made me a more knowledgeable student," Garimella said. "I feel like whenever I am participating in discussions whether it's in the classroom or even just talking to people, I am well-versed in what I am talking about and can support what my opinions are just because I have a lot of background knowledge from debate."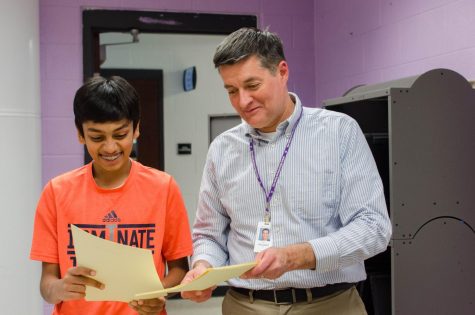 As both Garimella and Shankar advance in their leadership roles they said they hope to receive both state and national bids at upcoming tournaments. Delgado said Garimella has played an instrumental role in developing the programs.
"[Garimella] has helped to shape and set the tone and tempo of the team." Delgado said. "One that has a more regional focus, rather than just a Blue Valley area focus."
In addition to Garimella, Delgado said Shankar has also helped grow the program.
"Arvind is very committed and very passionate about debate," Delgado said. "He is very knowledgeable about debate, and I respect him."
As the team looks to receive a national bid at the qualifying tournament in December, Delgado said he continues to see progress in the program as a whole. For a program that was in danger three years ago, Gerke has seen the team change since Delgado's hire.
"There is no question, compared to where it was when I got here three years ago that it has grown," Gerke said. "It is a very good program right now that I think is doing a lot of cool stuff."