Before they were subs
Substitute teachers discuss their life prior to becoming subs and their transition into subbing.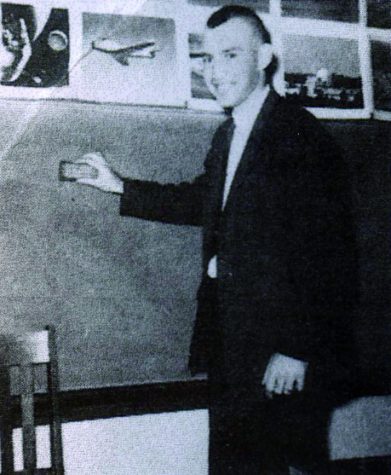 Back to (base)ics
From fighting forest fires in the West to teaching at an Air Force base in Puerto Rico, substitute teacher John Condra has worked multiple jobs in between and during subbing stents. Condra said he went to college to become a medical technologist, but after meeting teachers who had graduated, he changed his direction.
"I found a lot of the younger teachers would come back to school and I liked them," Condra said. "I didn't care much for teachers when I was high school, but I found they were human when I got into college."
While in college, Condra said he worked a variety a jobs such as working on a ranch and as a clerk in hospital emergency rooms.
After graduating from the Nebraska State Teachers College, he registered for the armed forces and was assigned to a classification office at an all female boot camp in the Navy.
"If you saw a girl (at the camp) there was a 50/50 chance that I'd held her hand because I fingerprinted them," Condra said. "I had to help pick what [the girls] were going to do in the Navy by giving tests."
Condra said he later continued his career working for the armed forces when he taught at Offutt Air Force Base in Omaha, Neb. and was then recruited to teach at Ramey Air Force base in Puerto Rico. Condra added that he really enjoyed his experience in Puerto Rico.
"It was really nice," Condra said. "The place I lived was about two feet above the Caribbean Ocean…it was a tropical paradise."
Condra then moved on to work as a supervisor for a margarine producing company where he was in charge of 40 people, who produced up to 8,000 pounds of margarine per hour.
Since then, Condra has spent his time working in real estate and as a substitute teacher. Condra said he has 30-40 years of subbing experience in total, and has been a sub since he retired in 1999.
The sea turtle man
"If you look for good, you will find it." Substitute teacher Barry White said this is an adage he has believed and lived by his whole life. While White is currently in his second year as a substitute, working in seven districts throughout the Kansas City Metropolitan area, he worked as a full-time educator for 50 years.
"My first two years (as an educator) were in public schools in Kansas City, Kansas," White said. "Then I went to Pembroke Hill and I worked there for 48 years; the last 42, I was the elementary principal."
For a portion of the time White served as principal, he additionally taught science and did all of the training for his teachers because he felt it was his duty to set a good example as an educator.
In addition to teaching in a classroom, White said more recently, he has enjoyed sharing his love and knowledge of sea turtles with the people he comes across.
"I was walking down the beach, at night, about eight years ago," White said. "I came across a sea turtle laying her eggs, and I thought, 'what is this?'"
After he began researching them, White said he became so fascinated by sea turtles he went on to write a book about them. While his book was never published, he turned it into a presentation he would give to schools and has even traveled as far as China to talk to the American International School of Shanghai about the creatures.
White said he feels the need to talk about sea turtles because he believes that not many people in Kansas City know much about them and he believes awareness needs to be raised since sea turtles are at risk of extinction.
White said although he has dedicated much of his time to these amphibians, his true joy comes from meeting people and teaching them.
"Education and learning is so important," White said. "I just really have a passion for teaching and helping kids, in whatever way."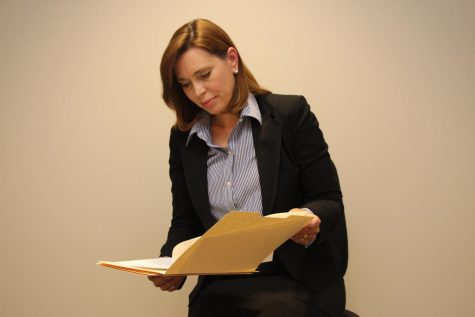 A BVNW Staple
Before becoming a building substitute, Kim Staples took a hiatus from teaching to work at a Fortune 500 company, raise her two daughters and most recently, work as a para. Six years ago, she returned to subbing to become the go-to substitute for BVNW.
Staples worked as a substitute teacher for a year after earning her bachelor's degree in education from the University of Kansas. In the years following, she taught English full-time at Wyandotte High School. From there, she went on to work at EDS (Electronic Data Systems), setting up workshops to get people enrolled in Medicaid and later working in the Human Resources Department.
"[My teaching experience helped me with] being able to set up workshops and deliver information to people," Staples said.
Staples said she then got hired in the Human Resources Department at the engineering firm Black & Veatch, where she worked until her oldest daughter started first grade.
She made the transition from full-time mom to para at BVNW seven years ago, while working on her teaching certification. After becoming recertified, it was suggested to her that she become the building substitute, since she had experience subbing in the past and knew the building.
Both of her daughters graduated from BVNW since she has been working in the building. Staples said she enjoyed being at the same school as her daughters.
"I really wanted to be able to be at all of [my daughters'] things and whatever activities they had," Staples said. "Being on the same schedule was really nice, and just being able to present when they had homework or whatever."
Staples said this was not the only thing she enjoyed about being the building substitute.
"The environment here is really special," Staples said. "It really is a family-like environment. It's nice to be a building sub as opposed to being a general sub out there and to be able to have relationships with students and get to know them. I don't think that I would want to be just a regular sub out there anywhere, because it's really special being here."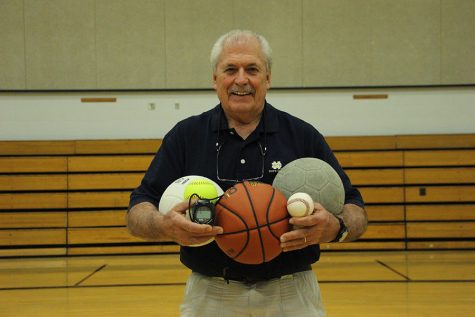 Sporting a new career
Teach. Coach. Sleep. Repeat. Building substitute Bruno Harper said he has always enjoyed all sports, and has found ways to incorporate this passion into his career. Before he began subbing, Harper worked as a teacher full-time, teaching physical education, health and social studies. Additionally, he took on the role of coaching six different high school sports over his 25 year career.
Harper said he could pinpoint his desire to become a teacher and a coach back to the sixth grade.
"I think it had a lot to do with the teachers and coaches that I'd had up to that point of my life," Harper said. "It pretty much continued all the way through high school and into college."
Harper said throughout his time teaching full-time, he coached baseball, softball and volleyball, as well as both boys and girls basketball, cross country and track and field.
Almost every year he taught, Harper said, he also coached three to five sports and served as his school's athletic director for eight years. However, he was more than willing to take on this extra work.
"It was fun because I was doing something that I always enjoy doing even though I was putting in a good 80 to 90 hours a week," Harper said.
Harper retired from teaching full-time in 1996, but went on to work at the Leawood Price Chopper for 18 years and served as the assistant produce manager for the last 10 years.
"I wanted to do something different, and health, being my minor, I thought working in produce was pretty much health related," Harper said. "I didn't know how long I was going to  do that and next thing I knew, it was 18 years."
Harper said he followed this train of thought when he decided to pick up teaching again. He felt it was time to do something different again and he decided to take his teaching experience to subbing.
Now in his third year of working as a substitute teacher, Harper is currently one of BVNW's two building subs.
"At first I was hesitant to not have my own classroom every day," Harper said, "but the kids have been very helpful and very respectful and very cooperative, and I think that's what makes it fun."