A trifecta of events
This year, the ACT, Solo and Ensemble Festival, and prom will all be held on Apr. 8.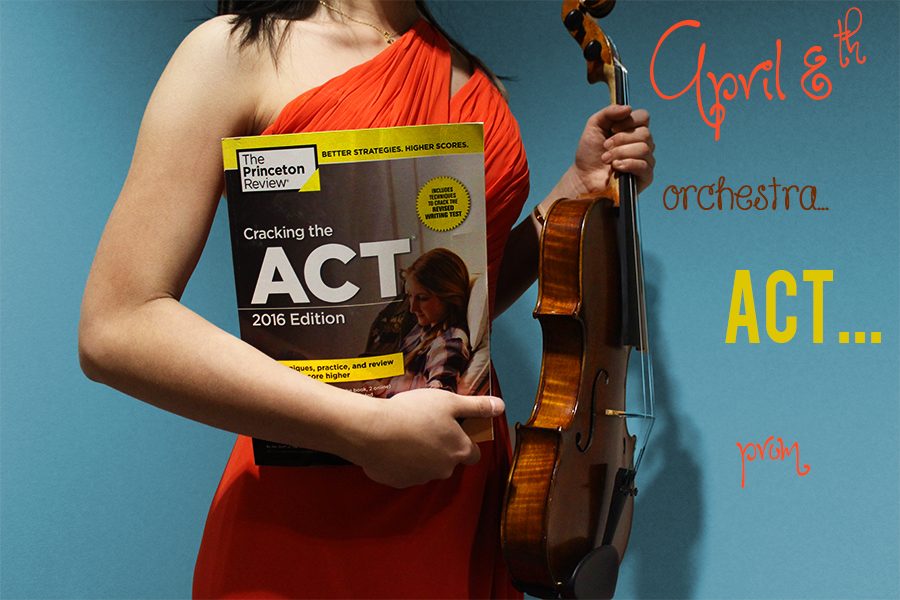 The ACT, Solo and Ensemble Festival and BVNW prom are all set to occur on Apr. 8 causing some students to attend more than one event that day. Some students have chosen to participate in multiple or all three events. Junior Chloe Ching said she will be participating in all three.
"I'm a little stressed, not necessarily because they're all in the same day but just [the idea of] them coming," Ching said. "I'm nervous specifically for the ACT and nervous for my solo and ensemble. For [my viola solo], I'm not cramming [practice]  into one week so theoretically since I've practiced for a month, that shouldn't be too much of a hassle."
Ching said due to the fact all three events fell on the same day, she is expecting to be late or have very little time between events.
"I'll probably be late to prom pictures because my ensemble is at 3:30 pm and pictures are at 5:30 pm but they're downtown so then by the time I get back home and do everything, I'm going to be a little late," Ching said.
Junior Jake Willenbring said he will also have a busy schedule and will participate in all three events.
"I'm going to get up in the morning and take the ACT, leave and then go to small ensemble for choir and then my prom group's reservations are for 6:15 pm so it's a busy day," Willenbring said.  
Willenbring said he originally did not know all three events were on the same day. He said he still decided to participate in all three because of the significance of each one to him.
"I knew prom was on the same day as the ACT but I didn't know Solo and Ensemble was," Willenbring said. "I needed to take the ACT for school and we were already planning on choir small ensemble, then prom is that night and I was planning on going to that for awhile."
Ching said even though she knew all three events were on the same day, she also decided to participate in all three because there were no other dates available.
"The ACT I knew I had to do no matter what because the limited dates they give you and and then the Solo and Ensemble Festival I thought I might as well do it because I'm already working on an ensemble and solo," Ching said." Prom I want to go to because it's prom obviously and a fun night out with my friends."
Senior Paul Georgoulis said he will be participating in the Solo and Small Ensemble Festival and prom. He said he is not worried about the two events overlapping because he has faced great scheduling challenges in the past.
"I've done way worse," Georgoulis said. "During state swimming, I left that night to go to Cambridge for a college thing which was was way more overwhelming than having to drive home, put on a suit and then go to pictures."
Georgoulis said he is glad he is not taking the ACT because this would be too many events in one day for any high schooler.
"Simply by merit of the fact, taking the ACT that morning would probably leave me brain dead and make me underperform in [Solo and Ensemble], I would rethink the situation but still go to prom and aggressively relax."
Willenbring said despite his tight schedule on Apr. 8, he is optimistic.
"For the ACT, hopefully I get a good score and so I don't have to take it again," Willenbring said. "There's always plenty of days where multiple events are happening and hopefully I can go to prom and Solo and Ensemble Festival next year as well."