Sculpting from the heart
Senior Kailey Jamison won third place in the state art contest for her sculpture.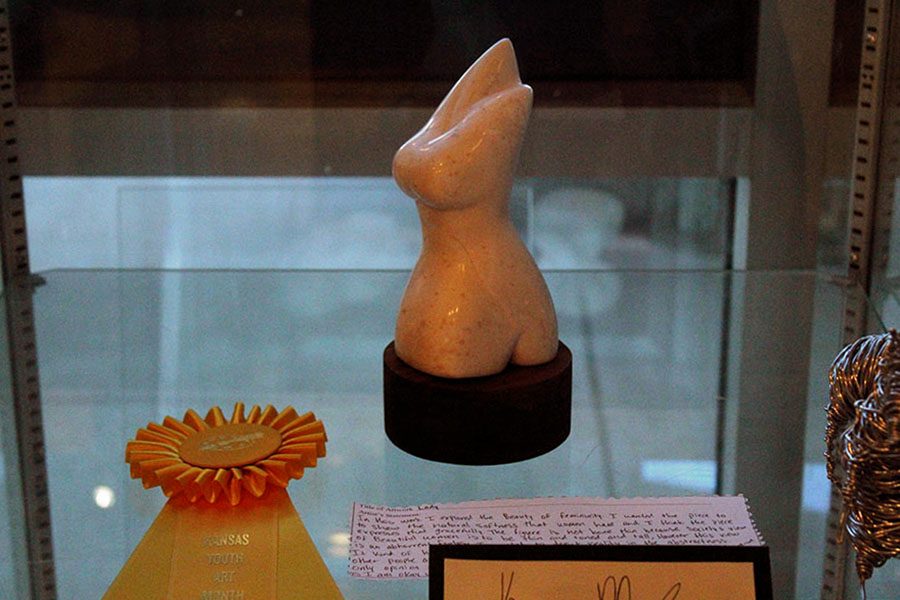 In the BVNW gallery, a pearly white figure of a female body, constructed of alabaster, sits on display. When the natural light hits it perfectly, this small piece becomes the focal point of the entire room. This piece is senior Kailey Jamison's sculpture, for which she won third place in the state art contest.
The competition was for all students across the state of Kansas, who could submit anything from a painting or a drawing or a sculpture like Jamison's.
Jamison's art teacher, John Butcher, said since the competition was for all pieces of art it was a much bigger win for Jamison.
"…[Jamison] got third place, but it wasn't like third place 'sculpture,' it was 'third place,'" Butcher said. "So, that was a big deal."
Jamison said she had no idea she had won third place until Butcher announced her win in front of her sixth hour peers. In fact, she said she initially thought she was in trouble, but it was quite the opposite.
"[Butcher said], 'stand right here,'" Jamison said. "I'm like, 'oh no. I am in trouble and I don't know what I did, but let me know what I did so I can live up to it.' And he brought out the piece, and was like, 'you won third in the state of Kansas.'"
Jamison said upon hearing she won third place, she questioned whether Butcher was serious about her award.
"It was kind of a, 'really?'" Jamison said. "'Are you kidding? Really? Are you sure about that?'"
Once the news sunk in, Jamison said she realized how proud she is of her work and what it meant to her.
"It was the one time that I was actually overly proud of something that I made," Jamison said.
Kailey's mom, Angie Jamison, also said she is proud of her daughter's work and said winning the contest showcases Jamison's talents.
"I think…winning that competition just kinda helped her see her passion for what she…does, that she does have a talent out there, and that maybe she needs to pursue that in the future," Angie said.
Butcher said Jamison deserved to win third for her piece because she has a hard work ethic and a lot of passion for what she does.
"She's just always had a real passion [for sculpting] and she gives 100%," Butcher said. "She's rewarded by her work. She's really got great work ethic. Exceptional."
Angie said it is important to read the artist's statement that is with the sculpture, because she thinks it was part of the reason why her daughter won the third place award.
"…People need to read what is attached with the sculpture because I think it really shows her talent, her passion for what she does and why she did that," Angie said. "I really think [the note] shined and helped with her achieving that award."
Kailey Jamison's artist's statement:

"In this work I explored the beauty of femininity. I wanted the piece to show the natural softness that women have and I think the piece expresses that gracefully. The figure is not bone thin because society's view of beautiful women is to be thin and toned and tall. However, this view is an abhorrent fantasy. I wanted to depict reality in the abstractness. It kind of helped me realize, as I was working on it, that society and other people are always going to have their views and opinions. The only opinion that matters at the end of the day is my own. As long as I am okay with my body and how I depict myself, that is all that really matters."
Jamison's sculpture, along with another one of her pieces, is currently on display in the BVNW gallery with the artist's note as mentioned above.
Angie said she loves being able to see her daughter's work in the gallery because it showcases the skills Jamison has.
"I just think that's amazing that she's able to show off her talent and her creativity," Angie said.
Butcher said he wanted to make sure people are aware of how proud he is of Jamison and how he is proud of her work ethic in class.
"Hard work always pays off in the end and it paid off for her," Butcher said.
To read more about the contest Jamison entered, go to this link: Kansas Youth Art Month 2017 contest website.