University updates
Seniors follow up on the outcome of their plans for college from the beginning of the year. Read about their original plans in the September issue of The Express.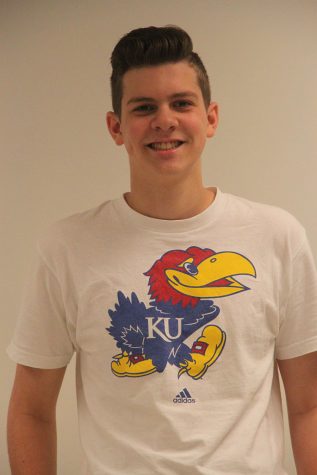 After applying to Harvard, Stanford and KU, senior Benji Hawkins will attend the KU Honors Program next fall.
"Well I didn't get into [Harvard or Stanford] and I only applied to three schools, and those were the three, so I'm going to KU," Hawkins said.
Hawkins said when he initially made his decision he had mixed feelings. He said he was disappointed he did not get into the two schools, but feels he is meant to go to KU and the honors program will be ideal for him.
"I think that going to the honors program at KU, you get more specialized advising and also you get a really good education there and also the cost is very good," Hawkins said.
Hawkins said he would still choose to attend the other schools he applied to if he had been accepted. He said it was a shock to not be accepted and wishes he would not have expected to get into the schools.
"I was kind of a little bit disappointed, because I was expecting to get in, but I probably shouldn't have been expecting it," Hawkins said. "I should have been expecting not to, so if I was to get in it would be exciting, and then I wouldn't have any disappointment or as much disappointment."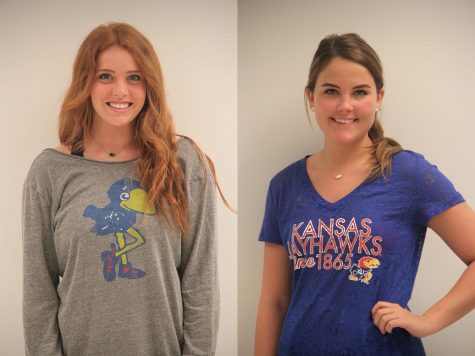 Senior Brenna Harsch said she has been raised in a KU-oriented family. Her siblings attended the school and it is the only one she applied to. She plans to room with senior Mallorie McBride next year.
"I have always been pretty set on KU, because both my siblings went there and we're just a KU family," Harsch said. "Nothing has changed. I still want to be in the medical field, I still want to go to KU and I'm still with my same roommate in the same dorm that we were planning on, so everything is on track right now."
McBride said the only change in plans she experienced from the beginning of the year is deciding what she wants to study in college. She said she will major in psychology and minor in photo media.
"I kind of wondered if maybe a few things would change," McBride said. "I knew I would decide on a major. I knew that I was absolutely 100 percent going to KU. I was hoping that nothing rooming wise would change, but that's always up in the air until things are set in stone. I'm glad that I found a [third] roommate… Other than that, everything that happened is what I was expecting to happen."
KU is the only school Harsch applied to, so she said she didn't think anything would change. However, she said the only thing she saw that might change from her plans at the beginning of the year was her roommate.
"Maybe if Mallorie and I butted heads a lot early on then we would've been like 'maybe this isn't such a good idea,' but we're best friends and everything is fine with us," Harsch said. "We have a three person, so if we do get in a little fight or something like that, we have someone to help us out."
McBride said she is more nervous about going to college than she was in the beginning of the year. She said despite the nerves, she is excited for the experience.
"[College] is something that I'm starting to think more seriously about, instead of something in the future," McBride said. "It's scary, but it's also very exciting. I keep telling people I'm very conflicted because I don't know how to feel about graduating, because it's really, really exciting, but it's also really sad."
Harsch said that although she originally felt a small amount of shame from going to a state school, her feelings have changed and she said she knows she belongs in Lawrence.
"It's close to home and I like being home and that I'll know a lot of people there, so I'll be comfortable, and I'll have my best friend going with me through it," Harsch said.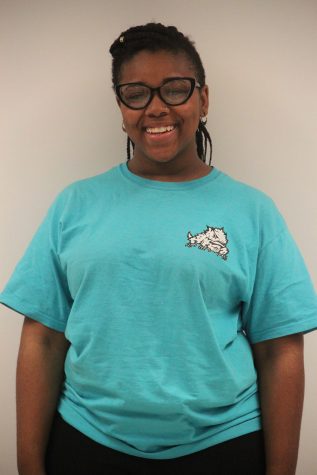 Although she had originally aspired to attend the University of Oklahoma, Tasia Jewel said her plan to attend Texas Christian University is the best decision she could make.
"I was really, really, really, super excited [when I decided on TCU], because I had been waiting on TCU and OU, and TCU was the first to get back to me letting me know I had been accepted into the Musical Theater program," Jewel said. "[When I] got an email [from OU] that said 'congratulations, you've been waitlisted for the BFA Musical Theater Program,' and I thought 'ok, I'm going to TCU,' so it didn't even cross my mind 'oh darn, I didn't get into OU'. I immediately was like 'I'm going to TCU,' and I revisited and I loved it."
Jewel said she made her college decision based off how her auditions went in October. She said when she did her pre screen auditions she didn't know what to expect.
"I honestly didn't think I would get into anywhere," Jewel said. "I didn't know how it was going to be and I think I underestimated myself and my talents, so I shot for a lot of schools that are a lot easier to get into. I was so lucky to get into TCU, not lucky, but I think I worked really hard."
Jewel said she originally felt much different toward TCU because she was set on OU. She said she thought they had a better program and that is why she made it first, but realized TCU's program was a better fit for her.
"For me, I think I thought OU was the better program and honestly, they might have a better program from other people's' perspectives, but I've been to both school and seen things from both and I think TCU is the better place for me," Jewel said. "At first, TCU was kind of a backup from OU, but now I wouldn't want to be anywhere but TCU. It's a great thing for me and the program is phenomenal."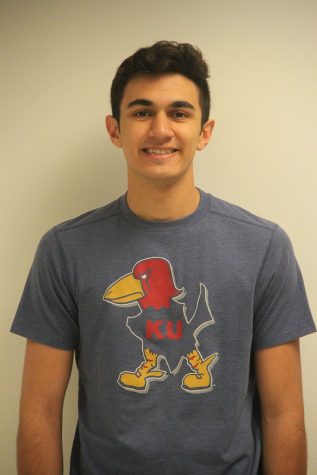 After deciding between attending college in Lawrence, Washington or Turkey, senior Taylan Erdogan has chosen to study at KU next year. He said that although it was not his first choice originally, it is the best fit for him now.
"The thing that kind of drove me toward [KU] was going to Washington would be way too expensive, because I want to pursue a graduate career past my first four years of college," Erdogan said. "Turkey has just kind of spiraled politically and I really don't want to be around that. It's not safe, just being in the capital where [the school is] would have been really dangerous."
Erdogan said he can see pros and cons from attending KU. He said the short distance between his college and where his family lives can have both benefits and downsides.
"[Don't] get me wrong I kind of want my own independence and in college you'll get that anywhere you go at a four year university, but you kind of want to be away from your family," Erdogan said. "I'm close with my family, I'm like right next door and I feel very comfortable with that, but the con is they can drive over to Lawrence on a Monday night and visit me and surprise me, but that's kind of an irrational fear."
Erdogan said he was disappointed in his decision at first, but believes college is what you make of it and sees himself succeeding at the school.
"I started visiting Lawrence and talking to friends there and… you go down there for a weekend or something like that and it's really fun," Erdogan said. "College is what you make of it and honestly wherever you go based on that choice on anything that you want, whether it's the people or the location or the program, it's what you make of it and you're going to have fun."