Showcasing their singing
After debuting the first night of Husky Showcase yesterday, students reveal what went into preparing for the show.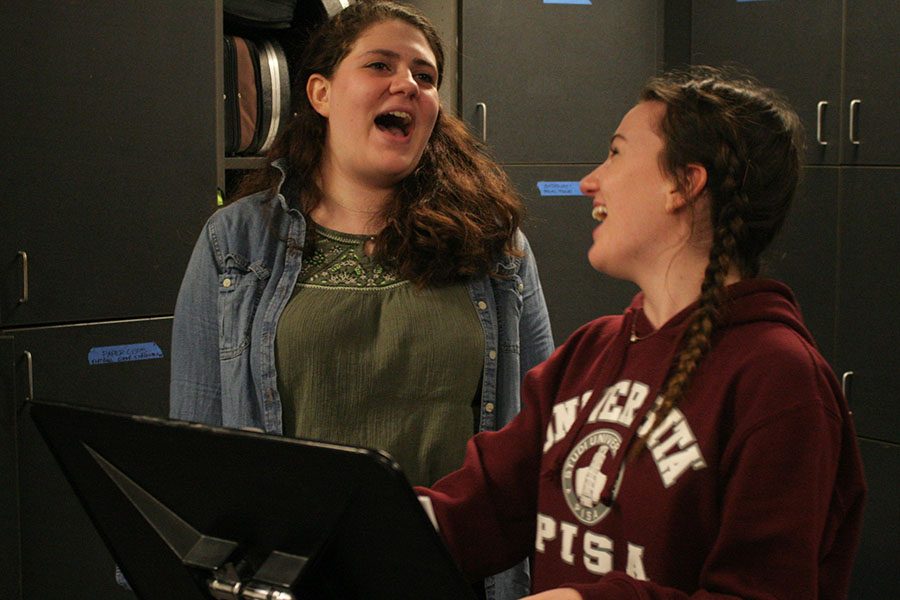 The final showing of Husky Showcase, the annual choir concert consisting of BVNW students singing their chosen songs, will take place at BVNW tonight. Sophomore Kadisyn Kircher and juniors Erin Cangelose and Maggie Manning all said Husky Showcase is something choir students look forward to every year.
Cangelose is a member of Chorale, Manning is a part of Chorale and Chamber Singers and Kircher is in Choraliers. All performed at Husky Showcase last year and went through the competitive audition process. There will be 29 acts for this year's husky showcase, which include students in duets and singing solo.
Cangelose said Husky Showcase is the most competitive event the choir program does, but the choir students' support of each other helps ease the tension during the audition process.
"I think everyone's really professional about it and we pull it all together, but the hardest part is getting up there because it's so scary to get in front of your peers and present something that you've been working on that you're performing to them," Cangelose said.
Alan Manning, Maggie Manning's father and coordinator of the band for Husky Showcase, said he first started helping with showcase three years ago.
"[Husky Showcase is] a great opportunity for some very talented kids to be able to perform in front of a live audience," Manning said. "The [students] who are really capable are able to showcase their talent and there's a lot of talented students in [BVNW], also it's a time to celebrate the whole vocal music program because they also have the choirs sing some songs as well."
This is Kircher's second year auditioning for Husky Showcase. Kircher will be singing "Hurt" by Christina Aguilera as well as a duet to the song "Something Bad" by Miranda Lambert.
Manning has auditioned for Husky Showcase for three years and will sing At Last" by Etta James and a duet with Cangelose of "Ain't No Mountain High Enough" by Marvin Gaye and Tammi Terrell.
Cangelose will sing "All I Ask" by Adele and the duet with Manning, and has auditioned for Husky Showcase for the past three years.
"I really like pop music, so I like getting up there [and] doing a song I think is really good," Cangelose said. "Usually in choir all the songs are picked for you and you have to do them whether you like them or not…It's nice but it's also stressful to pick another song."
Manning said picking a duet can be challenging, but she believes she and Cangelose both enjoy "Ain't No Mountain High Enough".
"The hardest part about a duet is finding a song you both like, because sometimes one person will like it and one person won't," Manning said. "The hardest part about finding a solo is there's so many songs you can sing…you have to find one that fits how you are as a person but also shows off what you have and also [one that] kind of means something to you,"
According to Kircher and Cangelose, people start preparing their audition for Husky Showcase as early as they want, due to auditions normally taking place around the same time every year.
"Most of my preparing goes before the audition because that's when I'm most nervous," Cangelose said. "I always change my song three or four times until I pick the right one, but right now I'm just practicing and trying to improve."  
In addition to all the preparation for solos and duets, Cangelose, Manning and Kircher are also working on their choir ensemble songs for Husky Showcase. Chorale and Choraliers are also learning a dance they will perform at the beginning of Husky Showcase.
"For Choraliers we are working on 'Rumor Has It' by Adele and also the [first] Pitch Perfect finale, so that'll be so much fun," Kircher said.
Alan said the students' professional attitudes toward the showcase and their talent in music are some of his favorite parts about working with the students.
"
All those kids, every last one of them are almost professional the way they handle [Husky Showcase]. They're just a great bunch of kids and they're a pleasure to work with."
— Maggie Manning
Kircher said during Husky Showcase, all the choir students cheer each other on and make the atmosphere positive. Cangelose and Manning said the encouragement from their friends in choir help calm their nerves before they perform at Husky Showcase.
"It's so scary before you go up there, but what helps [me] is that I know most of the people out there are people I know and my friends, so I know they're not going to bash me or anything like that," Cangelose said. "Everyone gets to perform, everyone gets up there, and they all know how scary it is so everyone's kind of in the same boat."