Lined up to compete
Three BVNW students take advantage of the spring weather by participating in fishing competitions.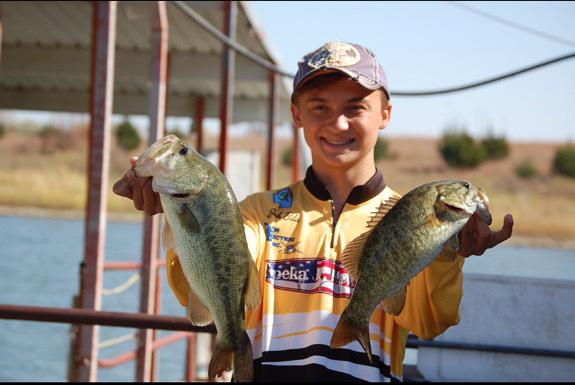 Hang on for a minute...we're trying to find some more stories you might like.
The air is calm and quiet, and the sun reflects off the surface of the water in almost blinding brightness. There is a slight tug on the line, and then it lurches forward. The angler snatches at the lever and reels the line in as fast as he can. The fish comes bursting out of the water with a flurry of movement as it tries to wiggle free.
Senior Ryan Kelly, sophomore Josh Flynn and freshman Brock Bila have been fishermen since a young age, however, they are all at different positions in their fishing careers.
According to Kelly, he has been fishing since he was four or five, but will not actually start fishing competitions until April 25. He said he wanted to branch out from fishing on the banks, so he bought his own fishing boat after seeing it at Bass Pro shop. He said he took a job at Strouds to get the money, and he is still paying off the original $12,000.
"I never really got big into it until when I was in sixth grade," Kelly said. "I started fishing in the creek behind my house and behind Deanna Rose a lot, and I got really good at fishing," Kelly said. "Then I started fishing at different ponds and different lakes and I got even better, and then I got my own boat."
Kelly said fishing competitions usually start the night before when all the teams load the boats into the water. He said then the teams camp out at the lake and are briefed in the morning before the race begins.
"Right when [the starter] blows the air horn for the boats to take off we take off and then you have the whole lake," Kelly said. "It is just up to you to go wherever you want and try to catch as many fish as you can throughout the course of the day."
Kelly said after the competition is over, each team's heaviest four or five fish are weighed, and the team with the most weight wins. He said there are cash prizes, fishing related items and scholarships for competing in college.
"Fishing has always been something really relaxing for me," Kelly said. "It is something I can do that not a lot of people do and it just gives me entertainment. I love being in nature, I've always loved nature, and it is just a really natural feel, just me out on the water catching some fish."
For sophomore Josh Flynn, the fishing competitions have already begun. He said that although he and Kelly are in the same fishing club, he has been competing since the summer of 2015. A fishing club is a group that helps pay for gear and competitions through sponsoring, and also hold monthly meetings. Flynn's club is called the Kick Back Junior Bass Club, located in Shawnee Mission. They decided to move to this group after their former group, sponsored by Scheels, split up.
Flynn said that although the club is composed of 10-20 people, not all compete as one unit. He said they compete in teams of two that compete against other teams, even ones from their own club. Flynn's team consists of him and his cousin.
"You're going to have two wranglers (fishermen) just to cover more water," Flynn said. "The more water you are going to cover hopefully you…can catch more fish, it is good to have a teammate on board… they are your backup and you are their backup. Sometimes my cousin will catch all five fish or I will catch all five fish."
Bila said he and his fishing partner won the state competition last year even though they were some of the younger participants competing. Now that they have this win under their belt, they have joined the Fishing League Worldwide (FLW), an international organization that holds tournaments all the way up to the world level.
"There were people up to 18 years old, and I was one of the younger kids at the time," Bila said. "We were able to win state even though I was young, so that was a really awesome experience."
Flynn said he's found fishing to be a lot different then a lot of people think.
"A lot of people think fishing is just sitting down," Flynn said. "But what I am doing is looking at the color of the water, the clarity, the way that the sun is shining depends on what color of bait, where I throw it, what cover I throw it to, what the fish are going to be doing, you just have to figure that out."

Print Friendly