Bath bombs: a look into the trend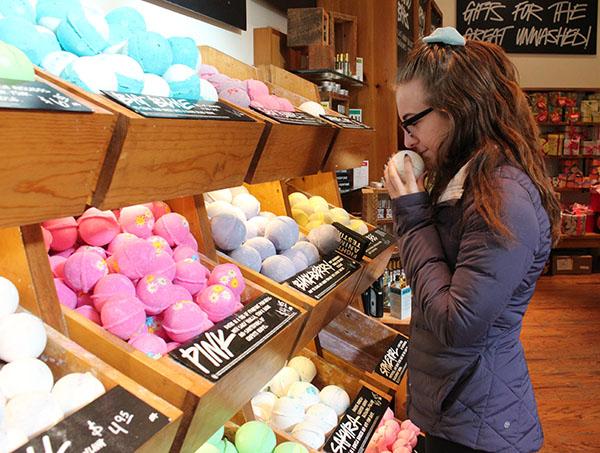 The bath bomb bubbles and fizzes as it is dropped into the water. Pink and blue burst out of the spot the bath bomb was placed and gradually spread throughout the water in the tub. Underneath the colorful foam, the bath has turned a dark purple.
Bath bombs are a mixture consisting mainly of baking soda and essential oils packed into a mold, according to Zack Rice, an employee from Lush. Lush is a cosmetics company that invented and sells bath bombs. Rice said he noticed a growth in sales of bath bombs shortly before December 25.
When sales increased, the store sold out of the product. Rice said the recent popularity of bath bombs has affected the sales of other items Lush sells.
"There's a Twitter page that made [bath bombs] really popular," junior Leena Clark said. "They're really mainstream now. Everyone uses them and they're sold out every time you go to Lush now."
Clark said she started using bath bombs two years ago after receiving them for her birthday. She said she thought it was something to put in her room to make it smell at first, but she later realized it was meant for baths.
"[I like bath bombs because] they make you smell good and calm you down," Clark said. "They make your baths look really pretty. It makes you feel happy."
Sophomore Sam Catalano, another user of bath bombs, said she likes bath bombs because they smell good and, depending on the type the user purchases, can make them sparkle.
"It's really nourishing and really great for your skin, so all in all it's just a really great product," Rice said.
Clark said her favorite is called Granny Takes a Dip. She said she likes it because it smells like candy and for its rainbow coloring. Lush describes it as a ginger, pepper and lemon-scented bath bomb that turns your water psychedelic colors.
"[Customers tend to like] Twilight; it's a good one," Rice said. "Twilight is a silky bath that was modeled after Van Gogh's "Starry Night." It resembles a sunset in your bath tub. It's a lavender based bath, so it displays pink and purple colors. There's some silver glitter in there as well, so it's really pretty."
Catalano said her personal favorite is called Sex Bomb. She said she prefers it because she favors the smell compared to other bath bombs. This pink bath bomb contains jasmine, sage and a Macassar-oil plant called ylang ylang.
"[Bath bombs] took taking a boring bath into making it fun again," Rice said.