Got Goats?
Two students spent their summer working at a local petting zoo, Deanna Rose Farmstead.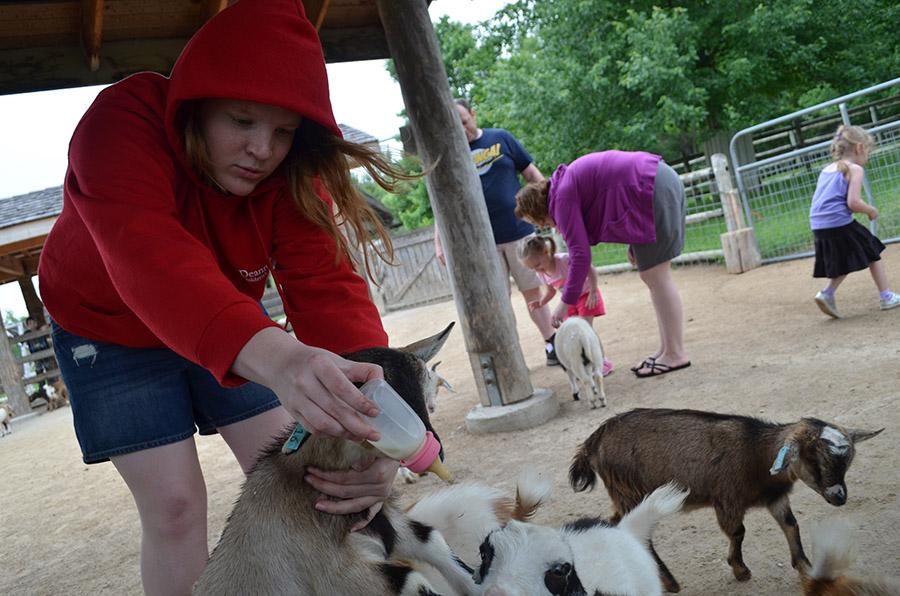 Junior Peter Hartman and senior Kate Messer spent their summer days in the hot sun at Deanna Rose Farmstead, surrounded by goats, geese and prairie dogs. Their jobs ranged from scooping ice cream to grooming ponies.
Hartman said he began his adventures at Deanna Rose two years ago as a volunteer, working in the goat pens and the fishing shack. This April, he officially became an employee and has since started working in the Ice Cream Parlor and as a "greeter" to welcome guests as they arrive.
"My parents were looking for volunteer opportunities for me over the summer so I could get the [President's] Service Award, and then I just upgraded to a job after I volunteered there," Hartman explained.
Of the 80 total workers at Deanna Rose, nearly 35 are teenagers, all coming from the nearby Blue Valley, Olathe, Shawnee Mission and Paola high schools, Farm Manager Janet Hutfles said. Out of the teenage employees hired this year, almost half started out as volunteers, according to Hutfles.
"I think [it's a popular job for teenagers to work] probably because it's not like bagging groceries; it's not working in a retail store; it's something totally different," Hutfles said. "[Employees] get to work outside — a lot of kids want to work with animals; they get to wear shorts and there's no late shifts or late night hours."
Aside from the 10 full-time employees that stay all year long after the farm closes to the general public on Oct. 31, the teen employees generally do not work during the school week after the end of summer, according to Hutfles.
For Hartman, the day usually begins when the farm opens, and it lasts until it closes at 5 p.m. Since his job is in the P.O.S. (point-of-sale) category, his main job is scooping ice cream for the duration of his work day. Because he works only a few days a week, he usually picks up nearly 20 hours a week in just two days, as the P.O.S. workers are in the minority compared to the animal workers.
"Usually you come in at 8:30 [a.m.], get all the ice cream out and the chips and start warming up hot dogs, and not many people come in until 11 [a.m.], so then you have a lunch rush…and then after that there is pretty much a constant line in the ice cream parlor and you just scoop for like four hours," Hartman said.
According to Hutfles, there are not many differences between the work expected of a volunteer and the work expected of an employee at the farm. She noted that employees work a few more hours compared to volunteers, however, both come on a fairly consistent basis. Despite the general similarities, Hutfles said there tends to be more downtime as a volunteer.
"The amount of business is much more as a paid employee versus a volunteer," Hutfles said. "The intensity is much higher as a staff person."
Hutfles also said the staff is comprised of both adults and teens, however they share the same jobs on the farm.
Although he enjoys his air-conditioned job in the Ice Cream Parlor, Hartman said he never looks forward to cleaning up, mopping and taking out the trash at the end of a long day of standing on his feet. However, he said he feels like he has gained valuable knowledge through his job in P.O.S.
"I've learned to be patient with people and that standing up all day is a lot more work than you'd think it would be," Hartman said.
Compared to his previous job as a crew member at Culver's, Hartman said he enjoys working at Deanna Rose much more, despite receiving the same minimum wage pay.
"The atmosphere is a lot better [at Deanna Rose]," Hartman said. "The people are a lot more friendly and the pay is the same, but other than that, I like it better."
Although scooping ice cream in the Parlor is not much different than what he had done at Culver's, Hartman said he has had experiences at Deanna Rose that are quite unique to his job on the farm.
"The weirdest experience I've had is like kids get jumped on by the goats and they just fall over and the [goats] start to attack them for the milk [bottles], which is kind of entertaining…it happens a lot," Hartman said.
In addition to Hartman, senior Kate Messer works at the farm, also as a P.O.S. attendent.
"I think it's just going to [Deanna Rose] and experiencing it that makes me want to work there," Messer said.
According to Messer, after she moved to Kansas when she was in seventh grade, many friends told her to check out Deanna Rose. The experience she had at the farm motivated her to apply for a job.
Messer said her job is primarily scooping ice cream, while it also includes cleaning, helping out with animal care, filling the feed cups that feed the goats, making milk bottles and telling kids about what animals do. Messer said her passion for animals leads her to explore more at Deanna Rose.
"I like animals, and I like being around people and I think a customer service job is the best, because you just get to interact with so many different types of people," Messer said.
Messer said she sometimes works at the shack for the fishing pond, where kids bring their fish on the hook and she helps them detach the fish. In addition, Messer works at the Dairy Barn, where she makes the goat milk bottles they sell for the baby goats.
"You have to be aware of animals to work [at Deanna Rose]," Messer said. "I think my love for animals makes me want to buy more, because I feel like being around animals just makes me more happy, more genuine… it's mostly a learning experience for all things around."
Messer said parts of the job can be difficult, and she said that it requires a lot out of her.
"The most difficult part of the job is getting in the rhythm," Messer said. "Every guest is different, and you can't make a pre-stereotype on someone, it's just realizing that you have to make it special for each person. Even if you're having a bad day, you have to bring yourself up to make that person feel special."
Despite difficulties, Messer said she loves seeing the joy in the kids' faces every day at her job.
Messer said she wants to work in customer service in the future because of what she gained from Deanna Rose—customer skills and compassion. She said it is Deanna Rose that has helped her in many aspects, no matter where she finally chooses to go in life.
"Deanna Rose just captures all the positivity in the world and distributes it to all its staff and its volunteers because everyone's so happy there," Messer said.
Both Hartman and Messer said they plan to work at Deanna Rose again during the upcoming summers, where they will continue to join many other BVNW students.
"I didn't expect it to be so fun," Messer said. "I was expecting a job that you stand around and you clock in and clock out… but it's actually the opposite, I love to go to work, I look forward to the long shifts and interacting with different types of people."