Review: Hotline Spring Tour
Panama Wedding, The Griswolds and Magic Man came to The Madrid theater Wednesday night for their Hotline Spring Tour. Senior Natasha Vyhovsky reviews why this is in the top three lives shows she's seen.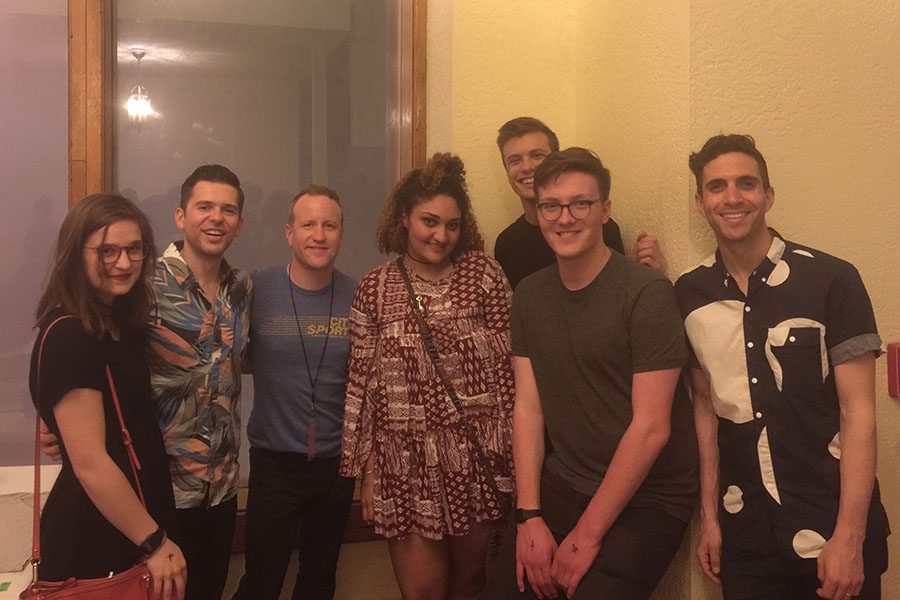 The pounding bass traveled from the floor to my feet, through my legs and straight to my chest until it mingled indistinguishably with my heartbeat.
The starting notes of Panama Wedding's "Brand New Life" began slowly, as the blue lights illuminated behind the band. It was immediately clear how underground Panama Wedding is, because they introduced themselves multiple times throughout the performance in an endearing and quirky new-band fashion. When I bought my tickets a few months ago, I didn't realize Panama Wedding was only opening for The Griswolds and Magic Man – I thought the show was Panama Wedding. Basically, I went to a concert solely for the opening band, but I have no regrets whatsoever.
I've been waiting about two years for Panama Wedding to come to town, so when they announced they were coming to the Madrid Theater this spring, I bought tickets right away. Panama Wedding doesn't have many songs – two EPs with about 10 songs in total – so they were logically the perfect band to have open for the show. I knew as soon as they began playing that they had an unusually unique ability to perform live really, really well. There was a perfect balance of music and vocals, and the music sounded true to their recorded EPs; it is pretty unusual for bands to sound so authentic when they play live, but I would almost argue Panama Wedding sounded better live. My favorite thing about seeing them, though, was seeing lead singer as he was selling his own shirts at the merch table when the band was finished – they're such a small and quirky band that they don't have any assistants because they do it all themselves, which I thought was so cool.
I've seen The Griswolds before when they played with Walk The Moon at The Granada last spring, and I was impressed with their energy and excitement then. Needless to say, they continue to improve their already-incredible stage presence; you can tell they are having the time of their life on stage, and you can't help but join them in that fun.
Magic Man made their appearance last, beginning with their lesser-known songs and finishing with their top radio hit "Paris." Alex Caplow, the lead singer, came out in a button-up shirt with pink pineapples, black skinny jeans and a red bomber jacket straight from the '80s, a disco ball twirling behind the stage. This was by far the most fun band to watch of all the bands I've seen live, because Caplow himself was having almost too much fun. My favorite thing ever is when you watch a band perform, and you know they're still amazed that they've got their dream job. That's what it was like watching Caplow. He was his own artist completely, with a unique aesthetic and a youthful excitement more intense than anything I've seen before. I also felt like I was taking a trip back to the disco decade, and I am very passionate about '80s synthpop.
A common thing with small, multi-band concerts is for them to all come back on stage at the end of the show and perform a cover together. At the Jukebox the Ghost concert I went to last winter, all the opening bands and Jukebox got back on stage to perform "Walk Like an Egyptian" arguably better than the original. This time, Panama Wedding, The Griswolds and Magic Man got funky with their own version of R. Kelly's "Ignition" remix. Not only is this one of my favorite songs of all time, but I felt like I was truly watching MOMA-worthy performance art directly before me. I hate myself for writing this publicly, but near the end of the song, in an overwhelming emotional catharsis, I excused myself from the floor and shed a few tears.
This show ranks in the top three shows I've ever seen, right behind Foster The People and Milky Chance. While it's not likely that Panama Wedding will come back around – at least not for a while – The Griswolds probably will within the next year. Keep your eyes open, because you won't want to miss their next show. Additionally, BORNS is coming to The Madrid July 28, and they have a similar aesthetic to the three bands I saw last night. I'm planning to go, and I would recommend it to anyone wishing they'd seen the Hotline Spring Tour last night.